Newsgrabber.nl Review
Last Updated: Jan 20, 2021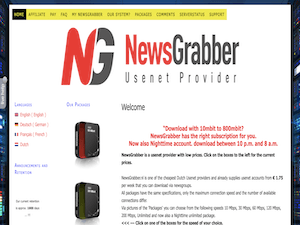 Rating
Price
€15.00 / Month
Retention
1900 Days
Free Trial
None
Features
Dutch Servers
SSL Included
20 Price Plans
NewsGrabber.nl is a Dutch USENET provider with subscriptions priced based on the number of connections allowed. They have EU servers and accept many payment methods.
Quick Facts
Flexible Plans
SSL (Privacy Protection)
EU Location
24-Hour Support
Many Payment Options Accepted
Binary Retention
Binary retention from this provider is currently at 1900 days. This is about half of what most of our best providers offer, but still ahead of some other companies.
Pricing
Pricing from this provider is based on the number of connections allowed, maximum speed of the connection, and the length of time for which you subscribe.
| Package/Speed | Connections | 1 week | 1 Month | 3 Months | 6 Months | 1 Year |
| --- | --- | --- | --- | --- | --- | --- |
| 10 Mbit/s | 20 | €1.75 | €5.00 | €14.25 | €27.00 | €48.00 |
| 30 Mbit/s | 25 | €2.15 | €6.50 | €18.55 | €35.10 | €62.40 |
| 60 Mbit/s | 30 | €2.50 | €7.00 | €19.95 | €37.80 | €67.20 |
| 120 Mbit/s | 35 | €2.75 | €9.00 | €25.65 | €48.60 | €86.40 |
| 200 Mbit/s | 40 | €3.50 | €12.00 | €34.20 | €64.80 | €115.20 |
| Unlimited | 45 | €4.25 | €15.00 | €42.75 | €81.00 | €144.00 |
Free Trial info
There is currently no free trial available from this provider.
Special Offers / Coupons
There aren't any special offers for this provider at the moment, but be sure to check back soon as we always update when we get offers to share.
Speed Test
Newsgrabber.nl delivers the speed it promises. Remember not to overbuy; i.e., don't buy a faster subscription than your broadband connection can handle.
Connections
The number of connections allowed varies according to your subscription. While the Unlimited subscription offers up to 45 connections, most users won't even require the full 20 connections offered with the 10Mbit subscription.
News Servers / Ports / Configuration
News.newsgrabber.nl Unsecured Ports 119 SSL (Secure) Port: 563
Frequently Asked Questions
Q: I'm an English speaker. Does Newsgrabber.nl have English-language customer support? : Yes: Newsgrabber provides all relevant information about their service and support for it in English and Dutch. You may have to translate the web page using your browser's built-in capabilities, as there are far fewer English-language questions and answers on the FAQ than there are Dutch.
Q: What's the point of having a USENET service on another continent? : Some users have serious concerns about the privacy policies in their nation and want to get their USENET service from a company located elsewhere. If you're in such a nation, you might want to look at EU- or US-based USENET providers. Some US and EU users will get their service from another nation, as well, simply to increase their privacy.
Q: Should I use SSL or unsecured ports? : Use the SSL port, if possible. SSL protects your privacy. If your ISP throttles USENET bandwidth—many of them do—you'll also get better speed by using SSL, in all likelihood. We always recommend that users hook up to USENET servers via SSL.
Q: Does SSL protect me all the time? : No. SSL from your USENET provider only protects you when you're accessing their news servers. If you're using an NZB site to download NZBs, for instance, you're not protected by your USENET provider's SSL. You'll need a VPN for expanded protection; many of our best providers offer discounted VPN with their USENET services.
Q: What I'm really interested in is block access. Does this provider offer it? : No, you can't get block access from this provider. There are several providers among our top five, however, that offer block access at steep discounts, so we'd recommend that you check with them to see what kind of prices you can get for block access.
Q: Can I use automated downloaders with this service? : Yes, you can use automated downloaders such as Couchpotato, Sonarr and others with this service. Newsgrabber.nl, like many other USENET providers, allows you to use whichever programs you want with their service. There aren't any limitations in that regard.
Q: What does "logging" mean? : This is covered under our privacy policy subsection. Logging refers to whether or not the USENET provider keeps track of when you connect and what you download when you do. Some providers that have speed or download limitations have to check to see that you're within your limits, but other than that, there really shouldn't be any reason for a USENET provider to log your usage. Most of them explicitly state that they do not.
Q: Is USENET better than Bittorrent? : In many ways, yes it is. USENET providers offer SSL in most cases, which protects your privacy. To get the same protection on Bittorrent, you'll have to get a separate subscription to a VPN service. Some of our best providers actually offer both, making them great deals. USENET also downloads much faster than Bittorrent, in most cases. With Bittorrent, your speed is limited by the number of seeders. With USENET, your speed is only limited by your subscription and your maximum Internet speed, for most users.
Support
Newsgrabber.nl offers support over an online ticketing system. You can also check their server status page to make sure the problem isn't coming from the servers, or use the company's knowledgebase, which is quite extensive, though most questions and answers are in Dutch.
Contact Information
Contact this company with any questions using their support form located on their website.
Security /Company Privacy Policy
Newsgrabber.nl says that they do not monitor or log your activities. They do not provide customer information to any third parties without a court order, according to their site.
Payment Options
Newsgrabber.nl accepts many different payment methods. You can use a bank transfer or credit card over PayPal. You can also use Safebay, OverBoeking and several European payment providers.
Our Opinion
NewsGrabber.nl is a bit outdated in terms of their pricing and offerings, but they do offer a decent product. Their speed is good and they have very flexible pricing options, which is also a good thing to see with any USENET service.The Netherlands location is likely to be what's going to sell a lot of users on this service, and it does make them worth considering. There are plenty of reasons to get your USENET service from a privacy-friendly jurisdiction and the Netherlands certainly fits the bill in that regard.The greatest difficulty English-speaking users will have with this service stems from the company's site being largely in Dutch, with few English-language FAQ sections.
We had to translate the pages over and over again to navigate through the site, and that might push some users away. NewsGrabber.nl does offer English-language support, however, and that should make things quite a bit easier for many users. The support is available around the clock, so don't worry about calling from another nation and not being able to get through; there are always techs available to handle your issues.
Visit Newsgrabber.nl