Newsflash Plus Review
Last Updated: May 20, 2019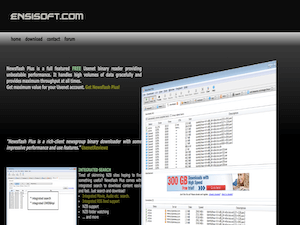 Rating
Price
Free
Retention
500 Days
Free Trial
None
Features
Fast Browsing, Full Control
Embedded Python Engine
Easy API for Beginners
Newsflash Plus is a binary newsreader with a very streamlined design. It comes with a registration option, but all of the features are available in the free, ad-supported version.
Installation
Newsflash Plus comes in a 32-bit Windows version and a 32-bit Linux version. It requires the Microsoft C++ 2008 Redistributable to run.
Installation is fast and straightforward. System requirements are minimal: 1GHz CPU, 1GB RAM and 36MB of hard drive space.
Using the Program
Newsflash Plus has a simple account setup screen that allows you to choose between standard and encrypted servers and to plug in your login information. Once you provide the info, you're set to go.
The interface is tabbed, making it easy to switch between the various screens. Once you're set up, you can go to the News tab to select from your service's available list of newsgroups.
The Downloads tab provides an easy way to monitor your downloads and connections.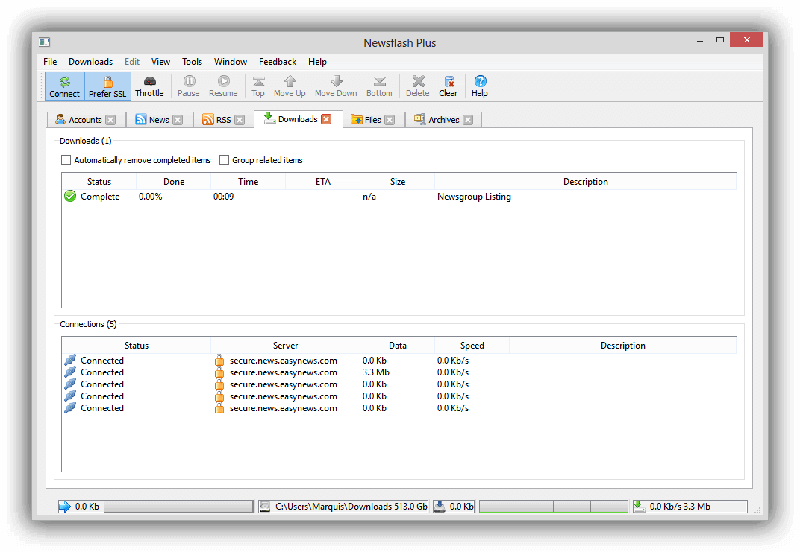 The Settings screen allows you to customize the program's interface and options, including selecting from several different skins.
Technical Details
Newsflash Plus has a range of impressive search features. It allows you to use RSS, headers and a search tab to find the binaries you want and can manage them for you when they download. It has several different performance-enhancing features built into it, as well, including memory management.
This is not an automatic downloader that runs in the background, so it might not be the ideal solution for people who want something that hums along, searching for and downloading binaries while the user goes about their business. It is, however, rather feature rich and comes with support from the developer.
The developer has built Newsflash Plus over the course of 1.5 years, releasing several alphas before putting out the current, 4.0.0 version.
Newsflash Plus is developed entirely on Linux, so the occasional Windows bug does make it through, but the developer is responsive in dealing with these, so reporting them is worth it. There are currently no plans in place to release a Macintosh version of Newsflash Plus.
New Features as of version 4.1.0
Newsgroup listing has more information and options. Adds category
information for groups and filtering options.
New history component that tracks your downloads and optional can check
for duplicate downloads.
Nzb drag and drop options for either downloading or viewing content.
TV Series lookup feature (same as for movies)
Summary
Newsflash Plus is a rich-client newsgroup binary downloader with some impressive performance and use features. It's available for Windows and Linux and built on C++. The free version comes with all the features, but is ad supported. The paid version takes the advertisements out of the interface.
Visit Newsflash Plus
Best Usenet Newsreaders