Newscene Review
Last Updated: Feb 15, 2022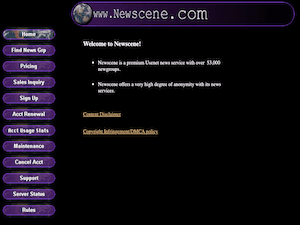 Rating
Price
$12.99 / Month
Retention
900 Days
Free Trial
None
Features
US and EU Servers
Newsgroup Search Option
High Degree of Anonymity
Newscene is a Usenet news service that is said to offer a high degree of anonymity when you subscribe to their service. However, upon checking their website not only does it lack a lot of information to make a sound decision if you should go for this Usenet provider, but it also seems to be outdated and is currently not offline for sign-ups.
Newscene Quick Summary
Access to over 53,000 newsgroups
"High degree" of anonymity
Newsgroup search option on website
Said to have US and EU servers
Month to month and Multi-month plans
Metered without speed limit
9 connections
Outdated service and website
Sign-up system currently offline
Support via FAQs and tech team
Binary Retention
As mentioned, there is a lack of information with this Usenet service. Both their text and binary retention is not mentioned on their site.
Pricing
Newscene offers monthly, 3 months and 6 month plans. When compared to today's top Usenet service providers, their prices seem to be higher.
This Usenet service has a "metered download without speed limit'' plan which basically gives you download allowance and a specific amount of time within which you can use that download limit.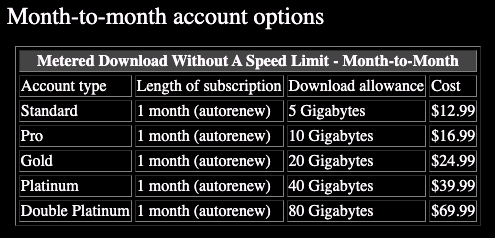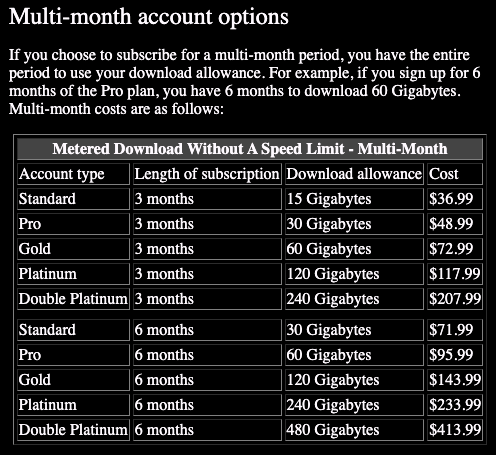 Free Trial Info
Newscene does not have any free trial offering.
Special Offers/ Coupons
This Usenet service provider does not have any special offers. Make sure to check back with us for possible future promotions with this provider.
Speed Test
Since account sign up is unavailable, we have not been able to test this provider for speed. However, according to their plans, they do offer unlimited speed and are expected to perform well in terms of how fast their service can be since mostly all Usenet providers have no issues when it comes to this. Please note, though, that the speed of your Usenet activity also relies on how fast your own internet connection is.
Connections
You may use up to 9 connections simultaneously with this Usenet provider.
News Servers/ Ports/ Configuration
To configure Newscene with your desired newsreader. Simply login with your account details and on your newsreader settings or systems tab fill in the news server information: news.newscene.com along with number of connections you can use and the port numbers. Port information is not available on the newscene website.
Frequently Asked Questions
The FAQs below are those found on the Newscene website.
Q: How do I set up and configure my news reader program to access Newscene?
A: You can find the setup instructions for many news readers on their News Reader Configurations section.
Q. News header and/or article retrieval is slow.
A: The Internet is a complex network structure. Several things can go wrong. The most common conclusion is the news server is overloaded, bandwidth is maximized, or too many users. With the recent upgrades in Sparc hardware and T3 installations these issues are not the problem here at Newscene. Alternative problems are related to your ISP, backbone provider problems, congested network exchanges, packet flooding by a faulty router, and the list goes on. To determine possible routing issues you can perform a traceroute from our servers to you.
Q: I cannot retrieve any new messages in the groups.
A: Your resource information used by your news reader program still contains information from your old news server. To fix this you will need to force your news reader to rebuild the resource information file. Each news reader is a little different. Most likely you can unsubscribe to all of your groups (be sure to not save any current resource information if prompted). Then resubscribe and get all the available headers from our news server.
Make sure you are accessing an active group. There are alot of junk newsgroups. Some with closely matched names. Be sure the group name is actually the one you really want and not a misspelled group.
Q: How do I change my password?
A: Please use the Account Maintenance area on their website
Q: How is my account billed?
A: Newscene's billing cycle is based upon your signup "anniversary date." For example, if you signed up for a month-to-month account on the 10th of the month, your credit card will be billed on the 10th of every month. Each monthly account is renewed automatically until you cancel your account. Unless we are instructed to do otherwise, prepay (multi-month) accounts are not automatically renewed. When the subscription nears its expiration, a notice of the expiration is sent to the email address we have on file for the account. Renewal information is included with the notice.
Q: I am getting a "502 Authentication Error." What does this mean?
A: This means that your login or password is incorrect, or your subscription has expired, or you have exceeded your download allowance.
Q: Why are some multi-part binary postings incomplete while another news server has all of the parts?
A: News propagation is never guaranteed. News propagation is dependent upon network conditions, the number and quality of news peers, server conditions, forged cancellations, and the size of the post. Any post made to a server is sent out to all of its peering servers. All premium news services have multiple source feeds to get more news in and out faster. Some posts are sectioned into smaller segments to help improve propagation to other servers. Because of this segmentation, some posts may appear incomplete and the upload was interrupted. This is why not all multipart binaries are complete. Some parts of multipart posts can be canceled. Newscene does not honor any cancellations because it is too easy to forge cancellations. However some servers do honor cancellations. This fact alone could prevent some parts of the post from not reaching a server.
Q: I am not able to locate a newsgroup.
A: If you are not able to locate a newsgroup on Newscene that you have located on another server or know of its existence then send us an email requesting us to add the group.
Support
Newscene has an FAQ page on their website as well as configuration information for several newsreaders. If you wish to contact their support team for whatever purpose you can email them at sales@newscene.com or tech@newscene.com.
Contact Information
You can contact Newscene by email, fax, or mail.
Newscene Usenet News Service
PO Box 45349
Omaha, NE 68145-0349
fax: 1 (402) 895-2637
sales@newscene.com or tech@newscene.com
Security/ Company Privacy Policy
According to their privacy policy: _Information about account holders at Newscene is strictly confidential and will not be released to anyone without proper legal authorization. _
Payment Options
It is unclear what payment options are allowed with Newscene since their sign-up system is currently offline.
Our Opinion
Right off the bat we recommend looking at other Usenet service providers since Newscene is very outdated and does not offer a lot of information about their service. There isn't even any information if they provide SSL encryption which is a crucial factor when choosing a Usenet provider. With their high pricing, outdated website, lack of details and unimpressive features there are not a lot of reasons why users would go for this Usenet service.
Altenatives To Newscene
| Name | Price | Info |
| --- | --- | --- |
| Newshosting | $8.33 | Best Price / Free Newsreader |
| UsenetServer | $7.95 | NZB Search / Fast Speeds |
| Eweka | €7,00 | Best EU Provider / Lifetime Discount |
| Easynews | $9.98 | Easy Web App / File Previews |
| TweakNews | €7,50 | Free Newsreader / Free VPN |
| PureUSENET | €5.97 | Good EU Provider / Free SSL |
| XLned | €7.49 | Fast Speeds / EU Servers |