MysterBin Review
Last Updated: Apr 25, 2020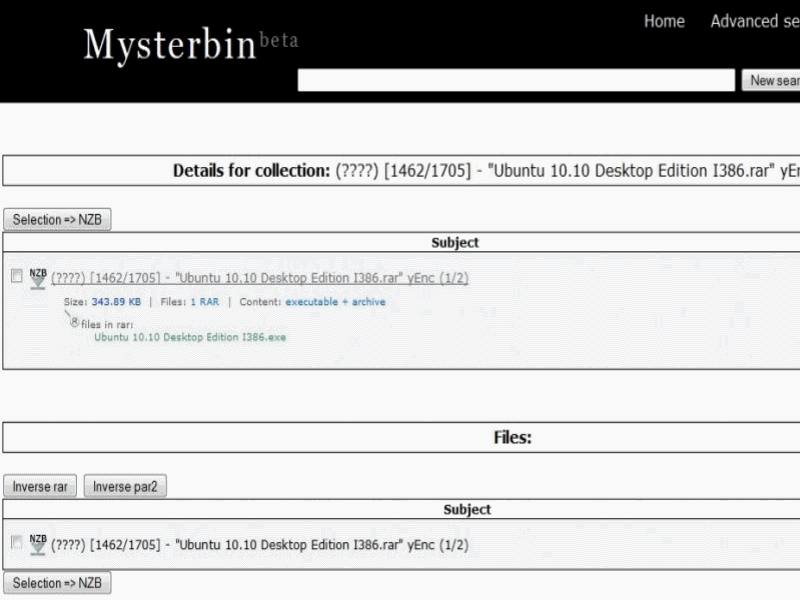 | | |
| --- | --- |
| Rating | |
| Price | Free |
| Retention | None |
| Free Trial | None |
| Features | Dead Site |
MysterBin is a dead NZB site
Please see our list of best NZB sites for other alternatives
MysterBin is a relatively new binary Usenet newsgroup search engine. Mysterbin currently supports 1269 of header files. Mysterbin was under constant development in 2011 and appears to have stopped or at least slowed down in 2012. Sign up for their Twitter account to inform about changes and updates. twitter.com/#!/mysterbin_com
Feature Overview
MysterBin takes best of search technologies for binary newsgroups. Therefore, their search engine provides the following features (as written on their official website):
Query refinement: let you reduce the scope of your search to a specific size or data type (picture, video, executable…)
Search and look inside rar archives: let you find some results you could not find otherwise, and preview the files inside the archive before downloading them. You can even know if the archive is password protected before starting the download.
Extended queries: using the star notation: abc* will match any word starting by abc. *abc will match any word ending with abc. Simple, efficient. You may also exclude a word by attaching a dash right before it: abc -def will return results that contain abc and does not contain def.
Collection clustering: the default view merges collections from a same group together and show them as one result.
Non-yEnc ignored
MysterBin 's bot ignores Non-yEnc lines. Although they do consider implementation of a less strict policy in the future, they recommended that Usenet users use the yEnc format if they want to make sure that their posts will be correctly indexed.
MysterBin Popularity
MysterBin has an Alexa ranking of 11,00o (as of mid 2012) making it one of the more popular NZB search engines online.
Usage Policy
MysterBin provides a search engine based on data which is found in binary newsgroups. Furthermore, MysterBin 's service is free of charge for personal use only, while commercial use of the results provided by MysterBin is strictly forbidden. All that aside MysterBin is found as a search engine in mobile Usenet apps like SABMobile.
Basic Search
MysterBin currently has only basic search, with few filters available. These filters are Content type (video, audio, executable, disk image, picture, arhive, par2 and other/unknown), Sizes (size limit can be entered) and Completeness level. Search results consist of Subject info and Posting info.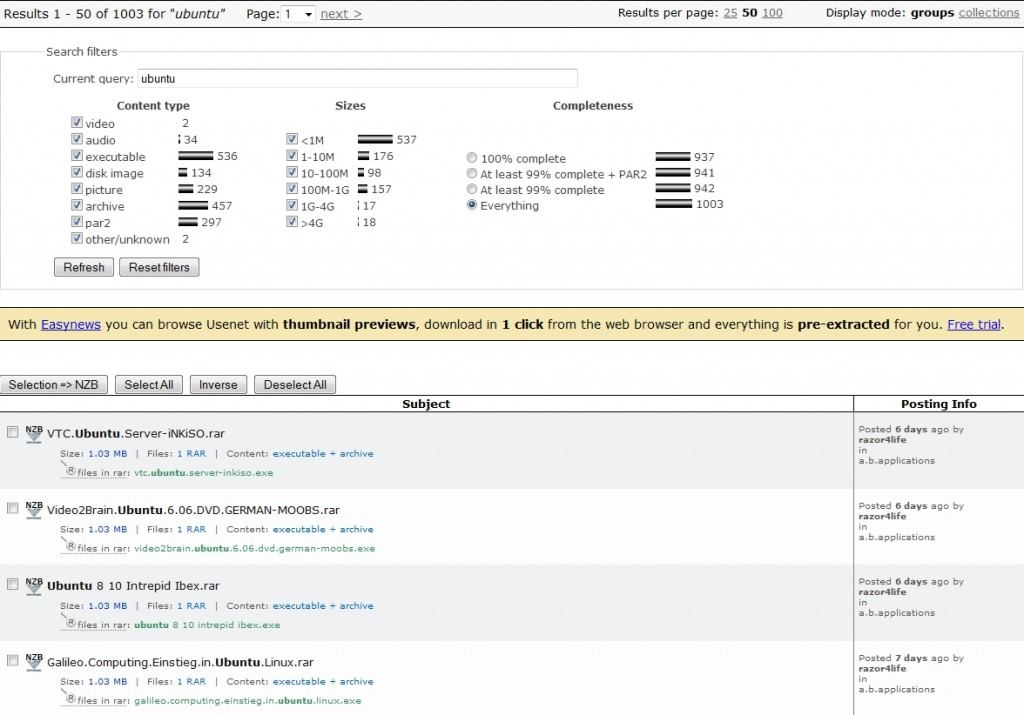 MysterBin also has an advanced search stating on their website that this feature is coming soon.
Search feature works very fast, returning results immediately.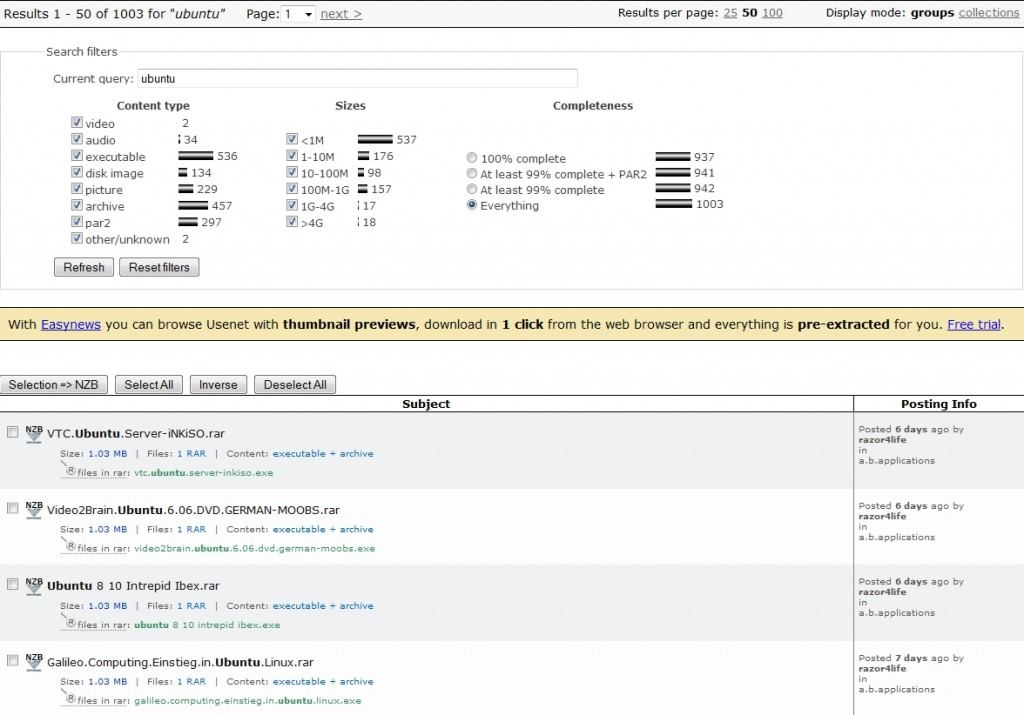 Top Binary Newsgroups List
MysterBin provides a list of top binary newsgroups, ranked by the total indexed size. Furthermore, this list contains information about group name, numbers of collections, files and parts, and finally the retention information, providing the information on how old is the oldest post in particular group.
They also provide few charts, providing an overview of monthly indexed volume and content type.

Conclusion
Check them out. Definitely worth a visit — Look at their FAQ page also .. Where they explain why another Usenet search Engine ?
Quoted from their FAQ page
We believe search engines should do their best to help you find what you are looking for in the binary newsgroups. Merely showing the results matching a query is not always enough, that is why we developped MysterBin with its set of new features.
Altenatives To MysterBin
| Name | NZBs | Price |
| --- | --- | --- |
| NZBFinder | Free 5 NZBs & 25 API Calls | 10, 20, 35 Euros |
| UsenetCrawler | Best Free Account Offering | Over 500 Groups Crawled |
| NZBgeek | Open and Free to Register | Free and Paid Service |
| NZBGrabit | Free 5 .ZIP Downloads | Arcade, and Photo Editor Included |
| DrunkenSlug | Free 100 API Hits and 5 NZBs Daily | Invite-Only Website |
| NZB.su | Open NZB Site | API Integrations |
| DogNZB | Invite Only | $20/Yr for VIP |
| NZBPlanet | Invite Only | 2 Million NZBs Indexed |
| FileSharingTalk | Forum-Based Site | Option to Donate |
| OmgWtfNZBs | Invite-Only NZB Site | $10/Yr for Donators |