MT-NewsWatcher X Review
Last Updated: Jan 31, 2022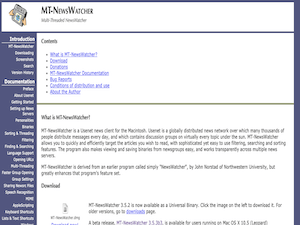 Rating
Price
free
Retention
500 Days
Free Trial
None
Features
Multi-Threaded Usenet Newsreader
Handles Binaries
Multiple Search Commands
MT-NewsWatcher is a Usenet client that supports multiple servers and can quickly and efficiently search for the articles you want to read on Usenet. This software also allows users to view and save binaries from newsgroups easily.
MT-NewsWatcher was developed to work on Mac computers and has filtering, searching and sorting features. However, upon our testing, it does not seem to work on the most recent versions of MacOS. But based on its website, MT-NewsWatcher should be able to run on version 10.5 (Leopard). The latest release of MT-NewsWatcher of Mac version 10.5 is currently still in Beta phase. According to their site, it seems like no changes have been made on MT-NewsWatcher for several years now. However, it still performs decently but not at the same level as that of far more modern and better Usenet newsreaders today.
Highlighted Features
MT-NewsWatcher has several decent newsreader functions that make it a convenient tool for Mac users. While it is not compatible with the latest version of MacOS, users can check out the features of this program with lower versions of the said operating system.
Configurable Personalities – present several different appearances in your various newsgroup postings

Binary Handling – decodes and displays images included in news articles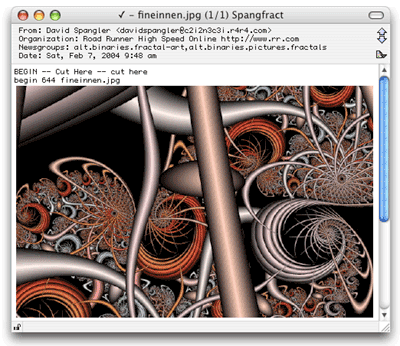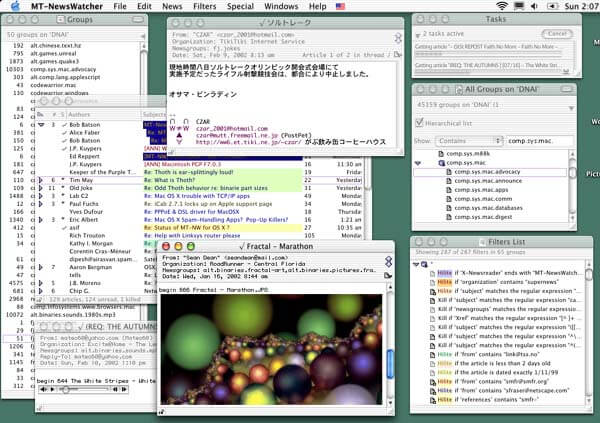 Sorting and Threading

Threading options available are: none, by subject, by author or by references
Sorting options available are: by article number, author, subject, lines, date and filter score
Multi-threading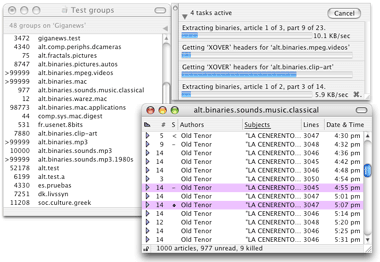 Filtering – scans through the text of article headers

Filter Editing
Filter Junk Articles


Regular Expressions – system for matching patterns in text data
Finding and Searching

Find, Find Again and Enter Selection features
Search News Command
Query Article Index command

Multiple Language Support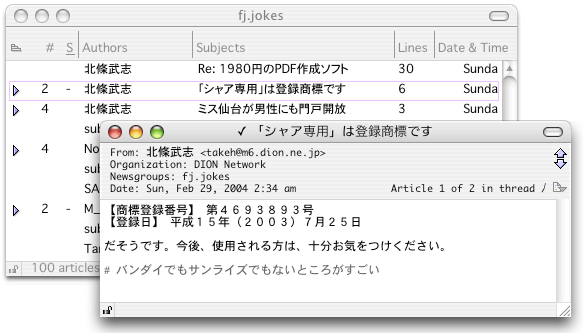 Speech Recognition – enables the program to respond to spoken commands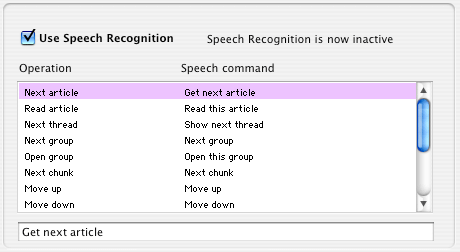 MIME in News Articles
AppleScripting
Plans & Pricing
You can download MT-NewsWatcher for free from their website. Currently, this program is on version 3.5.2, but it also has a beta version 3.5.3b3 which is available for MacOS X 10.5.
Usage Information
Installing and configuring this Mac newsreader may be easy and simple. However, in terms of its actual usability, MT-NewsWatcher presents some issues. Some functions can be difficult to do because of the program's confusing processes. Its interface also opens several windows when you do different commands instead of having multiple tabs, which you can easily go through from one to the other.
The look and feel of the program could also use a bit of updating since it does not look clean and modern at all. When compared to other newsreaders, MT-NewsWatcher seems to be behind the pack.
Installation
There is a readily available installer on the MT-NewsWatcher website. You can simply download the .dmg file and open it to begin installation.
Please be reminded, though, that this program may not work on the latest versions of MacOS. Upon our testing, it does not run on Catalina and Big Sur. Its beta release is said to be working on version 10.5 (Leopard), so it is possible that it may work on lower versions. That being said, this newsreader has not been updated for several years and that may be the reason why it does not work on most recent MacOS versions.
Configuration
To be able to fully use MT-NewsWatcher, you would need to configure your server settings. MT-NewsWatcher allows users to integrate multiple news servers.
Make sure that the information you enter on your server settings comes from a reliable Usenet service provider and then enable the SSL port of that server to keep your Usenet activity private and secure. You may also be required to enter authentication information depending on your chosen Usenet service.
After you've configured all the server settings you want, you can also edit them in the future and enable or disable some protocols.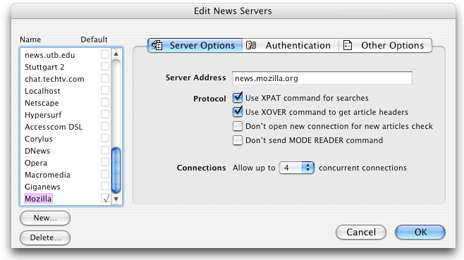 Scheduling and Automation
While MT-NewsWatcher does not have advanced or special automated features or scheduling functions like other top Usenet clients, it does have a Speech Recognition feature that allows the program to respond to certain spoken commands. This is a useful feature for those with disabilities or if you simply just want to step away from your keyboard.
The MT-NewsWatcher website currently has a list of speech commands you can use. Aside from that, its group and subject windows also have additional capabilities.
Usability
As previously mentioned, MT-NewsWatcher is not the best in terms of usability. It poses a lot of difficulties and confusion in terms of its processes and its interface. However, this program is easy to install and set-up. And while it can be hard to use and difficult to navigate, MT-NewsWatcher also has some pretty decent features that provide convenience to some users.
Conclusion
MT-NewsWatcher, while having generally good features, does not even come close to the best newsreaders in the market today. Specifically catered to Mac users, one would expect that MT-Newswatcher would have a simple, modern-looking and clean interface. But that isn't the case at all. This newsreader could use a lot of upgrading and further development to be able to compete well with top Usenet clients. Unfortunately, its last upgrade was to make it run for MacOS 10.5, which was released in 2007. It's been over 10 years since that time and improvements on MT-NewsWatcher have not been done. Because of this, MT-Newswatcher has become an outdated and unsupported program. It is our recommendation that users explore other Usenet newsreaders that have more advanced features and a friendlier user interface.
Best Usenet Newsreaders