Mimo Review
Last Updated: Jun 07, 2019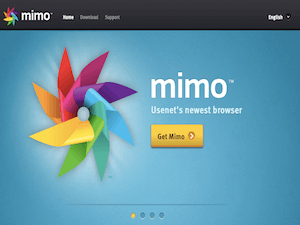 Rating
Price
Inc w/ Giganews
Retention
500 Days
Free Trial
None
Features
Java Newsreader
Slow
Not Updated Since 2014
June 2019: Mimo has officially been abandoned by Giganews.
Mimo is the result of Golden Frog and Giganews partnering up to build a newsreader, which goes along with Giganews's USENET access service.
Mimo is very easy to use. If you're not that familiar with USENET and newsreaders, Mimo might be just what you're looking for.
Mimo is designed to be as flexible as possible. It's a cross-platform technology and, according to the company, they built it to accommodate their long retention times.
Currently the supported platforms are Windows XP, Vista, and Windows 7, 8 and 8.1 , along with Macintosh OS X 10.6 and above.
The tabbed interface has an intuitive design to it. Search for the binaries or articles you want and you'll get a results screen that can be sorted by several criteria.
To download, click the green button to the left of the entry and you're on your way.
Features
Optimized for Faster Downloads, Searches, and Browsing
Optimized Search for Long Retention News Servers
Integrated Image Thumbnail Viewing
Filtering on Text, Binaries and Images
Auto unRAR and PAR technology
Integrated Giganews Accelerator Technology
Integrated Golden Frog Usenet Search
Golden Frog Usenet Search includes:
Servers Optimized for Speed
Binary Searches Across All Groups
Subject-Based Binary Searches
Take a look at the screenshots below to get a better idea of what this USENET downloader has to offer. This is an impressive offering from Giganews. It's fast, runs smoothly and is likely one of the best choices for people who haven't used a newsreader before.
To make it even better, the company has great instructions on using Mimo. The online manual is short and easy to follow. Go through it step by step once and you'll have the hang of Mimo.
Best Usenet Newsreaders