MijnUsenet Review
Last Updated: Feb 08, 2022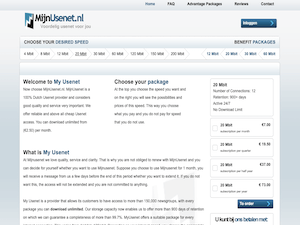 Rating
Price
€9.50 / Month
Retention
900 Days
Free Trial
None
Features
Dutch Usenet Service Provider
Plans Varying in Speed
Discounted Plans Based on 3 Timezones
MijnUsenet is a Dutch Usenet provider that offers plans based on your desired speed. Aside from that, MijnUsenet also has what they call a "benefit package" which basically is a lower cost plan that you can only use at certain times of the day.
While this Usenet provider seems to have decent Usenet access plans, it is important to note that they have a very low retention rate and their website's copyright date ended in 2018 which indicates that they have a very outdated service compared to most Usenet providers in the market today.
mijnusenet Quick Summary
Plans varying in speed - from 4 Mbit to 200 Mbit
Offers discounted plans based on 3 different time zones
Access to 150,000 newsgroups
900 days of retention
99.7% completion
Free SSL access
No download limit
4-20 connections
Account sharing allowed
Direct access after payment
24/7 support via email
Binary Retention
MijnUsenet has a very low retention rate currently at 900 days based on their website. This is much lower than our recommended binary retention that top Usenet providers ideally should have.
Pricing
MijnUsenet has Usenet access packages based on speed which you can either purchase per month, quarter, half-year or per year.
| Speed | Per Month | Per Quarter | Bi-Annual | Per Year | Connections |
| --- | --- | --- | --- | --- | --- |
| 4 Mbit | €4.50 | €12.00 | €23.00 | €45.00 | 4 |
| 8 Mbit | €5.50 | €15.00 | €29.00 | €57.00 | 4 |
| 12 Mbit | €6.50 | €18.00 | €35.00 | €69.00 | 8 |
| 20 Mbit | €7.00 | €19.50 | €37.00 | €73.00 | 12 |
| 30 Mbit | €9.50 | €27.00 | €53.00 | €105.00 | 12 |
| 60 Mbit | €11.50 | €33.00 | €65.00 | €129.00 | 12 |
| 120 Mbit | €13.50 | €39.00 | €77.00 | €150.00 | 20 |
| 150 Mbit | €14.25 | €41.00 | €80.00 | €157.50 | 20 |
| 200 Mbit | €15.75 | €46.00 | €91.00 | €180.50 | 20 |
MijnUsenet also has discount or benefit packages which cost less than its counterpart plans above but can only be accessed on specific times of day, when it is quieter on their systems.
0:00 - 12:00
2:00 - 14:00
4:00 - 16:00
These benefit packages can be subscribed to on a per half year basis only and comes with 12 connections.
12 Mbit - €15.00
20 Mbit - €25.00
30 Mbit - €30.00
60 Mbit - €40.00
Free Trial Info
MijnUsenet does not have any free trial offerings or test accounts.
Special Offers/ Coupons
There are currently no special offers or coupons available with MijnUsenet. Check back with us for future updates on this Usenet provider.
Speed Test
In terms of speed, MijnUsenet does not perform as well as top Usenet service providers. However, generally speaking, Usenet providers offer good speed for usenet access. When it comes to MijnUsenet, just make sure you select a plan that best fits with the speed of your broadband connection.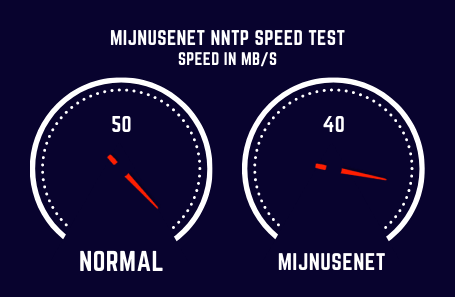 Connections
The number of connections you can get with MijnUsenet would depend on the plan you select. Their benefit packages are set to 12 connections. On the other hand, their regular plans based on speed vary from 4 to 20 connections.
News Servers/ Ports/ Configuration
To access Usenet using MijnUsenet, you should connect your newsreader to news.mijnusenet.nl. Their default ports are 119 or 80 and SSL ports are 563 and 443.
Frequently Asked Questions
Q: I'm not getting the speed I paid for, what now?
A: Check that you are using all the connections you have received from us. So if you got 8 connections with your package, tell your newsreader to use 8 as well.
Q: Which newsreader should I connect to?
A: This is: news.mijnusenet.nl
Q: Spotnet won't update and gives the following message: System.OutOfMemoryException
A: Unfortunately this is a known bug in Spotnet, the fix is ​​follow this tutorial: " Spotnet 1.8.1 Comments Loader v1.1 - System Out of Memory (fix)
Q: Which port is the default port?
A: You can use port 119 or 80 . for this
Q: What is the port to connect via SSL?
A: This is port 563 and 443
Q: I now have a 4mbit package, but now I want to upgrade to a 20mbit package, is this possible?
A: Yes this is possible, you can just extend your package and upgrade it to 20mbit, look for this in the members section
Q: What are your bank details? A: Payments can be made to: MijnUsenet on IBAN NL15RABO0160873509 .
Support
The MijnUsenet team is said to be available 24/7 via email. For basic questions, you can also check out the FAQ page on their website.
Contact Information
You can contact MijnUsenet at info@mijnusenet.nl
Security/ Company Privacy Policy
Their privacy policy states:
Clearly state the purposes for which we process personal data. We do this via this privacy statement;
Limit our collection of personal data to only the personal data that is necessary for legitimate purposes;
First ask you for explicit permission to process your personal data in cases where your permission is required;
Take appropriate technical and organizational (security) measures to protect your personal data and also require this from parties that process personal data on our behalf;
Respect your right to provide your personal data for inspection, correction or deletion at your request.
Payment Options
MijnUsenet only accepts the following payment options:
iDeal
MasterCard
Maestro
Visa
OverBoeking
Bancontact MisterCash
Incasso
Bleue
Giropay
Payments can also be made to MijnUsenet on IBAN NL15RABO0160873509 .
Our Opinion
With their outdated website and features, high costs compared to other providers and very low retention rate, MijnUsenet is not something we can recommend to any Usenet user. At some point in time, maybe MijnUsenet was a competent and reliable Usenet service, however it seems like it has not been able to keep up with more modern times and thus has not been able to match the service of top Usenet providers today. Better look for other options and check out our reviews on other Usenet access services.
Altenatives To mijnusenet
| Name | Price | Info |
| --- | --- | --- |
| Newshosting | $8.33 | Best Price / Free Newsreader |
| UsenetServer | $7.95 | NZB Search / Fast Speeds |
| Eweka | €7,00 | Best EU Provider / Lifetime Discount |
| Easynews | $9.98 | Easy Web App / File Previews |
| TweakNews | €7,50 | Free Newsreader / Free VPN |
| PureUSENET | €5.97 | Good EU Provider / Free SSL |
| XLned | €7.49 | Fast Speeds / EU Servers |