MicroPlanet Gravity Review
Last Updated: Feb 01, 2022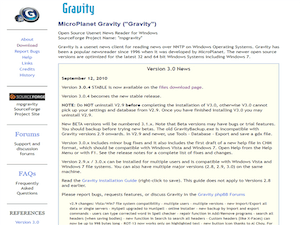 Rating
Price
free
Retention
500 Days
Free Trial
None
Features
Open Source Newsreader
Capable of Binary Decoding
Flexible Display Filters
MicroPlanet Gravity is a free Usenet client capable of reading news over NNTP. Since its development in 1996, it has gained popularity in the Usenet community even being chosen as PC Magazine's Editor's Choice that same year. From that point, several improvements and updates have been done to the program to provide users with the best possible Usenet newsreading experience possible.
EDITOR'S NOTE: MicroPlanet Gravity has not been updated since September 2010. There is also no information if its open-source contributors have ceased development on the software.
Highlighted Features
MicroPlanet Gravity is an online and offline Usenet news client with an extensive list of features from filters, rules and scoring. All their versions use Perl Compatible Regular Expressions or PCREs for these rules, filters and scoring. It has the following key features:
Implements a scoring system. Users can sort or filter by score or assign colors to score ranges.
Users can act on certain articles based on certain criteria
Powerful and flexible display filters
Multiple user support
Binary decoding abilities including yEnc decoding and filter displaying to show complete binaries, if all parts are present
Backup and restore can be done via the "Export and Import" functions under the Tools menu
Displays X-faces (enable or disable X-face display from the Global options)
Spell Checker – uses Hunspell, a small open source spell checker
Platform is Visual C++ 2008 and MFC
Current version: 3.0.4 (stable)
MicroPlanet Gravity does not support NZB files, header compression, or multiple connections.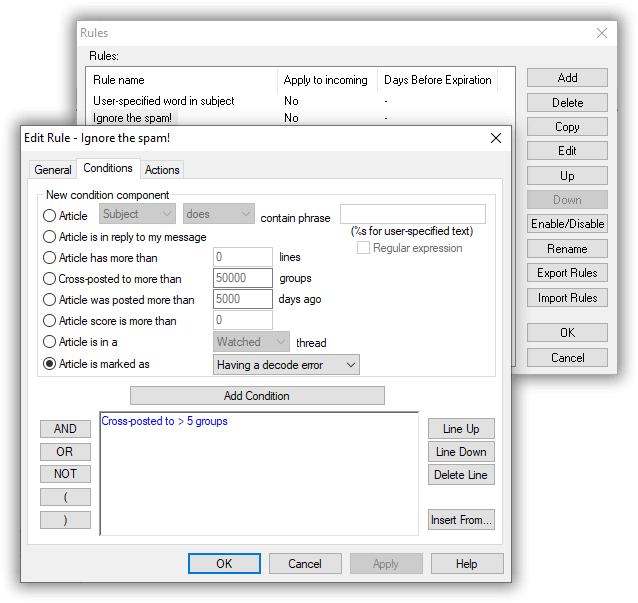 Plans & Pricing
When MicroPlanet Gravity was first developed, it was shareware and was sold briefly to Anaware Software. However, in 1996, its developers eventually gave away the program free of charge. You can download the MicroPlanet Gravity software from sourceforge.net.
Usage Overview
While the installation and configuration process of MicroPlanet Gravity is very appealing since it can easily be done, its actual interface is not. You might need to invest time on reading their manual to be able to understand how to use the program.
Installation
To install MicroPlanet Gravity on your Windows device, you would simply need to download an installer from the SourceForge website and run it. Your set-up wizard will then guide you through the entire process from selecting an installation folder to completion.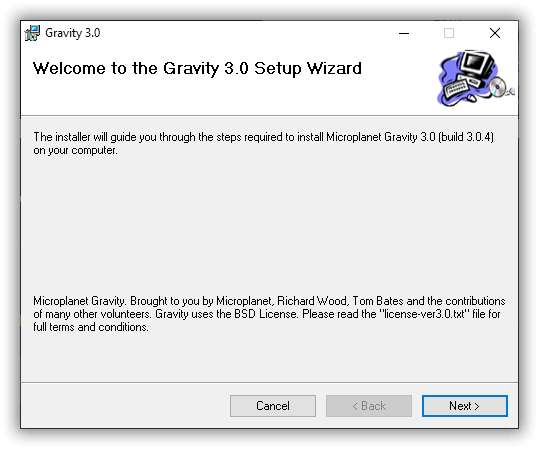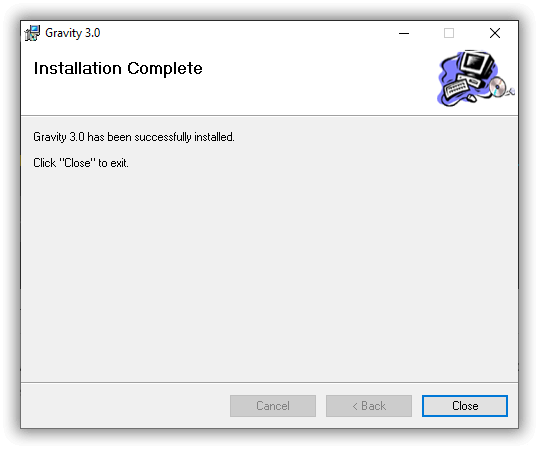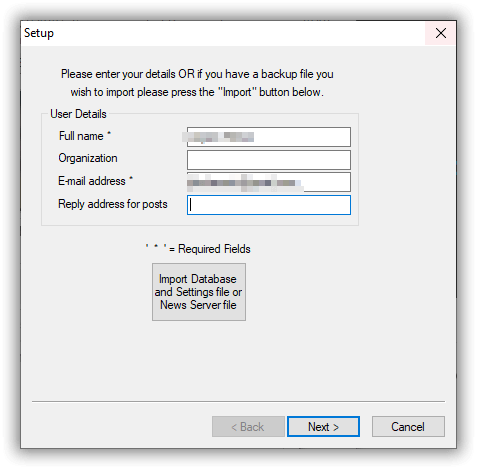 Configuration
To be able to completely use MicroPlanet Gravity, you would need to enter your server information. This includes your news server nickname, server address, and login information (if required). You may also opt to log on using a secure password authentication.
The mail server (SMTP) section is required for you to be able to use the email feature than the program also has.
Make sure you use secure ports to keep your whole Usenet activity safe and secure.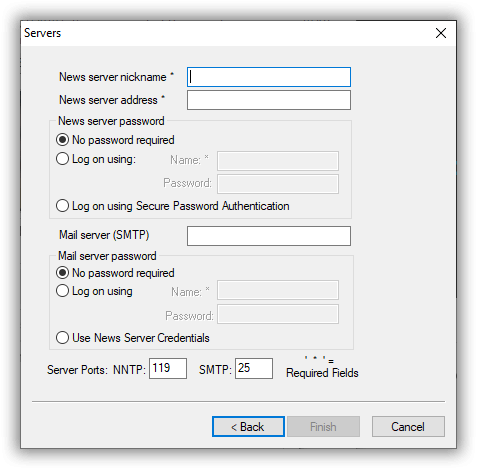 Usability
When you first get into the MicroPlanet Gravity interface, you will be greeted by a very outdated interface. This is most likely because the program has not been improved since 2010. That being said, there are customizations that you can do in terms of the main functions, icons and fonts on the interface. However, even with that customization properties, the whole usage of this program is still quite difficult, especially for new users or those who are used to more developed newsreaders.
Users would really need to take time to learn how to use this program. And MicroPlanet Gravity does have a manual available that you can use to learn basic functions, more technical features and terminologies and also how to fix common errors. Should you have any other problems like bugs or other concerns, you can always report it via a forum available on SourceForge or email them at nfn03862@naples.net.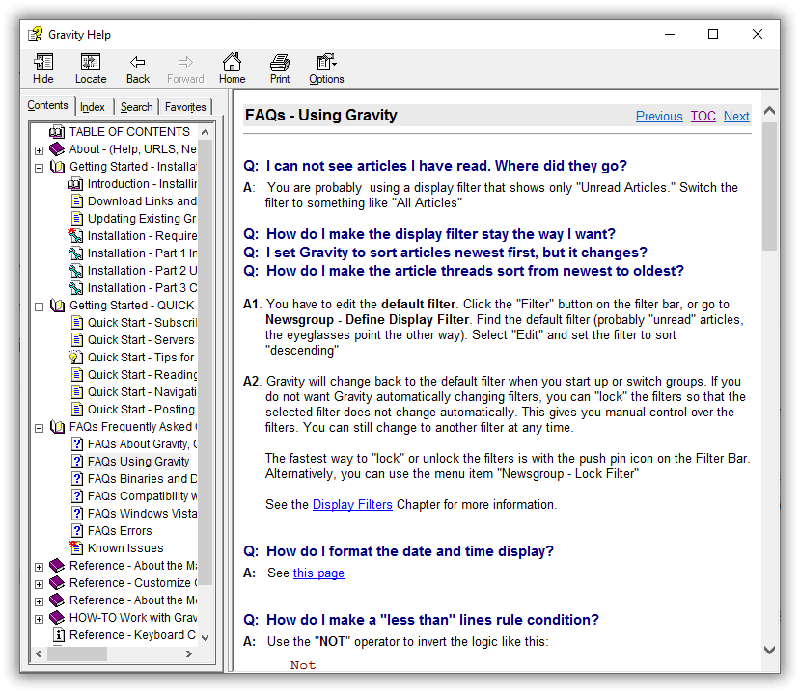 Conclusion
MicroPlanet Gravity is a competent newsreader that has had a good reputation back in its heyday. However, with the emergence of several more updated and constantly improved newsreaders in the market, MicroPlanet Gravity seems to have been left behind. And while its main features work well, its whole program, from its interface to functionalities, are quite outdated. Most modern newsreaders these days already provide multi-server support and NZB file support, but this program does not. You can consider MicroPlanet Gravity as a basic back-up Usenet client; however, we strongly suggest that you look at our list of the best Usenet newsreaders since there are a lot more stable and updated newsreaders in the market today.
Best Usenet Newsreaders