MediaDog Review
Last Updated: Feb 11, 2022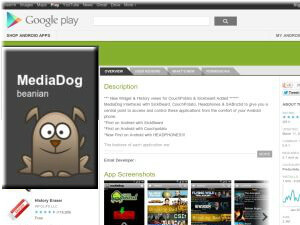 Rating
Price
Free
Features
MediaDog Software
Block From Google Play
Last Updated 2014
Android Usenet
Editor's Note: MediaDog has been discontinued and prohibited from the Google Play store since 2019. The last update was in 2014. We recommend you instead look at NZB360 for Android Mobile Usenet.
MediaDog was an app for Android that allows you to control some of the most popular USENET apps around. It includes support for SABnzbd, CouchPotato, SickBeard and Headphones. This is, in fact, the first app in the Android family to offer Headphones support, and that does give it something of an advantage over apps such as NZB360, another great option for Android users.
The Reviews
On Google Play, the reviews for this app were overwhelmingly good, with the majority giving it four- or five-star reviews. The components have brought up a few alleged bugs.
One review mentions that the app has presented some problems for the reviewer with that Headphones support, in fact. The user complained that the app had some issues adding artists.
The same user, however, did mention the Headphones support as one of the reasons that he chose the app, referring to it as "quality". ( Also see our list of best NZB sites )
What Makes it Different
The biggest difference between MediaDog and NAB360 is that Media Dog does have the Headphones support. Other than that, these apps provide a similar range of features that should appeal to any USENET user.
Both of them interface with Sickbeard and SABnzbd. Developers are planning to add support for CouchPotato in the near future. The additional support for Headphones might be enough to sway some users toward Media Dog, however, especially given that it has gotten excellent reviews on Google Play, which is sometimes a tough crowd to win over.
Recent Improvements
MediaDog is actively being developed. Recently, the developers fixed some bugs and changed the interface around a bit to make it more convenient to use.
Media Dog does have a very simple interface that gives the most important information from the apps that it works with. You'll get images and descriptions for videos, easy-to-navigate menus and accessing Sickbeard, CouchPotato, SABnzbd and Headphones is very easy from the home screen.
The MediaDog app is available at the Google Play store and is currently selling for $3. To use the app, you'll need to have a USENET service provider. There are plenty of good providers listed among our reviews, where you can compare their various features and pricing options. Make sure that any provider you choose offers SSL encryption so that you can stay private on the Internet. The MediaDog app is only one of the many apps for mobile operating systems that you can use to improve your USENET experience.