I-telligent Review
Last Updated: Feb 01, 2022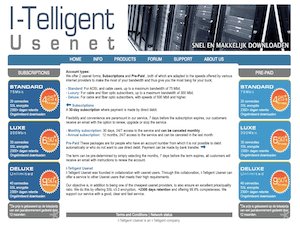 Rating
Price
€9.50 / Month
Retention
2300 Days
Free Trial
None
Features
Dutch Usenet Service Provider
Subscription and Prepaid Accounts
Various Speeds
I-telligent Usenet is a Dutch usenet provider that offers subscription and prepaid types of accounts for users. Both of these accounts vary in speed allowing you to select which fits well with the bandwidth of your internet service provider.
i-telligent Quick Summary
Dutch Usenet provider
Subscription and Prepaid Accounts
Unlimited downloads
Various speeds offered
SSL Encryption
Up to 40 connections
2300 days of retention
99.8% completion
Forum available
Binary Retention
Compared to top Usenet providers, I-telligent has a low retention rate which is currently at 2300 day. Top Usenet providers are currently at 4000+ days.
Pricing
I-telligent offers subscription and prepaid accounts, both of which have different speeds allowing you to choose which plan would best suit the bandwidth of your internet service provider.
Subscription plans can be purchased on a monthly or annual basis. 7 days before a subscription expires, customers will receive an email with the option to renew, upgrade or stop the service.
Standard - €4.25/mo
Luxe - €6.50/mo
Deluxe - €9.50/mo
Pre-paid plans, on the other hand, are for people who have an account number from which it is not possible to debit automatically or who do not want to use direct debit. Payment can be made by bank transfer. Terms can be pre-determined by selecting the months. Seven days before a term expires customers will receive an email with instructions to renew the account.
Standard - €4.25/mo
Luxe - €6.50/mo
Deluxe - €9.50/mo
Free Trial Info
There is no free trial information on the I-telligent website.
Special Offers/ Coupons
Currently, I-telligent is not offering any discounts or special coupons for their plans. Make sure to check back with us in the future for updates on possible promotions.
Speed Test
I-telligent is decent enough when it comes to speed. It may not be the best when compared to top Usenet service providers but it does the job. With speed options varying, you can choose a plan that would match the speed of your own internet connection.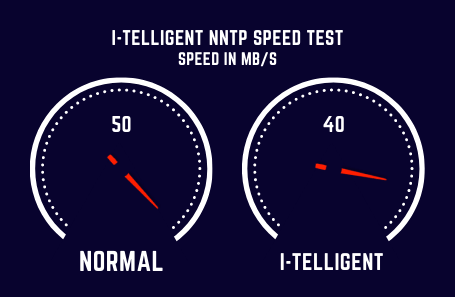 Connections
The number of connections you get depends on the plan you select. I-telligent's maximum number of connections is at 40 which is included in their Deluxe subscription or pre-paid plan.
News Servers/ Ports/ Configuration
News server and configuration information pending
Frequently Asked Questions
Q: What is the difference between subscription and pre-paid?
A: Both are essentially the same, only with subscription payment is made by direct debit and with pre-paid the amount must be transferred yourself. Pre-paid was created because there are people who have an account number that cannot be debited from or who prefer not to use direct debit.
Q: How long am I tied to a subscription and can I cancel easily?
A: They use the word subscription purely as a name, you can use their service for 30 days and on day 23 you will receive an email that gives you the option to upgrade or cancel your package, canceling is easy to do by replying to the email with the word "STOP".
If you want to use the service again, you can do so through the normal means and you will receive the same login details back if you use the same email address as before (so you do not have to remove the login details from your news reader).
If you want to continue the service, you can ignore the email and hereby authorize I-Telligent Usenet to collect the amount again once for a period of 30 days.
Q: Why is there no iDeal option for the prepaid form?
A: They deliberately did not choose iDeal because of the costs it entails and they would like to remain one of the cheapest USPs. It would also be unfair to make the pre-paid packages more expensive in order to rectify the costs because there are people who have an account number that cannot be debited from. And to be able to use iDeal, people still need to be in possession of internet banking and they can now simply "copy & paste" the payment details that are in the email and pay in a simple way.
Q: Which newsreader do they recommend?
A: On their forum they have compiled a list of newsreaders that they recommend.
Q: I have received and entered the login details but get a 482 error "Authentication Rejected"
A: The server indicates that your username or password is incorrect, perhaps a space has been copied or mistyped.
Q: I've tried both ports 563 and 600 but I can't connect, what's the problem?
A: Port 563 or 600 are SSL ports, to be able to use them you need to check/activate SSL (also called "Encrypted Server") in your news-reader.
Q: Can I share my account (Account Sharing) and is it possible to download with multiple PCs?
A: That is possible, sharing is based on the connections and is not IP address bound, if we look at a Deluxe account then two users with 20 connections each can download at the same time. On the other hand, support is only provided to the person who is registered with us as customer/owner of the account.
Support
I-telligent providers customer support via email. Their team is available to respond from Monday to Saturday from 9:00 to 22:00 and on Sundays 15:00 to 22:00. Support is also available via their forum.
Contact Information
There is no contact information available on the I-telligent website except for their email address: support@i-telligent.nl.
Security/ Company Privacy Policy
I-telligent keeps your Usenet activity safe and secure by providing you with SSL encryption across all their plans.
Payment Options
I-telligent is limited in terms of payment options. For subscription plans they only accept debit cards and, for pre-paid plans, they only accept bank transfers.
Our Opinion
I-telligent is definitely not in the same league of our top Usenet service providers. While they offer pretty decent plans which allow users to select the speed fitting for their own bandwidth, other features they have just do not compete well with a lot of other Usenet providers. And based on their forum page, the last post made was back in 2018 which makes us think that they have inactive users and an outdated service as well.
Altenatives To i-telligent
| Name | Price | Info |
| --- | --- | --- |
| Newshosting | $8.33 | Best Price / Free Newsreader |
| UsenetServer | $7.95 | NZB Search / Fast Speeds |
| Eweka | €7,00 | Best EU Provider / Lifetime Discount |
| Easynews | $9.98 | Easy Web App / File Previews |
| TweakNews | €7,50 | Free Newsreader / Free VPN |
| PureUSENET | €5.97 | Good EU Provider / Free SSL |
| XLned | €7.49 | Fast Speeds / EU Servers |