How To Open Par2 Files
Last Updated: Aug 21, 2019
PAR is an abbreviation for Parity ARchive. PAR and PAR2 files are used to repair and replaced damaged or missing files found on USENET . Unlike the World Wide Web, files on USENET do not travel in a straight line, instead files / messages are passed from USENET server to USENET server of varying file storage capacities (Retention).
As a result of this travel and different server capacities, often parts of a USENET message will go missing. These missing files in USENET terminology are called incompletes.
Par2 files and Par (less common) come to the rescue here and help solve the problem of incomplete messages.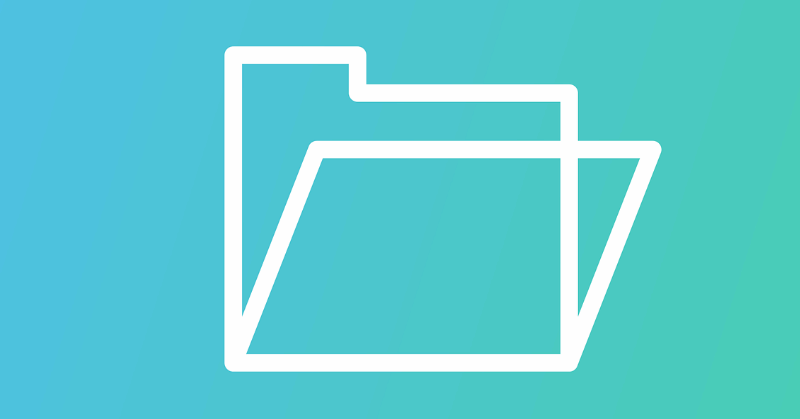 How To Use Par Files
Probably first you are interested, in how to use par2 files to repair or replace a missing or broken file.  The good news is that it is pretty easy to do, if you install the right program.
Here is a chart of the best programs for working with Par2/ Par Files.
| Name | OS | Details |
| --- | --- | --- |
| WinPar | Win | Freeware Windows |
| MacPar | Mac | Freeware and Best pick for Mac users |
| NZBGet | Win, Mac, Linux | Part of Integrated Usenet Downloader |
| SabNZBD | Win, Mac, Linux | Another Integrated Usenet Downloader |
| ParArchive | Win, Mac, Linux | Freeware, Command Prompt, Antiquated |
QuickPar Demo
Here we use the example of the best windows program for opening par files - QuickPar. Be sure to associate PAR2 and PAR2 files , with QuickPar. Also if you download USENET binaries often, then consider integrating QuickPar into the windows shell.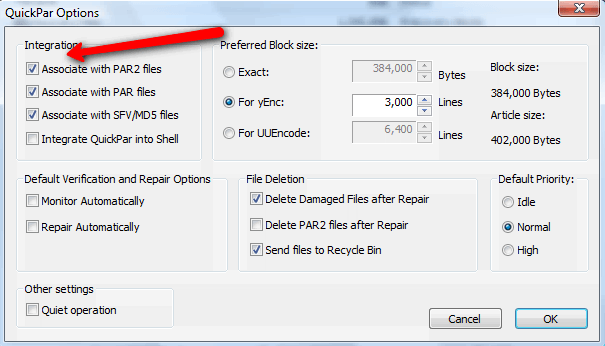 How To Open Par Files
In the case of QuickPar, we install and associate Par2/Par files with QuickPar then we double click on the Par2 file to initiate the process of file repair or restoration.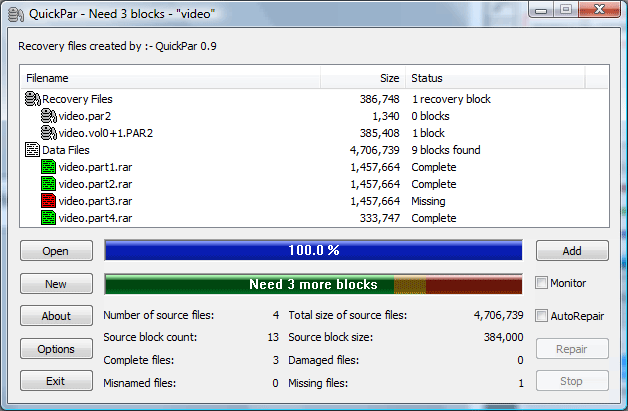 In this picture above, we see that we are missing three blocks. In this case we would want to download a few more PAR2 files and then double click once again until we see the text that says ready to recover.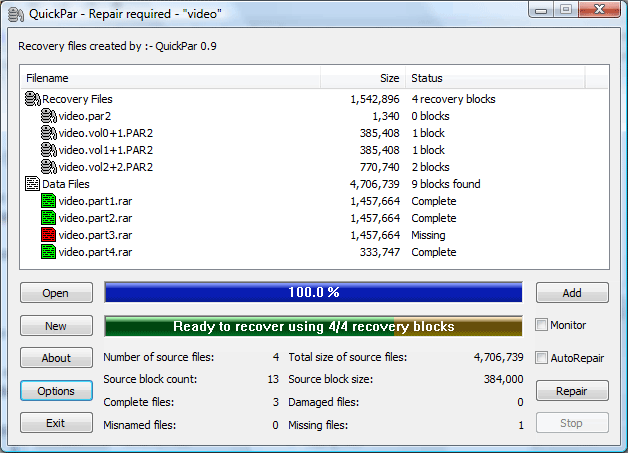 One nice thing about QuickPar is that is available in many different languages - see here - http://www.quickpar.org.uk/Download.htm and not the many different languages. So its easy to open par files.
Par Explanation
PAR was the original standard for replacing reconstructing missing USENET binary files. PAR, however, had several limitations and was shortly replaced by the improved PAR2 format.
The Par algortihm works by using checksums.
An example: Pretend you have the following numbers: 1 2 3 4. The checksum for these numbers would be 10. (1+2+3+4=10). If number 3 goes missing you can still figure out what is missing by knowing the checksum of 10. 10-1-2-4 = 3. The Par2/Par alogorithms are based on these principles.
If you are interested more technical details then check out the sourceforge project - http://parchive.sourceforge.net/ otherwise install and use the recommended PAR2 program after downloading binaries from Usenet to make sure that the file you have downloaded is not corrupt nor missing a file.
PAR2 vs. PAR differences
PAR and PAR2 files aren't the binaries you're looking for; they provide a way to fix the files that you want when they're incomplete. That's what makes them so useful. Sometimes, when you're searching USENET, you'll see PAR and PAR2 files in your search results. These files can be used by anyone to reconstruct data that's missing from a PAR or PAR2 file. That has real utility in the USENET world.
Essentially, if you're missing a small part of a binary and can't find it anywhere, or you download the complete binary but parts of it are damaged, PAR2 files can be used to reconstruct the data. You might have noticed that we didn't say PAR files there. PAR files cannot do the same things that PAR2 files can do. PAR files cannot repair damaged files and they cannot repair more than 255 files.
To put that in perspective, PAR2 files can repair more than 32,000 files and are capable of repairing damaged files. PAR2 files require more CPU power  to process but, with today's fast processors, the load on the system is likely to be unnoticeable.
PAR2 vs PAR Comparison
PAR2 - Damaged files can be repaired. A small error in a big file requires a small Par2 file to fix. PAR -  Damaged files can not be repaired. A small error in a big file requires a large PAR file to fix.
PAR2 - More CPU required. PAR - Less CPU required
PAR2 - 32,000 files can be repaired vs 255 for PAR
A par file does this by virtually splitting the files you wish to protect. For more technical details on the differences see here: http://www.quickpar.org.uk/AboutPAR2.htm
Is USENET Always so Technical
No. Making use of what USENET has to offer doesn't require that you have advanced technical skills. The great thing about USENET, however, is that with a little bit of effort put toward learning its more technical aspects, you can avoid a lot of the problems you'd run into using other options. For instance, if no one is seeding a torrent, it's simply unavailable, and quite a few torrents end up becoming unavailable after demand for them has subsided. As you'll see among our best USENET providers, binaries oftentimes remain on USENET servers for years after they're uploaded and, with tools like PAR2, QuickPar, and so many others at your disposal, USENET is a very powerful solution to finding whatever types of files you want, even if they've long since lapsed in popularity.
This Is Still Too Technical for Me
Not to worry; we have you covered. If you're really lost at this point and think USENET isn't for you, give some of our best providers a look. They have tools, such as browser-based downloads, simple search tools, and other perks that make USENET very easy to navigate. Take our word for it: once you see how fast USENET delivers files, you won't want to go back to whatever you're using right now.
Remember that USENET has a distinct security advantage over other file downloading options. Our best USENET providers all offer you the option of connecting to their servers via SSL, which protects your privacy when you're downloading. Unless you're using a privacy tool such as a VPN, any file downloads you perform online are likely completely visible to your ISP and anyone else who's monitoring your connection or the torrent. USENET is the safest, fastest and, once you learn some of the basics, the easiest way to download video, audio, or any other type of content.
Again, if this feels a bit over your head, don't be intimidated. USENET might seem new to you right now, but it's been around for a very long time and there is no shortage of tools that make even the difficult-seeming things very easy. For more information on those tools, start with our pages on newsreaders, search tools, and NZB sites.