Hogwasher Review
Last Updated: Jan 28, 2022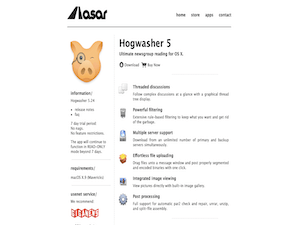 Rating
Price
$36.00
Retention
500 Days
Free Trial
None
Features
Full-Featured Newsreader for Mac OSX
Multi Server Support
Powerful Filtering
Hogwasher is a dependable newsreader for Mac users. It is created by Asar, which is a software company that develops applications for OS X and iOS.
Hogwasher is a full-featured newsreader that allows users to download files from multiple connections across multiple servers. It has an extensive filtering feature that keeps article discussions available and a modern-looking interface that can be enjoyed by most Mac device users.
Aside from the basic newsreader functions of being able to read articles from Usenet and posting messages on threads, it also supports binaries and NZB files. It has full support for post processing and has a built-in image gallery.
Hogwasher is in constant development with its latest version, Hogwasher 5.24, released fairly recently.
Highlighted Features
Being a fully capable newsreader, Hogwasher has multiple features that cater well to the needs of a lot of Usenet users. While it is not compatible with other operating systems like Linux and Windows, Hogwasher provides a good user experience for Mac users.
Graphical Thread Tree Display

Follow complex threaded discussions at a glance

Extensive Filtering

Keeps what you need and gets rid of spam and garbage

Multi Server Support

Allows you to download from an unlimited number of primary and backup servers

File Uploading

Allows you to drag files on message windows.
Post properly segmented and encoded binaries with one click

Binary and NZB Support

Capable of downloading binaries and NZB files

Integrated Image Viewing

Allows users to view images via its built-in image gallery

Post-processing

Automatic PAR 2 check and repair, unrar, unzip and split-file assembly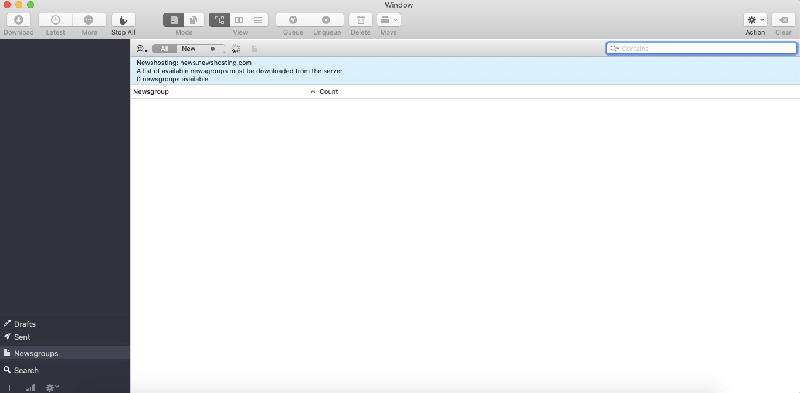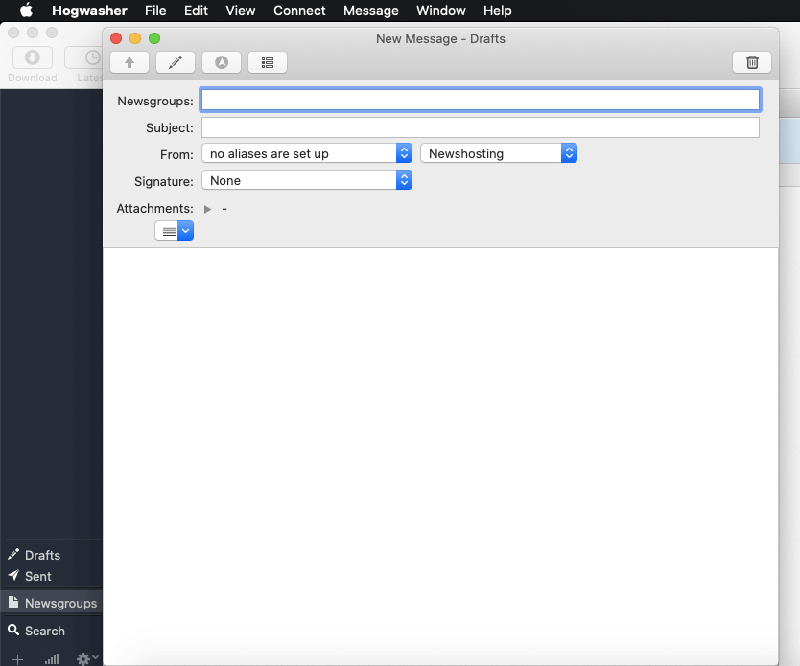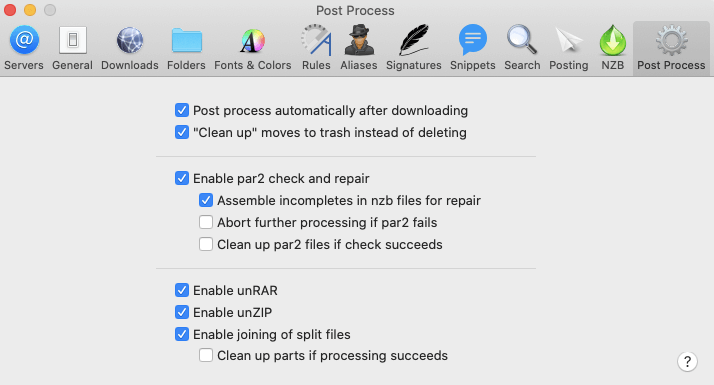 This newsreader supports multiple servers, you can also use other Usenet service providers with Hogwasher. The current version, 5.24, addressed several issues that the app used to have.
Fixed hang when download connections switch from one nzb or subscription to another.
Fixed column sizes not being preserved (hopefully once and for all).
Several bug fixes.
Plans & Pricing
Hogwasher can be downloaded and used for $36.00. Asar accepts payments via credit cards or Paypal. You can also purchase this application via check or money order and send it to:
attn: Sales
Asar Corporation
3142 Rush Mendon Rd.
Honeoye Falls, NY 14472
USA
Free Trial Information
Hogwasher can be used for free for 7-days. This free trial has no restrictions on features. However, after 7 days, the software will automatically function in Read-only mode.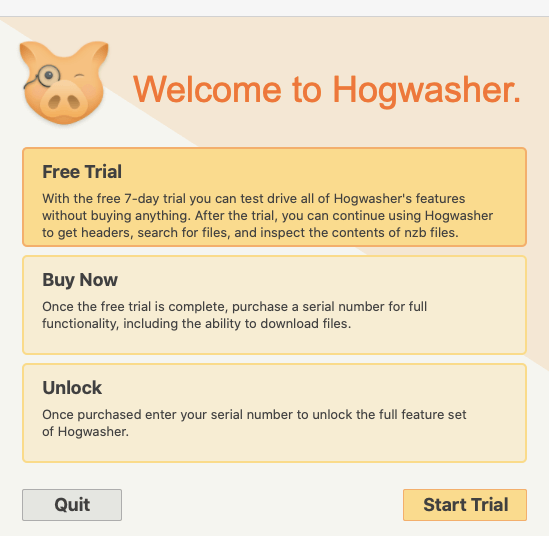 Usage Information
As far as ease-of-use is concerned, Hogwasher is among the most convenient and efficient newsreaders out there. While it is not as popular as the best newsreaders in the market, Hogwasher is definitely one of the more reliable full-featured Usenet clients today. It has multiple features that provide the good user experience for downloaders and has a modern and clean interface that is both visually appealing and easy to navigate. The simplicity of the program is also carried over with its installation and configuration process.
Installation
Your device needs to have a mac OS X.9 version or later to be able to install Hogwasher. If you have this, simply download the installer for the Asar website and follow the usual Apple application installation process. You can also read the "Read Me First" html file attached within the Hogwasher installer to know more about the program.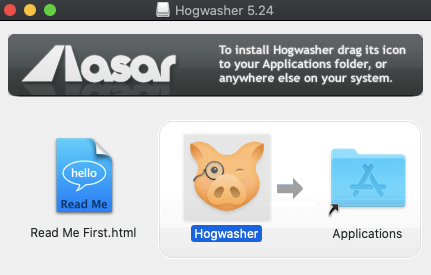 Configuration
To be able to use Hogwasher, you must first configure your server settings with the appropriate details from your selected Usenet provider. This includes the server address, username and password if authentication is required, allowable connections and port to be used. Make sure you use an SSL-enabled port to keep your Usenet activity secure and anonymous.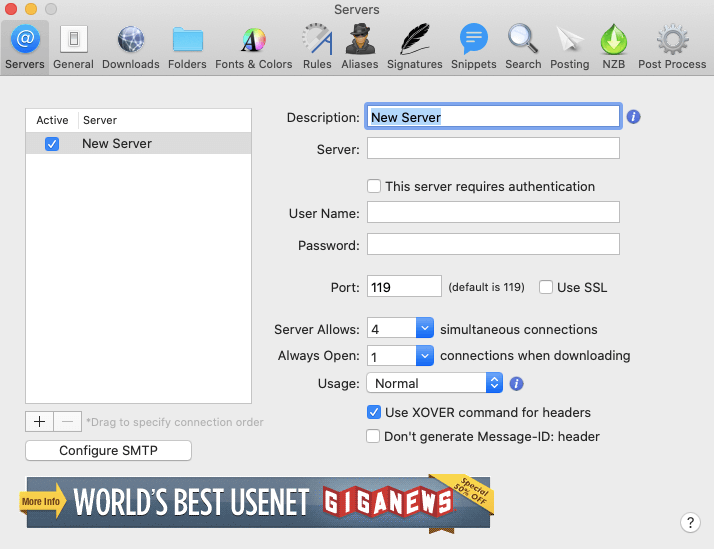 After you've configured your server settings, you can also explore your general settings to make changes on the interface theme, enable notifications, or badge app icons. There are several functions to consider in this section, so you can fully customize how you want the application to look and function according to your preference.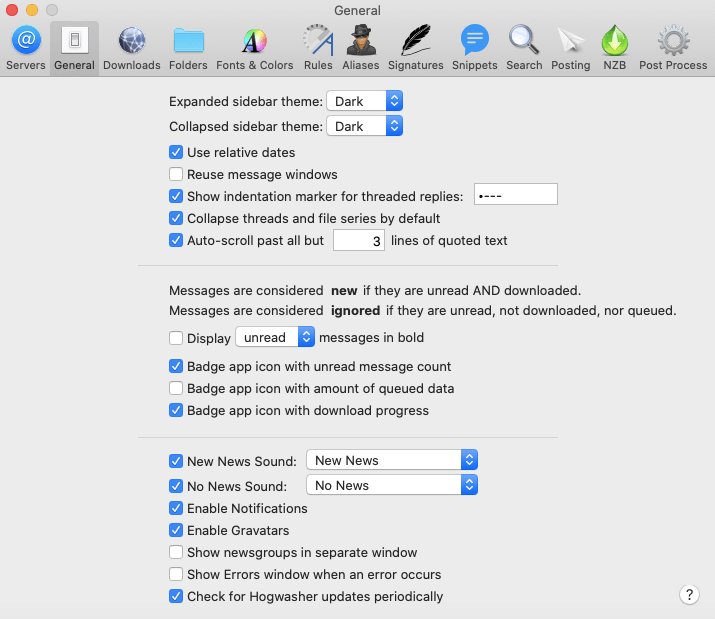 Hogwasher also has a search settings section, where you can configure where you want your NZBs to go or enable searches to be viewed in a separate window.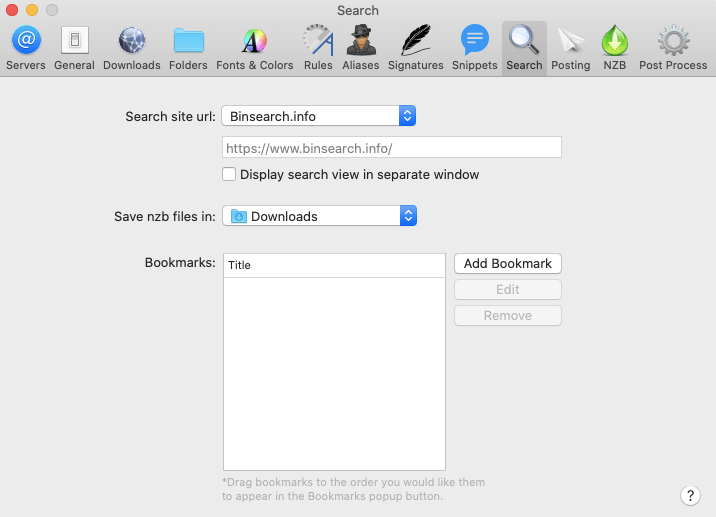 Aside from the abovementioned settings, there are a lot of other configurable sections that you can change with Hogwasher – from post processing, fonts and colors, aliases to posting settings.
Scheduling and Automation
In the NZB settings, you can automatically queue files for download. There are also other functions that you can automate on this section, like opening nzb files from a folder, downloading NZB files after opening or deleting NZB files after deleting from Hogwasher.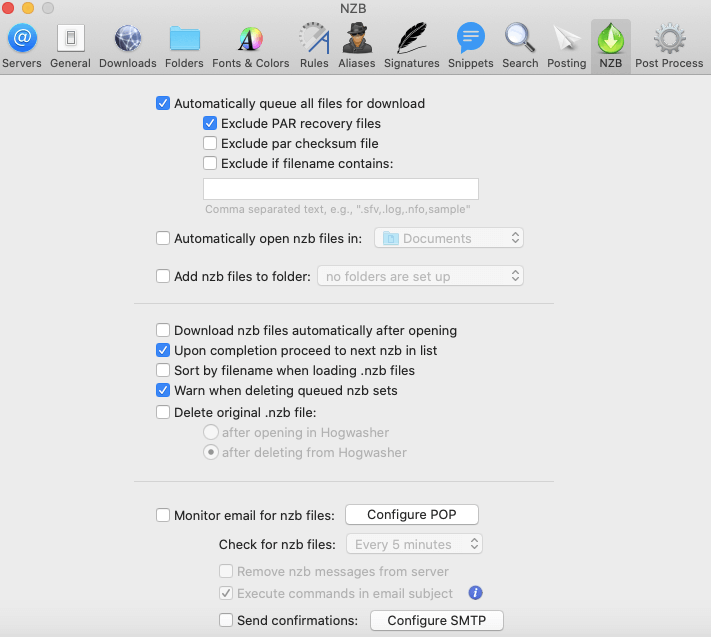 Usability
Hogwasher was developed with ease of use in mind. And since most Mac applications have a certain clean and modern-look, Asar designed Hogwasher to have a simple and clutter-free interface.
From installation to actual usage, Hogwasher does not disappoint. While it is not as well-known as top newsreaders in the market, Hogwasher can be considered as one of the better newsreaders out there with its useful features, multiple configurable settings, and easy-to-use interface.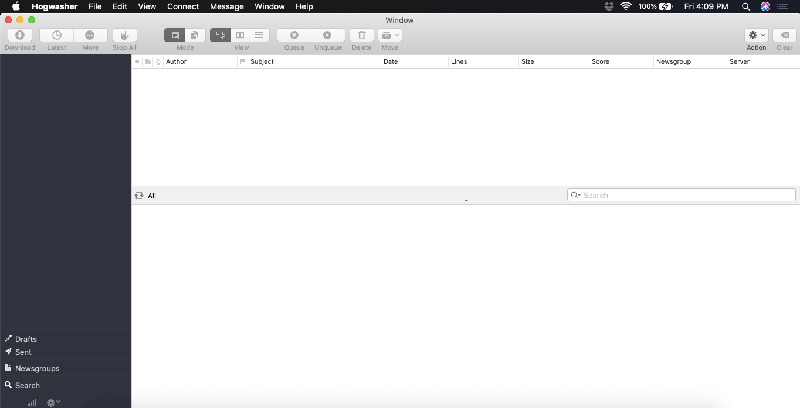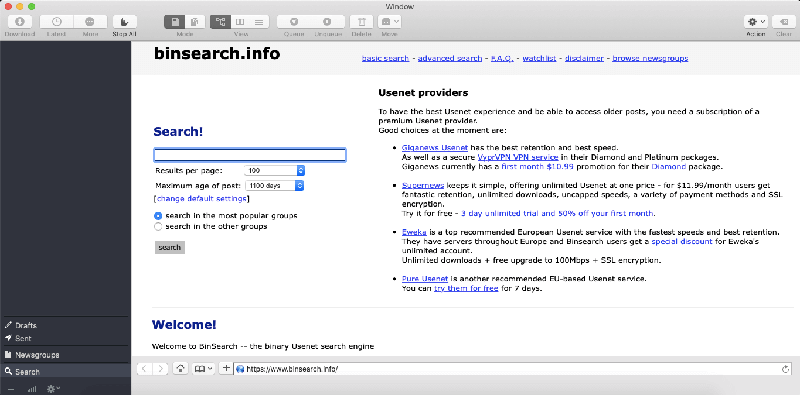 Conclusion
Probably the only downfall of Hogwasher is that it is a paid Usenet client. While it definitely is a competent and reliable newsreader, there are other programs currently in the market that are free to download and can run on multiple operating systems. However, this does not mean that Hogwasher is not worth checking out. With its good features and highly configurable settings that provide efficiency and convenience to Mac users, Hogwasher is certainly a dependable MacOS newsreader.
Visit Hogwasher
Best Usenet Newsreaders