Hitnews Review
Last Updated: May 03, 2019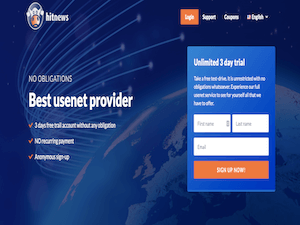 Rating
Price
€9,95 / Month
Retention
1000 Days
Free Trial
3 Days
Features
Dutch Servers
SSL Included
12 Connections
Hitnews offers a "nighttime" account that offers discounted rates for accessing USENET during off-peak hours. They're located in the Netherlands.
Quick Facts
Nighttime Account Option
Long-Term Subscription Discounts
SSL (Privacy Protection)
Free Trial
1,600 Days Binary Retention
Binary Retention
Hitnews offers approximately 1,600 days of binary retention. This is less than our best providers offer.
Pricing
Hitnews offers a nighttime account option that comes a discounted price. Their other plans are differentiated by speed and the number of connections allowed.
| Name | Price/month | Connections |
| --- | --- | --- |
| 2.5 mbit | € 2,95 | 2 |
| 5 mbit | € 4,95 | 4 |
| 10 mbit | € 5,95 | 8 |
| 25 mbit | € 6,95 | 8 |
| 50 mbit | € 7,50 | 20 |
| 80 mbit | € 7,95 | 30 |
| 120 mbit | € 8,95 | 30 |
| 500 mbit | € 9,95 | 30 |
| High Speed 48-hours | € 4,75 | 30 |
Nighttime Accounts: these run € 4,75 per month and only allow you to access full speed downloads from 12am until 4pm CET Monday through Friday and from 12am until 10am CET on Saturday and Sundays. Your download speed is limited to 1Mbit at any time outside the aforementioned hours.
Free Trial info
You can get a three-day free trial from this provider. You won't be billed until it ends and the trial is unlimited, so you can see the full capacity of this provider before you decide whether or not to buy.
Special Offers / Coupons
There currently are no coupons on tap from this provider. Check back soon, though, because we update frequently.
Speed Test
Hitnews did well in speed testing. You shouldn't have any problems getting the speed you paid for unless you have problems with your ISP.
Connections
Your connection allotment will vary according to the plan you purchase. See the table above to see the number of connections provided for each type of plan.
News Servers / Ports / Configuration
news.hitnews.com
Unencrypted Ports: 119
ssl.hitnews.com
Encrypted Ports 763, 995
Frequently Asked Questions
Q: How does the nighttime access package work?: The nighttime access package is based on nighttime during CET time, so keep in mind that the actual times when you get your maximum speed may vary locally. If you're in the US, the time difference will be significant. That being said, this is an interesting offer but not one that we find particularly practical for most USENET users. Those who find it to increase the value of the product will likely be those who do a lot of scheduled downloads that they can complete during those hours or those who know they'll consistently be using USENET between the hours listed more than they will at other times.
Q: What about the 48-hour access?: The 48-hour access might be good if you have a lot of downloading to do and don't want a subscription. However, this doesn't seem like quite as good an option for such usage when we compare it to block access. Block access never expires and offers a lot of download data—especially from our best providers, such as Tweaknews—so there's really no advantage in purchasing a short-term plan, as far as we can see. You'd be better off with block access. If you don't use the entire download allotment on your block plan, it won't expire on you.
Q: What about the prices in general, are they good?: They're actually a bit high. You can get unlimited, unmetered access from most of our best providers for better prices than you'll get from Hitnews.
Q: Is there a nighttime option for the US?: No. This service is very much focused on the Netherlands, where it's located. There isn't a similar nighttime hours discount available for users in the US. For US users, of course, that means that any late-night downloading you're doing is going to be done during the throttled hours.
Q: Can I bring my own newsreader this service?: Yes, any newsreader or downloader should work fine with this service. You don't have to use a provided newsreader or deal with other restrictions from this provider.
Q: Do the very low number of connections on the slower plans make a difference?: When connection numbers get as low as 2, yes, it can make a difference. We normally advise readers to not worry too much about connections—most providers offer far more than users will really need—but, when there are so few offered, we do advise that you take it into consideration. Again, block access is a much better value than very limited subscription access.
Q: Should I use the unsecured, unencrypted server?: No. We always recommend using SSL, simply because it's better to err on the side of privacy rather than on the side of being too vulnerable online. The SSL server shouldn't slow down your connection and it offers a lot more protection for your privacy, so always use that, if you choose to take our advice.
Support
support@support.hitnews.com
Contact Information
RSP Sales LLC attn. Hitnews
969 Street Road
Southampton, PA 18966
U.S.A.
Security/Company Privacy Policy
Hitnews says that they will not share any personal information about you without your consent or without a valid warrant from a law enforcement agency. They do not share information with third parties otherwise.
Payment Options
You can pay for your service at Hitnews with a bank transfer, credit card or PayPal.
Our Opinion
Hitnews has an interesting selection for subscriptions, but we're not convinced that they're entirely practical for the average USENET user. The 48-hour subscription, in particular, is outshined by block access from most any provider. While your block access will run out once you hit the allotted amount of data, it won't require you to make another payment to keep it active. That's too much of a difference in value to ignore.
The nighttime subscriptions might be useful for some users in the EU but, beyond the time zones that apply there, this is of questionable value. The time limitations are likely to affect people located elsewhere in the world at times when they're most likely to be downloading and, because the throttled bandwidth is so low, we cannot recommend it. Again, block access is a better option for such users.
We recommend any of our top five providers over Hitnews. They all offer better prices, more flexible packages and more value for the dollar than Hitnews, and you don't have to worry about your speed being throttled based on the time of day you download. They also have better retention times, support options and update their sites more frequently with new information, which makes them better choices all around.
Altenatives To Hitnews
| Name | Price | Info |
| --- | --- | --- |
| Newshosting | $8.33 | Best Price / Free Newsreader |
| UsenetServer | $7.95 | NZB Search / Fast Speeds |
| Eweka | €7,50 | Best EU Provider / Lifetime Discount |
| Easynews | $9.98 | Easy Web App / File Previews |
| TweakNews | €7,50 | Free Newsreader / Free VPN |
| PureUSENET | €6.63 | Good EU Provider / Free SSL |
| XLned | €7.39 | Fast Speeds / EU Servers |