Headphones VIP Review
Last Updated: Mar 08, 2022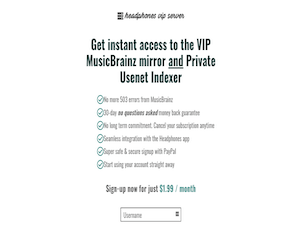 Rating
Price
$1.99
Retention
N/A Days
Free Trial
None
Features
Private Usenet Indexer
Instant Access to MusicBrainz
Integrable to Headphones App
Headphones VIP Server is an indexer that primarily gathers music files and can be integrated with various audio-centric newsreaders most especially the Headphones app which is an automated music downloader for NZBs and Torrent.
When signing up for a Headphones VIP service you get instant access to the VIP MusicBrainz Mirror, which is an open music encyclopedia that collects music metadata and makes it available to the public, as well as a private Usenet indexer.
Highlighted Features
Private Usenet indexer
Concentrated on indexing music/ audio files
Instant access to MusicBrainz open music encyclopedia
Can be integrated to Headphones app
Can also be integrated to other newsreaders focused on audio files
Money-back Guarantee
Secure payment via PayPal
No long-term commitment
Interface
Once you have signed up and paid for a Headphones VIP service you get instant access to your account. The indexer pretty much works similarly as other indexers available online. You can simply search for the file you are looking for and it will generate the results you need.
What makes Headphones VIP different from other indexers is that it can seamlessly be integrated with the automated music downloader, Headphones app.
Membership Levels
Headphones VIP has only one membership level. To create an account, simply go to their website and type in the username and password you wish to have. From there it will redirect you to a PayPal pop-up window where you should complete all the required steps to be able to create your Headphones VIP account. Once done, you will be directed back to the Headphones VIP website.
An account with Headphones VIP costs $1.99 per month.
Support
For any issues and concerns, you may email Headphones VIP at headphones@codeshy.com. Their website also has a link to an IRC page where you can log in to chat. This might be the same IRC chatroom of the Headphones app - Connect to the freenode server (irc.freenode.net) and join the channel #headphones.
Uptime Status
Based on our uptime robot, Headphones VIP has no issues with regards to its uptime. It is regularly online and the response time of this indexer is good.
Headphones VIP Status / Uptime Charts
| | Status | Since | Average Response Time |
| --- | --- | --- | --- |
| ● | | | |
24 Hour Response Time Chart for
Headphones VIP
Chart will be updated in
X
seconds
Uptime Averages
Conclusion
Based on what we've read on different forums and messaging boards, there has been some chatter about Headphones VIP Server with regards to it being worth subscribing to. While a lot of people say that other indexers have similar or even more files than Headphones VIP, some also say that it is still worth having an account with. Headphones VIP has a decent retention rate that you would most likely find the music files you are looking for. However, that being said, we would also like to point out that there are other nzb sites and indexers that are free and would possibly have some of these files. Nevertheless, for the specificity of file type, the integration to the Headphones app and the simple interface it has, Headphones VIP is worth checking out. And if you're not totally convinced with it, you can cancel your subscription anytime anyway.
Altenatives To Headphones VIP
| Name | NZBs | Price |
| --- | --- | --- |
| NZBFinder | Free 5 NZBs & 25 API Calls | 10, 20, 35 Euros |
| UsenetCrawler | Best Free Account Offering | Over 500 Groups Crawled |
| NZBgeek | Open and Free to Register | Free and Paid Service |
| NZBGrabit | Free 5 .ZIP Downloads | Arcade, and Photo Editor Included |
| DrunkenSlug | Free 100 API Hits and 5 NZBs Daily | Invite-Only Website |
| NZB.su | Open NZB Site | API Integrations |
| DogNZB | Invite Only | $20/Yr for VIP |
| NZBPlanet | Invite Only | 2 Million NZBs Indexed |
| FileSharingTalk | Forum-Based Site | Option to Donate |
| OmgWtfNZBs | Invite-Only NZB Site | $10/Yr for Donators |