Hard Disk Issues Takes Binsearch.info Offline For A While
Last Updated: Jul 26, 2017
For a couple of hours this last week the usenet search engine Binsearch.info had a few hardware problems that took them off the internet. As of this moment they have the problem fixed…for the most part. It will take them a bit to get all the headers and data that was lost back up to date and current.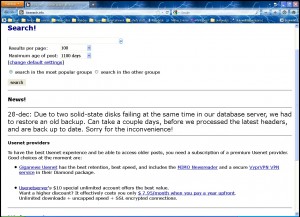 What The Heck Happened
It seems that a pair of their solid state disks weren 't as solid as the manufacturer made them out to be, so they both failed at the same time. A occurrence that is highly unusual and goes against most all odds. It didn 't take the guys long to get the failed disks replaced, but they had to use backup copies that weren 't current to replace all the data that was lost…this is the reason it will take them a couple of days to get everything updated and current.
Often " Not Really
HDD failure is something all of us do the best we can do to anticipate, and it isn 't easy to do sometimes. Malfunctions can occur to even the best of us, and at the oddest times. We have to commend the team though, for their fast action, and getting the site back online so quickly. The data loss was an unfortunate loss though, but also a small problem that is easily fixed…though not quite as quickly as the disk replacement.
About Binsearch.info
Everyone has been in a spot where something didn 't live up to expectations. And virtually every one of us has had to pull over and fix a flat tire…things like this are inevitable. It 's not so much a problem of the fact that the incident occurred, but more along the lines of how you reacted and addressed the situation. In this case, we think that the Binsearch team got an A on this report card. True, they were down a couple of hours, but their speed of recovery from a failure of not just one, but two HDD 's warrants a gold star.
If you would like to know more about Binsearch.info  we have all the pertinent information on them and links to their website in our Binsearch Review with an uptime monitor. Also learn about the Best NZB sites and Best USENET Search engine by following the links.
Alternatives to BinSearch