GoGo Usenet Review
Last Updated: Nov 30, 2021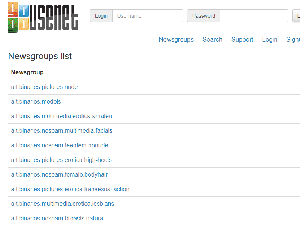 Rating
Price
$14.95 / Month
Retention
200 Days
Free Trial
None
Features
Web Based Newsreader
SSL Included
Limited Retention
Editors Note: As of May 2019 GogoUsenet is currently closed until further notice.
GoGoUsenet offers several different packages and a web-based interface for accessing their service. However with GogoUsenet being currently closed, we recommend checking out other Usenet service providers.
Quick Facts
Web-based USENET Access
No Newsreader Required
Easy Search Feature
Thousands of Newsgroups
Convenient Online Downloading
Binary Retention
This is not listed on the provider's site.
Pricing
GogoUsenet only has one plan. Your first month will be billed at $19.95.
| Term | Price |
| --- | --- |
| One Month | $14.95 |
Free Trial info
GoGoUsenet does not offer a free trial.
Special Offers / Coupons
There are currently no special offers available from this provider. Check back, however, because we'll share any we get with our readers.
Speed Test
GoGoUsenet works off of your web browser. You should be able to max out your Internet connection speed using this provider.
Connections
This service is web-based, so there are no connections offered for newsreaders.
News Servers / Ports / Configuration
N/A: This is a web-based access service.
Frequently Asked Questions
Q: It doesn't seem like there's much information on the GoGoUsenet website. Is that normal?: No. Most USENET providers these days offer very extensive websites that allow users to get a good overview of what services they offer, the difference between one package and the next, and, most importantly, detailed information on the company's privacy policy. Unfortunately, you won't find any of that on the GogoUsenet website. We readily admit that it makes it difficult to assess the quality of the service when precious little information is given to potential customers.
Q: Is web-based access easier than accessing USENET with a newsreader?: This isn't really a question that can be addressed with a yes or no answer. For users who have no experience with USENET, utilizing a web-based access option might be easier, at least at first. Take a look at our best providers, as some of them actually do offer their own version of a web-based access portal for USENET. That being said, even users who haven't accessed the USENET system before will find very little difficulty in setting up a newsreader. It might be a bit confusing at first, given that some of the terminology differs from what most Internet users will be accustomed to, but there's really nothing difficult about getting going with any of the big newsreaders. Even more complicated programs, such as Newsbin, are actually easy to use once you get the hang of them.
Q: What about SSL security for my downloads?: The GogoUsenet website is secured with SSL. This should protect you when you are downloading any binaries off of the Internet. However, if you're worried about using other websites, such as NZB sites and other resources associated with USENET, you might want to consider getting a VPN to go along with your USENET subscription. Again, this is a concern that is best addressed by one of our top listed providers. Several of them offer VPN subscriptions as either add-ons or inclusions in their USENET access packages. VPNs are great options for people who are particularly concerned about maintaining a high level of Internet security.
Q: Are the prices from GogoUsenet really competitive?: No. GogoUsenet offers a single package, and compared to our best providers, the pricing is very high. There's really nothing about the service that adds any particular level of value to justify that price. Ostensibly, it would be the web access, but, again, some of our best providers offer web access, as well, and they offer it for a much lower price than GogoUsenet charges. We highly recommend that you go with one of them. Check out Easynews for a great alternative to this provider.
Q: I noticed that you always put binary retention on your reviews, but this provider doesn't offer that figure on their website. Is binary retention important?: Yes, it is. Binary retention refers to how long a binary will be retained on the provider's servers after it's been uploaded. Remember that USENET works a bit differently than other downloading tools you may have used, such as bit torrent. In order to get the binaries that you want, your service provider has to retain them on their servers, so they're still accessible. This is why we emphasize binary retention time so much. Again, if you look at our best providers, you'll notice that there binary retention figures are very high; several years, in many cases.
Q: I really want to go with a web-based access option for USENET. Which provider would you recommend for that?: We don't recommend GogoUsenet for this. You'll find Easynews to be a much better option if you want to access USENET over the Internet, and they cost quite a bit less, as well.
Support
GoGoUsenet has an online support system that you can access via their website.
Contact Information
GoGoUsenet provides no other contact information save for the web form located on their website.
Security /Company Privacy Policy
GoGoUsenet says that they protect information collected using their site
Payment Options
You can pay for GoGoUsenet with credit cards. There are no anonymous payment options for this provider.
Our Opinion
We do not recommend this provider. Their prices are very high relative to the level of service that they offer. In addition to that, their website is quite dated and a good deal of the information that you'll need to assess the quality of this USENET provider before buying is actually hidden behind a pay wall; you can't really see what you're getting from this provider until you pay for it, in other words.
Easynews is what you're looking for, if web-based USENET access is really what you have your heart set on. With Easynews, you'll pay a lot less, retain the option to use a newsreader if you choose, and you get a much higher level of customer service. Best of all, aside from the information in our review, you can just go to the Easynews site and you won't feel like any of the information is hidden from you. Because of the very high prices that GogoUsenet charges and the really limited nature of their website, we simply cannot recommend GogoUsenet to our readers as a good option for USENET access. Any of our best providers are a better deal and offer better service all around.
Altenatives To GoGo Usenet
| Name | Price | Info |
| --- | --- | --- |
| Newshosting | $5.99 | Best Overall / Fastest Speeds |
| Eweka | €6,99 | Best EU Provider / High Retention |
| UsenetServer | $7.95 | Unlimited Access / NZB Search |
| Easynews | $9.98 | All-in-One / Usenet Search |
| TweakNews | €7,50 | Quality Retention / Quality Completion |
| PureUSENET | €5.97 | Good EU Provider / Free SSL |
| XLned | €7.49 | Fast Speeds / EU Servers |