GingaDaddy Review
Last Updated: Feb 07, 2022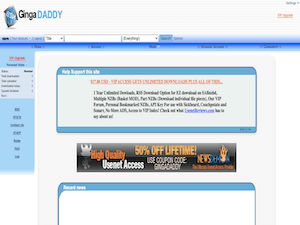 Rating
Price
$17/Yr
Retention
2000 Days
Free Trial
None
Features
Open NZB Site
Unlimited NZBs and APIs for VIPs
50 Groups Crawled
GingaDaddy is an open NZB site that has been around the industry since 2008. The site indexes over a million NZB files from over 50 newsgroups.
GingaDaddy is a free Usenet indexing site that also offers VIP accounts with features upgrades. They are considered as one of better sites out there for the number of files they have indexed and the easy-to-use interface that users experience. Based on Newznab+, their indexes are kept clean of spam and you don't need to wait around for an invitation to enjoy the outstanding features that they offer.
Highlighted Features
Newznab+ NZB indexer
Free & VIP Accounts
Open registration/ No invites required
More than 50 groups crawled
Over 1 million NZBs indexed
100,000+ additional NZBs for VIPs
Retention: 200-2000 days of binary
API Integration: Sickbeard, Sabnzbd, etc.
Customized RSS Direct download feeds
Forum/ Community
Personal bookmarked NZBs
No Ads for VIPs
Privacy: SSL
Search results sorting
Interface
GingaDaddy is a Newznab+ based NZB indexer, which has an interface that is easy to navigate and explore. Search can be set according to title, IMDB, or IGN URL. Categories include Apps, E-books, Games, Movies, Music, TV and Phone Applications. You can also browse through files by latest or most popular posts, recommended files, single upload or latest user comments.
Membership Levels
You can upgrade your membership level to a VIP account by donating to the site via PayPal. The upgrades include unlimited NZB grabs and API hits, as well as a longer period of retention of files.
| Level | Price | NZBs | APIs | Retention |
| --- | --- | --- | --- | --- |
| Free | $0 | 3 | 3 | 200 days |
| VIP | $17/yr | Unlimited | Unlimited | 2000 days |
VIP Membership includes the following:
Access to over 1 million NZBs and almost 200,000 VIP NZBs
API Key for Sickbeard, SabNZBD, etc.
Customized RSS Direct Download Feeds (up to 50 individual feeds)
Multiple NZBs
Part NZBs – download individual file pieces
VIP Forum
Personal bookmarked NZBs
No advertisements
You can also be a VIP Supporter by donating to GingaDaddy yearly for $25.00.
Support
GingaDaddy has a contact form available on their site. They remind members, though, to use their forum and FAQs for site support or reports. Make sure you include the browser you are using and which operating system you use when sending them a message.
Uptime Status
Like other NZB sites, there are times when GingaDaddy goes offline. This is a natural occurrence among most NZB indexers. With GingaDaddy, their uptime average is very good which means if they go offline this only happens for a maximum of a few minutes and this rarely happens. The site also loads its pages quickly and generates results very fast, giving users the most updated NZBs they have indexed.
GingaDaddy Status / Uptime Charts
| | Status | Since | Average Response Time |
| --- | --- | --- | --- |
| ● | | | |
24 Hour Response Time Chart for
GingaDaddy
Chart will be updated in
X
seconds
Uptime Averages
Conclusion
Although GingaDaddy's free account is very limited, this would still be decent enough for users who are not heavy downloaders. You can choose to upgrade as a VIP member, which is at a reasonable price of $17 and gives this type of member unlimited NZB grabs and APIs. The VIP level also gives users access to a lot more NZBs plus files that have a longer retention period. And because GingaDaddy doesn't require any invites, they are easily accessible by anyone. With their number of content indexed, easy-to-use platform and competitive price, GingaDaddy is considered as one of the better NZB sites out there.
Altenatives To GingaDaddy
| Name | NZBs | Price |
| --- | --- | --- |
| NZBFinder | Free 5 NZBs & 25 API Calls | 10, 20, 35 Euros |
| UsenetCrawler | Best Free Account Offering | Over 500 Groups Crawled |
| NZBgeek | Open and Free to Register | Free and Paid Service |
| NZBGrabit | Free 5 .ZIP Downloads | Arcade, and Photo Editor Included |
| DrunkenSlug | Free 100 API Hits and 5 NZBs Daily | Invite-Only Website |
| NZB.su | Open NZB Site | API Integrations |
| DogNZB | Invite Only | $20/Yr for VIP |
| NZBPlanet | Invite Only | 2 Million NZBs Indexed |
| FileSharingTalk | Forum-Based Site | Option to Donate |
| OmgWtfNZBs | Invite-Only NZB Site | $10/Yr for Donators |