GetNZB Review
Last Updated: May 08, 2019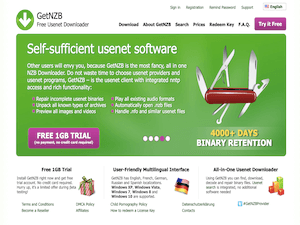 Rating
Price
$47.55 for 90 Days
Retention
500 Days
Free Trial
None
Features
Newsreader and NZB Downloads
Intuitive Client With Search
Integrated PAR2 Repair
GetNZB is a bit different than the typical USENET access provider. In fact, you don't need to use an access provider to use this program, which is essentially designed to hunt down and download NZB files. When you choose to download a file from GetNZB, it will check multiple sources for that file and keep retrying until it finds all the parts.
One of the features that this service advertises is that it will continue looking for missing parts of your files, ensuring that, if it cannot find them, the file is simply not there. The newsreader also allows you to search through verified files, making it easy to avoid the spam that tends to get uploaded to the USENET system sometimes.
Newsgroup Binary Retention
GetNZB offers high retention, currently set at 2,109. According to its FAQ, if you're unable to find a file, it may be because the binary itself was posted more than three years ago.
Pricing
GetNZB offers a relatively simple pricing model. You can get:
Mini: 3 days of unlimited access with a 6 Mb/s download speed and three threads for $5.95
Lite: 7 days of unlimited access with a 10 Mb/s download ceiling and five threads for $10.85
Classic: 30 days of unlimited traffic at 20 Mb/s and 10 threads for $16.85
Deluxe: 90 days of unlimited access at 30 Mb/s with 15 threads for $47.55
Annual: 365 days of unlimited access at 30 Mb/s with 15 threads at $97.75
Free Trial Details
There is currently a 1 gigabyte free trial available so you can give this service an assessment without having to pay anything. It does not require that you enter a credit card number, which makes it very convenient.
Newsgroup Download Speed
A speed test will be conducted shortly, but the maximum speed available from this provider is the aforementioned 30 Mb/s.
Security/Anonymity
GetNZB provides you with built in SSL encryption to protect your anonymity. They advertise using military grade encryption to protect your privacy.
Other Nice Features
GetNZB has a great newsreader that has multiple language interfaces. If you happen to speak German, Russian, French or Spanish as your first language, it's a good option.
The service also comes with a search verification feature that's worth taking a look at. The new version of their newsreader, 1.236, has a feature built into it that verifies NZB files to see if they're worth your bandwidth. If the file has been downloaded and proven to be real, the file will download for you, as well. The information comes from an index of Newznab data, specifically the boards where users share information on real vs. fake files.
The developers are currently working on making the verified search the default, and only, option for searching over their service, which would certainly be an improvement over downloading spam files!
Conclusion
Between the verified search and the multi-language support on their newsreader, GetNZB has some very nice features that go along with their service. The pricing structure is also good and all of your downloads are protected via SSL, so you have good privacy here.
The free trial offer is very good and, if you're interested in checking them out, it's easy to do, since it doesn't require a credit card to sign up for the trial.
Visit GetNZB
Best Usenet Newsreaders