FirstLoad Review
Last Updated: Jan 25, 2022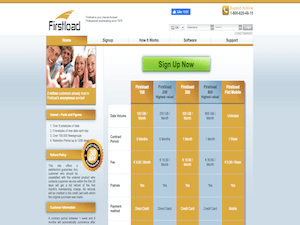 Rating
Price
€9.90 / Month
Retention
1200 Days
Free Trial
Features
Block Plans
UK-Based Provider
With One-Week Plan
FirstLoad is a Usenet service provider based in the UK that has been in the business of professional downloading since 1979. They offer several account options that include monthly block accounts, as well as a one-week unlimited option.
While it seems like they are a good Usenet service provider, their website somehow lacks other necessary information especially with regards to number of connections and server locations.
FirstLoad Quick Summary
UK-based Usenet Service Provider
Monthly Block Access Accounts
One-week Unlimited Account
Payment options depending on account chosen
Retention period up to 1200 days
128-bit SSL encryption
14-day free trial with free Lumac Usenet client
Binary Retention
FirstLoad has a retention period of 1200 days which is lower than most of the best Usenet service providers today. The ideal retention period is at 4000+ days.
Pricing
FirstLoad offers multiple block plans ranging from 100 GB per month to 800 GB. They also have what they call a FirstLoad Flat Mobile which has an unlimited data volume for one whole week.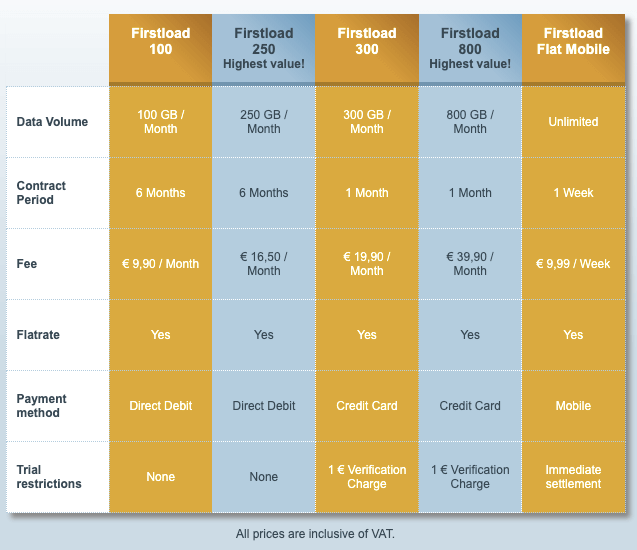 According to their site, they also offer a 30-day money-back guarantee if you will be unsatisfied with their service. To get a full refund, make sure to contact their customer service before the first 30 days of your account ends.
Also, the payment methods of their plans depend on the type of account you subscribe to.
Firstload subscriptions comes with a free Usenet newsreader called Lumac. You can check out a video on Lumac on the Firstload website.
Free Trial Info
This provider has a 14-day free trial offering capped with data volume of 300GB. This free trial also comes with a free newsreader software. A contract period between 1 week and 6 months will commence after the trial period, which may be subject to certain restrictions based on your preferred payment method. To avoid commencement to a contract period, make sure to cancel your trial before the 14 days end.
Special Offers/ Coupons
Currently, there are no special offers or discounts from this Usenet service provider. Make sure to check back with us for future promotions.
Speed Test
FirstLoad was able to perform well in terms of speed by maxing out the speed of our broadband connection. Please be reminded, however, that the speed of your Usenet activity depends on how fast your connection is with you Internet service provider.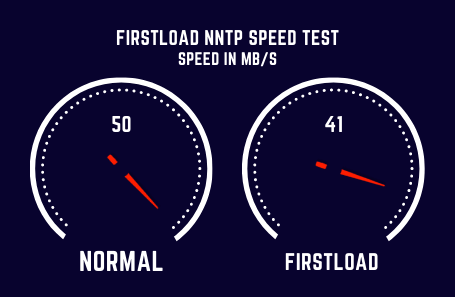 Connections
There is no information on the FirstLoad website on how many connections they provide per account.
News Servers/ Ports/ Configuration
The server information was not mentioned on their website but you can connect through standard ports 80 and 119 or alternative port 443.
Frequently Asked Questions
Q: How do you guarantee full anonymity?
A: FirstLoad installs your account on an exclusive personal level. There is no possibility of any kind for third parties to have insight into your account usage. The logging of your IP address is technically ruled out and for billing purposes we only measure your download volume, guaranteed.
Q: What are the technical requirements for using Firstload?
A: There are only minimal requirements. In order to use Firstload, you just need internet access. You'll get optimal performance over a DSL connection. You can also use Firstload through a proxy server. Their software supports Socks4 and Socks5 proxies, alike.
Q: How secure is my data?
A: Naturally, all of your personal information is protected by a 128-bit encryption and transferred only via secure SSL connection.
Q: What costs other than registration fee are to be expected?
A: None. There are no hidden costs at Firstload. With package prices starting from € 9,90 per month, everything is included. There are no traffic or download fees and you can stay online as long as you want. However Firstload is not a substitute for your current internet connection (this includes the costs of the connection).
Q: Why has my download volume not been recharged yet?
A: The download volume is renewed one month after the last renewal. This date may or may not coincide with the first day of the calendar month. For example, if you have upgraded to a new package on March 15th, the download volume will be renewed on April 15th. If you brought forward your download volume on March 20th, the next renewal of the download volume will take place on April 20th.
Q: How do I configure my router?
A: Just like with any firewall, the ports 80, 119 and 443 have to be open for outgoing TCP connections, as well as for incoming packets from those ports. You might also want to activate port forwarding to the machine you are using our software with. For further settings, please refer to your router's manual to eliminate any configuration problems. Try to disable any dispensable security settings to restrict the problem area. You might also reset your router to factory settings to eliminate any interferences.
Support
FirstLoad has a comprehensive FAQ section that you can use if you have basic questions ranging from Usenet itself, sign up process, billing and contract, the firstload client and other support concerns.
If the FAQ section was unhelpful, you can reach out to their customer service team through the contact form available on their website. Their team is available 24 hours a day, 7 days a week.
Contact Information
www.firstload.com
Phone: 1-800-820-48-15
Outside U.S.: +43 (0) 720 699 623
Fax: +43 (0) 720 699 623 91
Email: support@firstload.com
Important Note: Please have your account number to hand when you contact them
Security/ Company Privacy Policy
As previously mentioned, FirstLoad uses a 128-bit SSL encryption to keep your Usenet activity safe and anonymous.
And as per their privacy policy: "On no account shall the provider pass personal data of the member on to third parties, exclusive of service partners who collect further data from the provider for registration handling purposes, e.g. financial service and debt collection agencies. Conveyance of data shall be carried out according to data privacy laws and it's extensiveness will be constrained to the relevant minimum."
Payment Options
According to their plans sheet, they accept debit card and credit card payments.
Our Opinion
FirstLoad has some pretty decent basic features needed for Usenet access. But while these features may be enough, it is not at the same level as that of the best Usenet service providers on our list.
What is especially frustrating is that their site does not get much into the other specifics of what users need to know to be able to decide if they want to subscribe to your service or not. For example, an important thing to consider is how many connections a service allows or a plan has.
With FirstLoad, it is definitely important to test out their service first through the free trial offering before subscribing to one of their plans to make sure if they are the right provider for you.
Altenatives To FirstLoad
| Name | Price | Info |
| --- | --- | --- |
| Newshosting | $8.33 | Best Price / Free Newsreader |
| UsenetServer | $7.95 | NZB Search / Fast Speeds |
| Eweka | €7,00 | Best EU Provider / Lifetime Discount |
| Easynews | $9.98 | Easy Web App / File Previews |
| TweakNews | €7,50 | Free Newsreader / Free VPN |
| PureUSENET | €5.97 | Good EU Provider / Free SSL |
| XLned | €7.49 | Fast Speeds / EU Servers |