ExtremeUsenet Review
Last Updated: Jan 14, 2022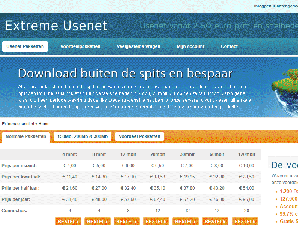 Rating
Price
€10.00 / Month
Retention
2200 Days
Free Trial
None
Features
Dutch Servers
SSL Included
Account Sharing
ExtremeUsenet is a Dutch Usenet service provider that offers multiple packages from their normal plans to discounted prices for off-peak hours. They have good tech support and competitive prices on their products.
Quick Facts
Discount Rates for Off-Peak Hours
SSL (Privacy Protection)
Good Prices
Account Sharing Allowed
Unlimited Downloads
Speeds up to 200 mbit
150,000 newsgroups
Binary Retention
ExtremeUsenet currently offers 2200 days of retention. This is a bit less than our best usenet service providers.
Pricing
ExtremeUsenet prices their packages differently than most usenet service providers. They have both average speed plans and high-speed plans which you can subscribe to on a monthly, quarterly, semi-annual and annual basis.
| Normal Plans | 4 Mbit | 8 Mbit | 12 Mbit | 20 Mbit | 30 Mbit | 60 Mbit | 120 Mbit |
| --- | --- | --- | --- | --- | --- | --- | --- |
| 1 mo. fee | €4.00 | €5.00 | €6.00 | €6.50 | €7.00 | €8.00 | €10.00 |
| 3 mo fee | €11.40 | €14.30 | €17.10 | €18.53 | €19.95 | €22.80 | €28.50 |
| 6 mo fee | €21.60 | €27.00 | €32.40 | €35.10 | €37.80 | €43.20 | €54.00 |
| Annual fee | €38.40 | €48.00 | €57.60 | €62.40 | €67.20 | €76.80 | €96.00 |
| Connections | 4 | 4 | 8 | 12 | 12 | 12 | 20 |
| High-Speed Plans | 150 Mbit | 200 Mbit | 300 Mbit |
| --- | --- | --- | --- |
| 1 mo. fee | €12.00 | €14.00 | €17.00 |
| 3 mo. fee | €32.00 | €40.00 | €48.50 |
| 6 mo. fee | €60.00 | €75.00 | €90.00 |
| Annual fee | €110.00 | €140.00 | €170.00 |
| Connections | 20 | 20 | 30 |
You'll notice that the 12/7 packages are steeply discounted. These allow you to download during one of three different off-peak times—you pick which one—and to get a lower price for doing so. None of these subscriptions are recurring; ExtremeUsenet will ask you if you want to renew at the end of your subscription period.
| Discount Plans | 12 Mbit | 20 Mbit | 30 Mbit | 60 Mbit |
| --- | --- | --- | --- | --- |
| 1 mo. fee | €2.50 | €4.50 | €5.00 | €6.00 |
| 3 mo. fee | €6.00 | €12.00 | €14.00 | €16.00 |
| 6 mo. fee | €12.00 | €24.00 | €28.00 | €32.00 |
| Annual fee | €22.50 | €45.00 | €55.00 | €60.00 |
| Connections | 12 | 12 | 12 | 12 |
Free Trial info
ExtremeUsenet doesn't have a free trial offer at present. Remember that these subscriptions do not auto renew, however, so you can always just let the service expire if you're not happy with it. Their low prices for monthly off-peak hours are a great way to try them out and to see if they serve your needs.
Special Offers / Coupons
We don't have any special offers from ExtremeUsenet at present. If we get some, we'll share them with users, so be sure to check back if you're looking for a discount from this provider.
Speed Test
ExtremeUsenet is fast. This Usenet service delivered the promised speed in testing. Remember not to overbuy: check your maximum connection speed before you get a package so you know what you can really handle.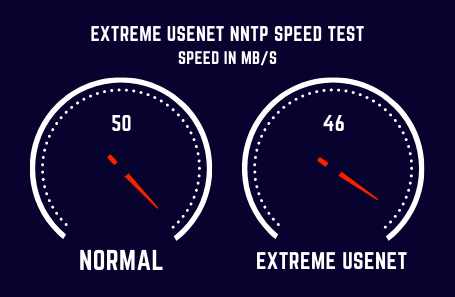 Connections
The number of connections you're allotted by ExtremeUsenet depends upon your subscription. The minimum 12 connections should suffice for most users.
News Servers / Ports / Configuration
news.extremeusenet.nl
SSL: 563, 443
Frequently Asked Questions
Q: I'm concerned about the speed limits on downloads. Will they affect me? : It's not uncommon for USENET service providers to offer plans based on the maximum speed you're allowed. There are a few things to keep in mind here. First, there's no sense in paying for a package that allows a faster download speed than your Internet connection can provide. Second, consider whether or not you really need to max out your bandwidth for USENET downloads. You can save money by ordering a slower package, if you don't mind not using all your bandwidth. Third, USENET downloads are extremely fast in general and don't involve the ramping up period you see with Bittorrent and other protocols. Once you start downloading off of USENET, the download usually starts and finishes at the maximum possible speed, so expect fast downloads no matter which package you pick.
Q: Why would I want to only download during restricted hours?****: Remember that you can set several programs—Sonarr, Couchpotato, and others—to download automatically when they find a binary you're looking for. Essentially, if you pick an off-peak hour package, you can schedule your automated downloads to take place during that time frame, allowing you to really maximize the value and convenience of your USENET service!
Q: Does this service allow me to use my own newsreader? : Any newsreader or downloader should work fine with ExtremeUsenet. Remember that they do have tech support that can help you if you're having a particular issue, so don't be afraid to submit a ticket if you run into problems!
Q: Is it complicated to convert my currency to Euros?****: Not at all. Chances are, your payment provider will take care of it for you. The prices are given here in Euros because exchange rates fluctuate quite a lot. Thus, it's easier to give the prices in Euros and your payment provider will generally let you know the conversion rate at the time you make payment.
Q: I've heard some users really prefer Netherlands-based USENET services. Why is that? : The Netherlands is a privacy-friendly jurisdiction and a lot of users seek out providers in the Netherlands because of that. There's also jurisdictional layering, which is essentially getting service outside of your own nation to increase your privacy. This is particularly important to journalists and other individuals who may want to keep their usage safe from prying eyes.
Q: I'm still not sure what speed I need. What's the easiest way to find out? : Go ahead and use one of the Internet speed testing sites. There are several of them. See how fast your connection is at its maximum and then base your decision on how much of that maximum bandwidth you want available for USENET downloading. It's really quite easy to do!
Q: Do I need SSL if I'm using a server located overseas? : Yes. SSL protects your privacy while you're communicating with the news server. If you need protection for all your online activities, rather than just your USENET, go ahead and check out a VPN. Our best providers offer VPNs along with their USENET access, in several cases.
Support
You can use their web form to get support with the service if you run into problems. ExtremeUsenet has a well-written FAQ, as well.
Contact Information
Koperweg 11-J2401LH
Alphen aan den Rijn
The Netherlands
info@extremeusenet.nl
Security /Company Privacy Policy
ExtremeUsenet says that they do not share your information with third parties.
Payment Options
ExtremeUsenet allows you to pay with major credit cards, bank transfers and several other methods, including iDeal, Sofort, Giropay, and Banconact.
Our Opinion
ExtremeUsenet is a solid provider and they're located in a good jurisdiction for privacy. Their packages are a bit complex but, once you get the hang of what they're offering, you'll be able to determine what you need rather easily. This service would be particularly good for users who only want to download during off-peak hours, which usually implies those users who have PVRs or other automated tools for downloading off USENET. If you're trying to save some money by automating your downloads and limiting them to off-peak hours, ExtremeUsenet is a good choice.
ExtremeUsenet isn't quite at the level of our best Usenet service providers yet, but they do have a good product and it's worth checking out if you're in the market for Dutch USENET access. Their subscriptions do not auto renew, but they do expire, which doesn't give them the same convenience that you'd get with block access from Tweaknews or another provider, meaning that they might not be the best option out there for a backup USENET service. Nonetheless, they are good and they might be a good choice for some users, particularly those located in the Netherlands or those who are very keen on getting service from there.
Visit ExtremeUsenet