EasyUsenet Review
Last Updated: Sep 28, 2021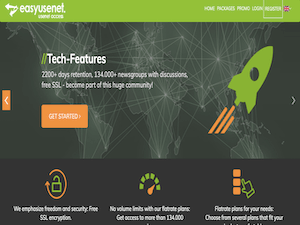 Rating
Price
€7.50 / Month
Retention
2200 Days
Free Trial
Features
Multiple Packages
Netherlands-Based Provider
Offers Promo Plans
EasyUsenet provides Usenet access at competitive rates. They have multiple packages that vary depending on speed and number of threads. This Usenet provider has a decent retention rate and covers the basics needed for Usenet access including free SSL and entry to more that 100,000 uncensored newsgroups.
EasyUsenet Quick Summary
Netherlands-based Usenet Provider
Brand of XS News
High Security with Free SSL
Free trial for 5 days
Multiple packages - Block access, Prepaid Flatrate Products
Prepaid products vary in speed and number of connections
Offers promo plans - good for 100 days
Access to 134,000 uncensored newsgroups
2200+ days of retention
Binary Retention
EasyUsenet has a retention rate of 2200 days.
Pricing
EasyUsenet offers users the option to choose between Prepaid Flatrate products and Block Access plans.
Their flatrate accounts vary in speed and number of connections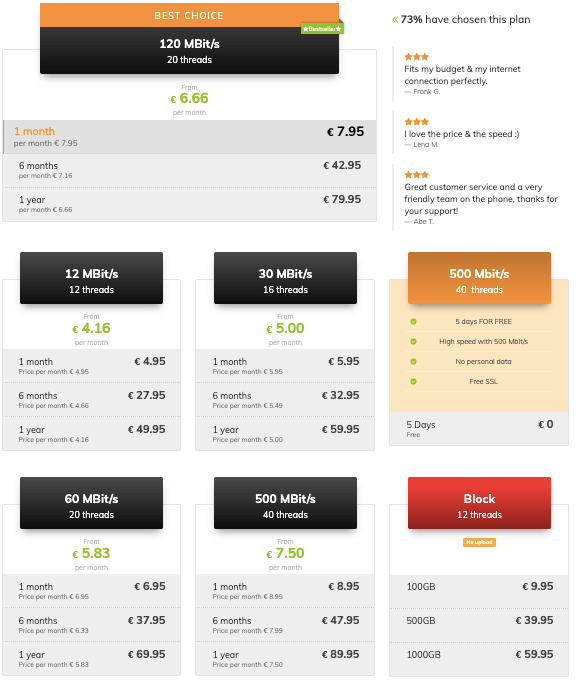 EasyUsenet also has block access plans with 12 threads each.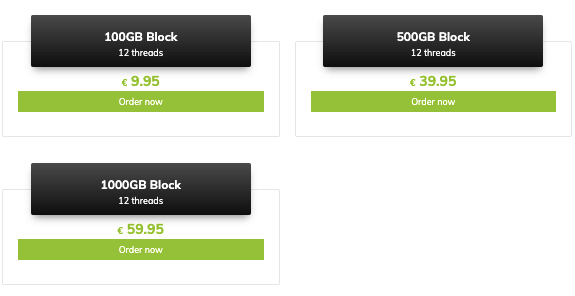 This Usenet provider also offers promo plans that are set to 100 days of usage. Pricing are as follows: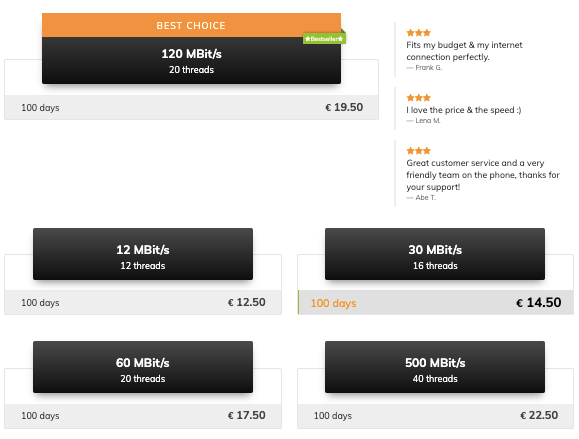 Free Trial Info
Users can test out EasyUsenet service for 5 days with no personal data required for registration. The free trial comes with 500 Mbit/s of speed and free SSL. Simply enter your email address, location and mobile number to register.
Special Offers/ Coupons
As mentioned, EasyUsenet has promo plans that can be used for 100 days. Pricing and details can be seen above.
Speed Test
The speed of your Usenet activity depends on the plan you availed since their flatrate plans vary in speed and connections. Their block access plans are said to have "unlimited speed".
Make sure you choose a plan that matches your broadband connection since your activity greatly relies also on the speed of your internet service provider.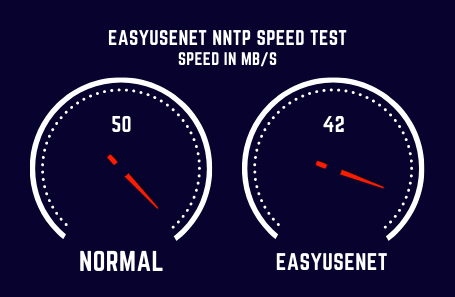 Connections
Their block access plans are set to 12 connections. However, if you want a variety of options in terms of connections, you can choose from prepaid flatrate plans which go from 12 to up to 40 threads.
News Servers/ Ports/ Configuration
You can connect to our easyusenet server with the hostname: reader.easyusenet.nl
You can connect on the standard port 119 and on port 80. For SSL you can use port 563.
Frequently Asked Questions
Q: How can I pay at EasyUsenet? A: You can currently pay with us with iDeal, Bancontact / Mister Cash, Credit card, Bank transfer and Paysafecard. Your payment will therefore be processed immediately (excluding one-time authorization).
Q: Will my account be active right away? A: Yes, your account will be active within minutes.
Q: Will my product automatically be renewed? A: No, they are a prepaid provider. If the product has expired, you will have to purchase additional products yourself. You can do this on the same account by logging in to their website.
Q: How to upgrade products? A: You can upgrade your product yourself to a higher speed. Via 'Product & Payment' you can upgrade the current product yourself. The price difference for the remaining period is calculated automatically. They use a minimum amount of € 2.50
Q: Does EasyUsenet allow account sharing? A: Account sharing is not allowed. If the account is active elsewhere, you will not be able to connect and will show an error message 482: Too many connected hosts for your user.
Q: Do you get the same number of connections per program you're using? A: If you are using multiple programs, you will have to divide the number of connections. If you are using too many connections, reduce the number of connections to what is allowed with the subscription.
Support
EasyUsenet has an FAQ page on their website. If you have other questions, you can email support@easyusenet.nl.
Contact Information
You can reach them by phone at: +31208202941. They are available from 10:00 to 20:00 (CET/Amsterdam). Support is closed on national holidays.
If you would like to send a regular mail, please send it to:
Easyusenet
attn. administratie
New Yorkstraat 10-16
1175 RD Lijnden
Security/ Company Privacy Policy
The EasyUsenet privacy policy states:
We can collect various sorts of personal data of you when you use our Website and/or Services:
First and last name
Email address
Phone number
Address data
Login data
IP Address
The company does not monitor any user activity while accessing their service.
Payment Options
You can currently pay with us with iDeal, Bancontact / Mister Cash, Credit card, Bank transfer and Paysafecard. Your payment will therefore be processed immediately (excluding one-time authorization).
Our Opinion
EasyUsenet is an appealing choice especially for users who are looking for a variety of Usenet access plans. This Usenet provider offers both flatrate and block access plans which shows that they cater to different types of users. And while their retention rate is not at the same level as that of our top providers, it is decent enough if you're not looking for really old files. All in all, EasyUsenet is a reliable option, however, there are still aspects of their service and features that they can improve on.
Altenatives To EasyUsenet
| Name | Price | Info |
| --- | --- | --- |
| Newshosting | $8.33 | Best Price / Free Newsreader |
| UsenetServer | $7.95 | NZB Search / Fast Speeds |
| Eweka | €7,50 | Best EU Provider / Lifetime Discount |
| Easynews | $9.98 | Easy Web App / File Previews |
| TweakNews | €7,50 | Free Newsreader / Free VPN |
| PureUSENET | €5.97 | Good EU Provider / Free SSL |
| XLned | €7.49 | Fast Speeds / EU Servers |