Easy-leech Review
Last Updated: Apr 26, 2022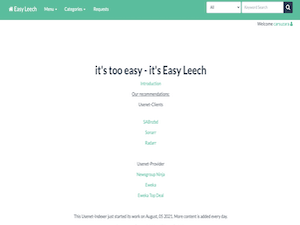 Rating
Price
free
Retention
N/A Days
Free Trial
None
Features
Free Usenet Indexer
Forum-Type
RSS Feeds Available
Easy Leech is a free German Usenet indexer that allows you to search their site for possible NZBs that you may need. Based on our research, their site contains mostly German-language NZBs but it also contains English-language files.
With Easy Leech, you will be able to find the latest movies, sports, series, documentaries, games, android apps, ebooks and more. New releases are added every minute or every hour. This free Usenet indexer started its work in August of 2021 and also has a VIP option.
Highlighted Features
Free Usenet indexer
With option to be a VIP user
Forum-type of indexer
100 NZBs/ 10 APIs for free users
Bitcoin and PayPal accepted for VIP users
Regularly updated with latest releases
Mainly contains German-language NZBs
Open for request
RSS feeds available on the site
API information on site
Interface
The Easy Leech interface is pretty easy to understand. There are no complicated buttons or links to go to. Once on the homepage, simply register an account. Based on our most recent check their site is open for registration.
Once you have registered, you will be able to see all the menus available on the topmost part of the website. This includes categories which contain console, movies, audio, PC, TV, adult videos and books.
You also have the option to browse for recent NZBs or search for specific files you may need. There is also an option to send requests. For this you need an API key.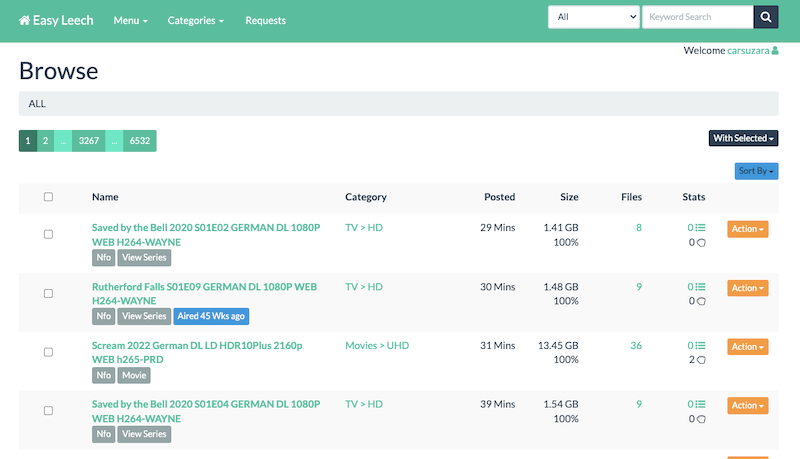 Membership Levels
Easy Leech is mainly a free Usenet indexer, however you do have the option to upgrade to a VIP user which gives you more API hits and grabs. Details are below:
Free User - 100 NZBs, 10 APIs
VIP User - 1000 NZBs, 10,000 APIs
To become a VIP user, you can pay €15 per year either through cryptos or Paypal. You can contact Easy Leech through their Telegram account.
Support
For basic indexer needs like RSS feeds and API information, you can check out the useful links section of the Easy Leech website.
For support, you may email them at easy-leech@protonmail.com.
Uptime Status
Based on an uptime robot, Easy Leech is mostly online. Their response time is also fast. Search results are generated quickly. Please note, however, that groups Easy Leech covers are limited.
easy-leech Status / Uptime Charts
| | Status | Since | Average Response Time |
| --- | --- | --- | --- |
| ● | | | |
24 Hour Response Time Chart for
easy-leech
Chart will be updated in
X
seconds
Uptime Averages
Conclusion
If you are looking for German-language nzbs, then Easy Leech is definitely a good option for you. This Usenet indexer seems to be catering specifically to a market that looks for German files. However, it also contains other languages as well. Based on our research, though, the number of newsgroups they cover are limited. That being said, despite the limited number of newsgroups, their site is regularly updated with the most recent files.
As a free indexer Easy Leech is fairly decent. But if you are into German files and are looking into getting more files than usual, we suggest upgrading to a VIP status. If unsatisfied, make sure you check our list of the best NZB sites today.
Altenatives To easy-leech
| Name | NZBs | Price |
| --- | --- | --- |
| NZBFinder | Free 5 NZBs & 25 API Calls | 10, 20, 35 Euros |
| UsenetCrawler | Best Free Account Offering | Over 500 Groups Crawled |
| NZBgeek | Open and Free to Register | Free and Paid Service |
| NZBGrabit | Free 5 .ZIP Downloads | Arcade, and Photo Editor Included |
| DrunkenSlug | Free 100 API Hits and 5 NZBs Daily | Invite-Only Website |
| NZB.su | Open NZB Site | API Integrations |
| DogNZB | Invite Only | $20/Yr for VIP |
| NZBPlanet | Invite Only | 2 Million NZBs Indexed |
| FileSharingTalk | Forum-Based Site | Option to Donate |
| OmgWtfNZBs | Invite-Only NZB Site | $10/Yr for Donators |