DumpTruck Review
Last Updated: Feb 10, 2022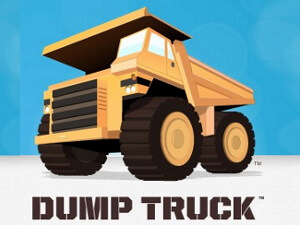 Rating
Price
Free
Features
Online Backup Software
Now Discontinued
Safe, Secure and Reliable
Included With Subscription
Golden Frogs' Dump Truck Online Storage provided their customers with safe, secured, reliable, online storage for files much like dropbox.
Editor's Note: DumpTruck has now been discontinued
Dumptruck in Action
Prices/Plans/Coupons
If you are a Giganews member or VyprVPN user you already have access to the Dump Truck Online Storage. If you have the Giganews Diamond account you will have 30 GB at your disposal. All other accounts will only get 5 GB. Here's what the storge costs:
5 GB: Free
50 GB Additional: $4.99 monthly.
100 GB Additional: $9.99 monthly.
200 GB Additional: $19.99 monthly.
500 GB Additonal: $49.99 monthly.
Free Trial Details
Golden Frog will give 5 GB anyone that wants it. All you have to do is sign up, and download the application. This 5 GB also transfers to extended accounts. For example, if you upgrade to their 500 GB account, then you will actually have 505 GB!
Dump Truck Client: Features/ Details
Golden Frog has worked long and hard developing feature rich applications for most any device, desktop, or operating system. There is also a web application. Here's a few of the features:
Highly intuitive interface.
Drag and Drop supported.
Any file can be accessed through their WebDAV as a networked folder.
Syncing between devices is possible.
Encryption available for uploads and downloads.
Storage on the server is also encrypted.
Clients for virtually every OS, device, laptop, or desktop.
Client Installation
To get started there's a short download, (30 MB aprox. for windows,)but for us the download and install was a breeze. Once the client is installed you will need to open an account. Here's a few more of the star features:
Secured file sharing through links you  create.
Sharing links can be set to expire.
Privacy protection during up/downloads, and while files are stored.
Unlimited file size and transfer speeds.
Mobile applications for virtually every device or OS.
WebDAV: Web Distributed Authoring and Versioning. Make it easy to collaborate with others.
Backup Overview
Once the client is installed and an account created, there are several options for uploading. To upload entire folders, (not just files,) you will have to enable java, but it's as simple as locating the file or folder you want to keep in your Dump Truck and dragging it and dropping it on the interface. There is also an uploader located in the top right of the screen. Just click on the upload button, select either "upload file" or folder, browse to the correct files then the open button.
Restore Overview
To get your files back, all you have to do is select copy at the top of the page, then the file in your Dump Truck you want, then show the client where you want the file downloaded to. The client will automatically pick the location the file originated from, so make sure this is where you want it.
Sharing Capabilities
You will be able to create links for sharing the files in your Dump Truck. You will be able to password protect them, set expiration dates for the links, and send links to multiple people. To get the link manager the button is on the left menu area near the bottom.
Data Protection/Privacy Policy
Access to the files, uploading, downloading, and storage is secured via SSL and kept on the server under 256 bit AES encryption. And while many online storage services use a method called deduplication to conserve space, Dump Truck doesn't. Deduplication involves looking for duplicates of your files and if there are duplicates stored on the server, the single file is shared. And while this is quite efficient, it isn't the best way to securely store files.
Support Options
On the Dump Truck website you will find a FAQ that will answer most of your questions. If this just won't do it, they have an email support team, and online chat. There are also tutorials, and video instructions.
Dump Truck Vs The Competition Compared
When compared to other similar services the cost is a little much, but the value of the service and convenience makes up for the difference. We were very happy to see they had added the file sharing feature, and have finally included the mobile scene. With the new features, plus WebDAV, we found that Dump Truck can compete with most of the top rated providers.
Final Thoughts
If you already have a Giganews, or VyprVPN, premium account, then you already have access to it. If you don't have this, sign up for their free 5 GB account and try it out. We think you'll like it.