Cinemax Go Review
Last Updated: Feb 10, 2022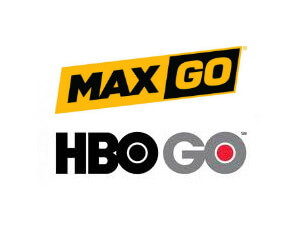 Rating
Price
Free
Features
Cinemax Go Software
USA Only
Usenet Is Better
Usenet Is Cheaper
Cinemax Go is an offering from Time Warner. The service is linked to the HBO GO service. The official moniker for the service is MAX GO and, according to the providers, it offers streaming films, television series and more. It can be used formerly on mobile devices with apps for iPhone and Android devices. However, as of May 2020, it is no longer available on iOS and Android. But users can still enjoy this program via their computers at MAXGO.com. The supported browsers are the following:
Latest version of Chrome, Firefox, Microsoft Edge, or Safari
Internet Explorer 10 or later
Cinemax Go is also included when you add Cinemax to your TV subscription. Check out Cinemax.com for more info.
Getting In
You'll have to be a cable subscriber and have a subscription to the premium channels to get access to MAX GO. To get your service started, you go to the HBO or Cinemax site and authenticate yourself as a legitimate subscriber.
The process is not intuitive. Getting the actual login credentials you use may involve a bit of confusion. You'll have to use the credentials given to you by your cable company, which will be located on their portal, but which is not the same as the credentials that you use for your cable company's site.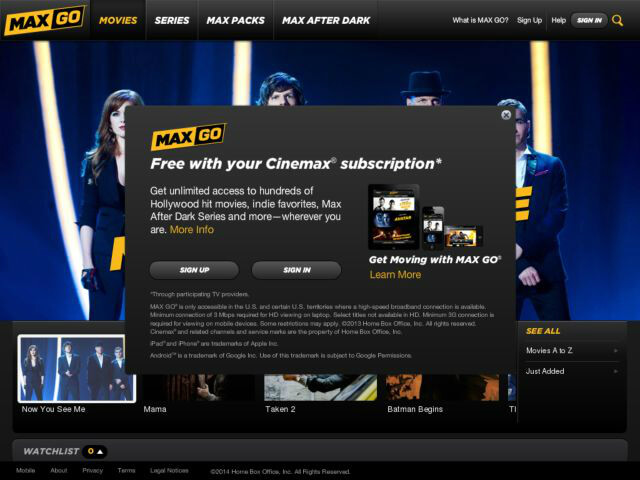 If you do have an old user name and password for any of the provider's other services, however, it may still work at the MAX GO site.
Getting Around Issues
Another complication comes in terms of reporting difficulties. While it may seem counterintuitive, you have to contact your cable television provider to get help if you're having issues with streaming. If you have an ISP separate from your cable provider, this could all get a bit confusing. Contacting your cable provider first, however, is generally the best route to getting around problems.
Also you will have to be located in the USA however signing up for a VPN Service could be one way to get around this geographical restriction.
Not all of the content on the service is available in HD. You'll also need at least a 3G connection to use this service on mobile devices. The service does provide access to plenty of content, however, including original Cinemax content, so there is plenty to choose from.
Provided you have a fast enough connection and your provider offers it, you might find this service worth checking out. With more and more people cutting the cord and using their Internet connection to watch television, it's inevitable that more of these services are going to become available. While there may be some confusion in signing up for them now, if you're a subscriber you do have access and it's worth taking advantage of it if you want more options in viewing your favorite programs and movies.
Relevant Links