Cheapnews Review
Last Updated: Jan 14, 2022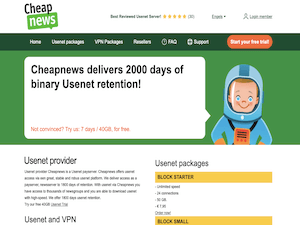 Rating
Price
€8.50 / Month
Retention
2000 Days
Free Trial
7 Days or 40 GB
Features
Email Support
VPN Available
Since 2009
Cheapnews offers block and standard subscription USENET access. This Usenet service provider also offers VPN access for an additional fee.
Quick Facts
Block and Unlimited Access
EU Servers
Bitcoin Accepted
SSL (Privacy Protection)
Free Block Access Trial
VPN Add-On Available or as a standalone product
7-day, 40GB Free Trial
Up to 48 connections
Usenet + VPN option

3 simultaneous logins
256-bit data encryption
Binary Retention
Binary retention is currently at 2000 days and has been holding steady for the last few years. As the Internet grows and Usenet gets more popular this is quite a feat.
Pricing
Cheapnews has both Flat Fee and Block accounts:
Flat Fee Accounts
| Name | Price per month | Connections | Max Speed | Data Limit |
| --- | --- | --- | --- | --- |
| Basic | €3.50 | 10 | 20 Mbit | Unlimited |
| Premium | €6.25 | 12 | 60 Mbit | Unlimited |
| Ultimate | €8.50 | 18 | 120 Mbit | Unlimited |
| Stellar | €8.75 | 24 | 160 Mbit | Unlimited |
| Legacy | €9.25 | 40 | 250 Mbit | Unlimited |
| Legend | €9.75 | 48 | Unlimited | Unlimited |
Block Accounts
| Name | Price | Connections | Max Speed | Data |
| --- | --- | --- | --- | --- |
| Starter | €7.95 | 24 | Unlimited | 50 GB |
| Small | €14.95 | 24 | Unlimited | 100 GB |
| Standard | €24.95 | 24 | Unlimited | 250 GB |
| Medium | €34.95 | 24 | Unlimited | 500 GB |
| Large | €64.95 | 24 | Unlimited | 1000 GB |
| Pro | €119.95 | 24 | Unlimited | 2000 GB |
VPN can also be added to subscription plans for € 5,50 per month or as a standalone product for €8,25. Their VPN account comes with the 3 multi log ins and uses the following protocols: PPTP, IPSec, OpenVPN and IKEv2. Their VPN service is compatible with Windows, Mac, iOS and Android.
Free Trial info
You can get a free block account from this usenet service provider before signing up. It provides unlimited speed, 12 connections and 40 GB of data.
Special Offers / Coupons
We don't have any special offers or coupons for this provider at present. Be sure to check back because we share offers when we get them.
Speed Test
Cheapnews tested well as far as speed is concerned. Remember not to pay for a package that offers faster download speeds than your ISP provides, however.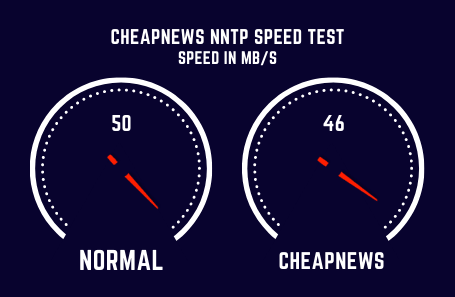 Connections
Cheapnews allows between 10 and 24 connections to their servers. Most users shouldn't need anywhere near 24 to max out your speed.
News Servers / Ports / Configuration
For block accounts, use block.cheapnews.eu
For subscription accounts use news.cheapnews.eu
SSL Ports: 443, 563
Frequently Asked Questions
Q: if I'm not in the EU, will this service be slower? **:**If you're located on another continent, you might experience somewhat slower service than you would if you were on Continental Europe. However, USENET service providers are so fast these days that you shouldn't have a problem with getting your full bandwidth.
Q: Is there any advantage in an EU company? : The EU might be more friendly to privacy than your home nation and, in fact, that's why a lot of people get USENET service from a company located outside their home nation. Remember that not all companies treat your privacy equally, however, no matter where they're located. We include a separate review section on privacy that you can consult for further information on any given provider's privacy.
Q: Are the 10 connections allowed on the lowest-priced subscription enough?****: For most users, 10 connections should suffice, but this is not always the case. That being said, we do not recommend that you decide upon a USENET provider based on the number of connections they allow to their servers. Very high numbers of connections can actually slow download speeds.
Q: Should I use an SSL port? : Yes. You should use an SSL port to connect to the news servers for this or any other provider. SSL encrypts your connection, protecting your privacy. This company and some other USENET service providers have affiliations with VPN companies, which offer encrypted privacy protection for all your network activities, not just your USENET service. Newshosting, Tweaknews and UsenetServer are among our top picks for companies that offer both USENET access and VPN service.
Q: What's the difference between block and subscription accounts with this provider? With Cheapnews it's a tradeoff between limited speed or limited downloads. We tend to recommend block accounts as a backup service and for users who don't need a monthly subscription to accommodate their data usage. The subscription account limitations on speed aren't so excessive that they'll severely impede anyone's ability to download quickly, but our best providers offer better deals on block accounts and subscriptions.
Q: How do I choose a maximum speed? This is pretty straightforward: Your account shouldn't offer speeds faster than what your ISP can accommodate, or you're simply wasting money. For example, if you get a 60 Mbit speed allotment from this provider but only have a 40 Mbit maximum speed on your connection, you won't get your money's worth.
Q: Do live chat and phone support make a difference? They can, but keep in mind that USENET tends to have very few problems. The system is older than the Internet, the technology is very well-established and tested and there are many different programs you can try—most for free—to access USENET. You shouldn't need much tech support beyond getting set up and, if you're truly lost, Usenetreviewz.com has plenty of different tutorials and other materials that can get you started.
Q: I'm having trouble deciding on a company. What's the easiest way to get started with USENET? -  If you want to get going and aren't interested in reading any more about it in the meantime, you can sign up with Easynews and use their web app to access USENET. This is the easiest learning curve. If you don't mind downloading a newsreader and getting it going—it's very easy—any of our top providers will work very well. Go ahead and get a cheap block access account so you can try USENET out before you subscribe if you're still unsure.
Support
Cheapnews has a FAQ on their site that you can check for answers to common questions. You can also use the web found on their website to contact support.
Contact Information
For general questions about this provider, email to: service@cheapnews.eu. You can also use the web found on their website to contact support.
Security /Company Privacy Policy
The privacy policy at Cheapnews says that the company does share information with third parties and that they do use user data for administration purposes.
Payment Options
You can pay for your service through Cheapnews with major credit cards, Bitcoin, Sofort, GiroPay, and iDeal.
Our Opinion
Cheapnews is priced too high for us to give them a recommendation. While they claim to have impressive retention rates, they're not yet close to the very long retention times offered by our top providers.
We do like the mix of block access and subscription accounts this provider offers but, again, our best providers offer the same at better prices. Overall, Cheapnews does offer a good service and they might be a useful alternative for some users, but for your primary source of USENET access, we recommend that you look at our list of best usenet service providers. They offer everything Cheapnews does, but with better pricing and more retention. Be aware that Cheapnews's page is not in English, so you'll have to translate it using your browser or select the English version of Cheapnews's site when you go visit them.
Altenatives To Cheapnews
| Name | Price | Info |
| --- | --- | --- |
| Newshosting | $5.99 | Best Overall / Fastest Speeds |
| Eweka | €6,99 | Best EU Provider / High Retention |
| UsenetServer | $7.95 | Unlimited Access / NZB Search |
| Easynews | $9.98 | All-in-One / Usenet Search |
| TweakNews | €7,50 | Quality Retention / Quality Completion |
| PureUSENET | €5.97 | Good EU Provider / Free SSL |
| XLned | €7.49 | Fast Speeds / EU Servers |