Bulknews Review
Last Updated: Jan 21, 2022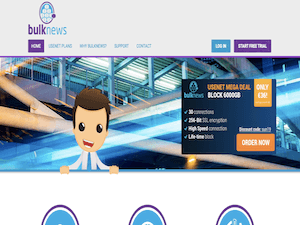 Rating
Price
€16,50 / Month
Retention
1600 Days
Free Trial
Features
Block and Flat Accounts
Reasonable Pricing
Low Retention Rate
Bulknews is a Dutch Usenet service provider that offers multiple flat and block accounts that are private, secure and fast. They have redundant servers that enable users to get fast Usenet access through multiple backbone connections.
This Usenet provider also offers occasional promos and discount codes which is appealing for a lot of users. However, their retention rate is not as high as the best Usenet service providers today. That being said, Bulknews does have the lowest retention either and they cover all the necessary basics needed for Usenet access as far as providers are concerned.
Bulknews Quick Summary
Reliable Usenet access
10Mbit to 500Mbit of speed
Secure connection via SSL encryption
Over 100,000 newsgroups available
Retention rate of 1600 days
Completion of 99.9%
Multiple Block Accounts (20GB to 6000GB)
Multiple Flat Fee Accounts (20Mbit to Unlimited Mbit)
Up to 40 secure connections
Free Usenet trial available
Multiple Payment methods including Bitcoin
Posting allowed for Flat accounts
Binary Retention
Bulknews does not have the highest retention rate but is decent enough with 1600 days of binary retention. If you need a provider with a higher retention, check out our list of the best Usenet service providers.
Pricing
Bulknews has two types of accounts available: Block and Flat Accounts. Block accounts offer unlimited speeds and 30 connections but vary in download limits, while Flat accounts or bulk accounts give you unlimited download size but vary in speed and number of connections.


When signing up for a block account, you have the option to automatically renew a product which would make it a recurring subscription. When doing this, you will receive a fixed amount of data per month for a reduced price. Any left over data, however, will not be transferred to the next month.


Flat or Bulk accounts can be purchased on a 1, 3, 6 or 12 month basis. The pricing above shows the monthly cost if you choose 12-month bulk plans. You also have the option to automatically renew a product or not.
Free Trial Info
Bulknews has a free trial account limited by download size. When you sign up for their free account, you get unlimited speed, 30 connections and 10GB of download size. After 7 days or once you've consumed the 10GB, your free service will end. It does not automatically extend to a paid service. However, you do have an option to automatically renew to a paid block service when you've reached one month of your free service and have not yet fully consumed your 10GB of download size. Automatically transitioning to a recurring subscription gives you a 25% discount but leftover data from the previous month will not be transferred to the next.
Special Offers/ Coupons
Their website currently shows several promos. These include the following:
Block 6000GB - €36.00 (originally €140.00)

Lifetime Block
30 Connections
SSL Encryption
High-speed connections
Discount code: sun19

Flat 50Mbit 1 Year - €22.00 (originally €49.00)

Lifetime year price only with recurring subscription
20 Connections
SSL Encryption
High-speed connections
Discount code: hap19
Be on the lookout for other promos from Bulknews since they also come out with seasonal discount codes like during Black Friday or Cyber Monday.
Speed Test
Bulknews performs well in terms of speed. This Usenet service provider offers high-speed connections. Of course, when it comes to flat accounts, this depends on the type of plan you select. Your Usenet activity also depends on how fast your internet connection is so make sure to choose a plan that fits well with the speed of your own broadband connection.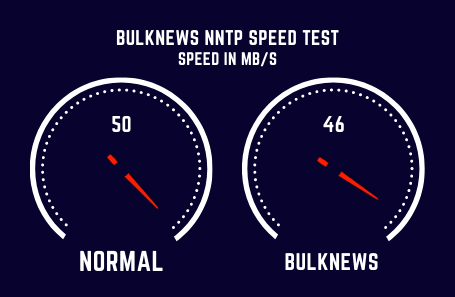 Connections
All Bulknews block accounts come with 30 connections. Flat accounts, on the other hand, vary from 8 to 40 connections depending on the plan you select.
News Servers/ Ports/ Configuration
Client settings are as follows:
Server name: news.bulknews.eu
Authentication: authentication required
Username: Bulknews username
Password: Bulknews password
SSL disabled port: 119 or 80
SSL enabled port: 563 or 443
Frequently Asked Questions
Q: Can I access Bulknews Usenet from multiple IP addresses at the same time using the same account?
A: Bulknews accounts are limited to 2 IP addresses
Q: When I have a Block account, how can I tell how much is left of my gigs?
A: You can check how much GB you have left through your Bulknews Members Panel. The Members Panel also shows till when you have paid.
Q: How long is a prepaid block account valid?
A: Prepaid Block accounts are unlimited years valid or when you have consumed all the gigs that you've paid for.
Q: Can I post on Usenet with my free trial?
A: Posting is not allowed with free trial service. To enjoy posting, you must upgrade to a paid account. Please note, however, that posting with block accounts is disabled. Only those with Flat accounts are allowed to post.
Q: How long before my account becomes active after I have paid?
A: When upgrading to a Bulknews account, it usually takes about 30 minutes to process. If you experience any issues after 30 minutes, reach out to Bulknews via email.
Support
The Bulknews website has a pretty good FAQ list on their support page. If you want to talk to a customer service representative, you can also reach out to them via email or through the contact form available on their site. As mentioned on their website, their support desk is available from Monday to Monday between 00:00 and 24:00 hours, and during all holidays.
Contact Information
Bulknews
Markerkant 13 18
1314 AN Almere
Netherlands
Email: support@bulknews.eu
Security/ Company Privacy Policy
Bulknews does not log any access.
According to their service, all Usenet posts posted are tagged with an "Xtrace" identification tag in the header which Bulknews can use internally to identify the user who posted any article through their servers. This is used to identify abusers.
Their privacy policy states that they do not release any member information for any reason unless required by a court order.
Payment Options
Bulknews accepts the following payment options: iDeal, Credit Cards, Paysafe Card, GiroPay, Mister Cash, Sofort Banking and Bitcoins.
Our Opinion
Bulknews is not as popular compared to those listed as our best Usenet service providers. However, that does not mean that this Usenet access provider does not offer good service.
Bulknews covers all the basic needs for Usenet access as far as providers are concerned. With their reasonably priced multiple plans, high-speed connections, various download sizes, SSL encryption, and even multiple payment options including bitcoin, we can say that Bulknews is a very decent Usenet service provider. They could do better, however, in terms of their retention since it is lower than the top Usenet providers today.
All in all, Bulknews is worth checking out. Make sure to test their service by signing up for their free trial account before commiting to a paid plan.
Altenatives To Bulknews
| Name | Price | Info |
| --- | --- | --- |
| Newshosting | $8.33 | Best Price / Free Newsreader |
| UsenetServer | $7.95 | NZB Search / Fast Speeds |
| Eweka | €7,00 | Best EU Provider / Lifetime Discount |
| Easynews | $9.98 | Easy Web App / File Previews |
| TweakNews | €7,50 | Free Newsreader / Free VPN |
| PureUSENET | €5.97 | Good EU Provider / Free SSL |
| XLned | €7.49 | Fast Speeds / EU Servers |