BlockNews Review
Last Updated: Jan 18, 2022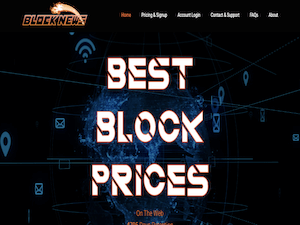 Rating
Price
$10.49 / Month
Retention
4873 Days
Free Trial
None
Features
Block Accounts Only
SSL Included
US and EU Servers
BlockNews is a a Usenet servive provider that has servers in the US and the EU, with several different purchase options for access. They only provide block accounts; no subscriptions are available.
Quick Facts
Privacy Protection (SSL)
Block Access, No Subscriptions
No Expiration of Block Accounts
Multiple Payment Methods
Accepts Bitcoin
Fifty Connections Allowed
EU and US Servers
Binary Retention
BlockNews offers 4873 days of retention. Text retention is over 10 years. This is competitive with other providers.
Pricing
BlockNews only offers block access, so you don't have to buy a renewing subscription. Your access will end as soon as you've downloaded the allotted amount of data. All plans include SSL encryption, access to their US and EU servers and retention of 4873 days.
| Block Account | Price per month | Connections |
| --- | --- | --- |
| 5 GB | $1.99 | 50 |
| 10 GB | $2.89 | 50 |
| 25 GB | $3.79 | 50 |
| 50 GB | $6.49 | 50 |
| 100 GB | $10.49 | 50 |
| 200 GB | $15.99 | 50 |
| 500 GB | $33.99 | 50 |
| 1,024 GB | $63.99 | 50 |
| 3,072 GB | $179.99 | 50 |
Free Trial info
There's no free trial available from this provider.
Special Offers / Coupons
There are no special offers available from this provider right now, but be sure to come back and check, as we'll share offers out with our readers if we get them.
Speed Test
BlockNews is fast, as are most USENET service providers these days. Your service will likely be a bit faster if you connect to the server nearest your physical location.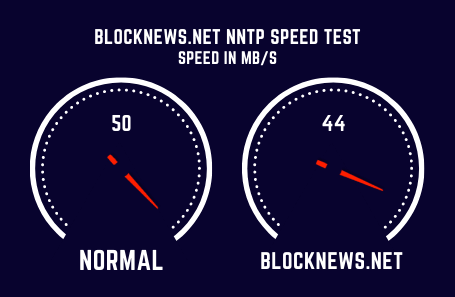 Connections
Every account is allowed to make 50 connections to the BlockNews servers. This should be far more than most users will need.
News Servers / Ports / Configuration
US Server
EU Server
EU Server 2
Unencrypted Ports: 13, 119, 2000, 8080, 9000
Encrypted (SSL) Ports: 443, 563, 5563
Frequently Asked Questions
Q: What's the difference between block and subscription access?:

A: If you buy block access, you're allowed to download a specific amount of data from your provider's servers. After you download that data, your account is turned off. There is no autorenewal with block accounts, which is the selling point for some users. A subscription account will automatically renew when your subscription period ends. Block access is offered by many different Usenet service providers, including Eweka and Astraweb, along with others.

Q: Should I use a US or EU server?:

A: There are two questions involved with this: security and speed. Some users feel more secure using a server that's located outside their own nation's borders. If you do, go ahead and use a server in the EU if you're in the US or vice versa. If you're most concerned with speed, the server geographically closest to your location will be the best option.

Q: Is paying with Bitcoin advantageous?:

A: Bitcoin is usually the preferred payment method of those who want the highest levels of privacy. Online, Bitcoin functions very similarly to cash, so your privacy is protected. You won't have a payment on any of your online payment provider's records. You'll have to buy Bitcoin to do this, of course. You can buy Bitcoin from numerous different payment processors and use it to complete your transaction after it hits your account.

Q: Why are there so many connections allowed?:

A: USENET service providers commonly allow a very large number of connections to their servers these days. This is a way of increasing the value of the service, though we don't recommend that you choose a provider based on the number of connections they allow. Most users don't even need twenty connections to max out their broadband speed. If, for some reason, you do need a large number of connections, however, most any provider will offer them these days. Anywhere from thirty to fifty connections is very common.

Q: What kind of users prefer block access the most?:

A: Block access is very popular with USENET users, but those who download intermittently usually prefer block access the most. Block access accounts never expire until you use up the allotted download data. That means that, if you download from USENET very infrequently, a small payment could keep you going with as much access as you need for a very long time and offer substantial savings over a subscription.

Q: Are unencrypted ports faster?:

A: No. USENET is so fast in general that you shouldn't have any trouble connecting at your maximum ISP speed, no matter what kind of connection you use. We recommend connecting only via SSL ports, however. One fact that might play into your download speed is ISP throttling. Some ISPs deliberately slow down USENET traffic. If you're using an encrypted port, your ISP can't tell that you're downloading off of USENET and that might prevent you from being speed throttled.
Support
BlockNews has a ticketing system where you can submit requests for support. The form is located on their website.
Contact Information
BlockNews only allows customers to contact them through its web form located on their website.
Security /Company Privacy Policy
BlockNews says that they do not monitor what groups their users visit or their download activities. They only monitor their servers for quality assurance, according to their policies.
Payment Options
You can pay for a BlockNews service using PayPal, Credit Cards and Cryptocurrency. They also accept cash or money order payments which would give you 2 extra gigs for free.
Our Opinion
BlockNews is a basic block access service. It offers plenty of connections and a nice selection of servers, but those things don't set it apart from any of our other providers. We would recommend Eweka over this provider for most users.
Remember that connection limits are often used as selling points by USENET providers but, in practice, there's a ceiling on how many connections you can use. To put it directly, using all fifty connections provided with these block accounts is more likely than not to slow down your connection rather than speed it up. You'll have to cut back on the number of connections until you reach your maximum speed and, for most users, the number of connections actually required will be under twenty, meaning the fifty offered by this provider isn't likely to pay off in any worthwhile way.
There are plenty of block providers out there, including the aforementioned Eweka and Astraweb. BlockNews has a service that's competitive with those providers, but it doesn't stand out in any particular way. For that reason, we recommend going with more established names to get your block access. You can check out our list of the best Usenet service providers for other options in block access in addition to the recommendations we've already given.
Altenatives To BlockNews
| Name | Price | Info |
| --- | --- | --- |
| Newshosting | $8.33 | Best Price / Free Newsreader |
| UsenetServer | $7.95 | NZB Search / Fast Speeds |
| Eweka | €7,00 | Best EU Provider / Lifetime Discount |
| Easynews | $9.98 | Easy Web App / File Previews |
| TweakNews | €7,50 | Free Newsreader / Free VPN |
| PureUSENET | €5.97 | Good EU Provider / Free SSL |
| XLned | €7.49 | Fast Speeds / EU Servers |