Binverse Review
Last Updated: Jan 25, 2022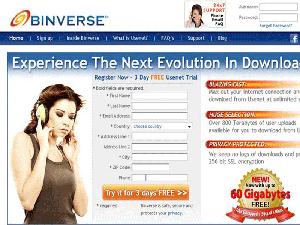 Rating
Price
$9.99 / Month
Retention
800 Days
Free Trial
None
Features
Shutdown in 2015
Built in Newsreader
3 Year in Business
Editor's Note: Binverse has been shutdown since 2015.
We have received too many complaints and pressure from other Usenet providers and other websites to keep advertising Binverse. Instead of Binverse we are recommending that you choose from the best Usenet service providers. (Hint: UsenetServer , Newshosting or Eweka for unlimited download speeds for about $10/month and they accept ideal payments).
Conclusion / Recommendation
Choose among our best Usenet service providers . For about $10 / month you have UsenetServeror Newshosting which all will give unlimited high speed downloads.
Other Suggestions
If you are looking a brainless easy to use Usenet service for viewing photos, you might want to check out Easynews. They have plans starting around $10 and have a VERY easy to use interface.
Binverse keeps Usenet simple but if you even slightly techy you can break Usenet down into three simple steps
Learn more about about Usenet signup via our special offers list where we send you information and you can about Usenet and receive special offers.
Binverse binary offers easy to use Usenet service and Usenet client that is popular for beginners. ? Without the client Binverse is a Usenet service provider and they are not competitive. However if you like the client then thinking about Binverse may change. Typically in Usenet the difficulty is understanding what to do with files, how to downloading them correctly and how to unpackage them. The binverse newsreader can make this easy.
Binverse comes with two modes, unlimited low speed downloads at 2 Mbps downloads, and a metered high speed setting which gives blistering speed for a certain amount of data depending on your plan. How fast ? Well you it will max out your bandwidth if you are in the USA especially and Europe. Essentially your bandwidth will only be limited your own ISP connection.
Altenatives To Binverse
| Name | Price | Info |
| --- | --- | --- |
| Newshosting | $5.99 | Best Overall / Fastest Speeds |
| Eweka | €6,99 | Best EU Provider / High Retention |
| UsenetServer | $7.95 | Unlimited Access / NZB Search |
| Easynews | $9.98 | All-in-One / Usenet Search |
| TweakNews | €7,50 | Quality Retention / Quality Completion |
| PureUSENET | €5.97 | Good EU Provider / Free SSL |
| XLned | €7.49 | Fast Speeds / EU Servers |