Binreader Review
Last Updated: May 08, 2019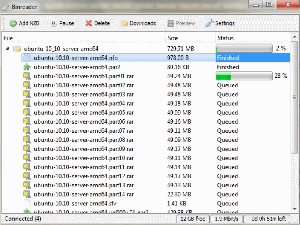 | | |
| --- | --- |
| Rating | |
| Price | Free |
| Retention | None |
| Free Trial | None |
| Features | Dead Site |
Binreader is a simple, secure and free NZB downloader, providing user-friendly interface and all the options the majority of users require.
Platforms
Binreader works on Windows, MacOS X and Linux platforms. It also has a portable version; it is required to download zip version of an application, extract and copy files to desired USB stick or other portable device and start an application. An Android version is promised to come soon.
Security
Binreader is very secure, providing SSL encryption and IPv6.
Features
Binreader handles RAR and PAR2 files and it has an option of previewing media files during the download. Regarding RAR handing, three options are available:
Disabled
Start extracting while you download
Extract after download +repair
Advanced features
Binreader has some features that are classified as advanced:
It is possible to set a number of connections (up to 50)
If post is incomplete, it is possible download only PAR2 repair blocks
Using PAR2, Binreader can automatically repair
Furthermore, is is possible to choose a Media player, set network time-out (in seconds) and set "retry after waiting" value. Finally, Binreader accepts some parameters, such as -noidx -quiet -vo direct3d -fs.
How does it work?
First of all, it is required to download an installation package (depending on the user's OS). On every start (until this information is submitted), user is encouraged to enter NNTP server information. Once this information is entered, the program becomes fully functional.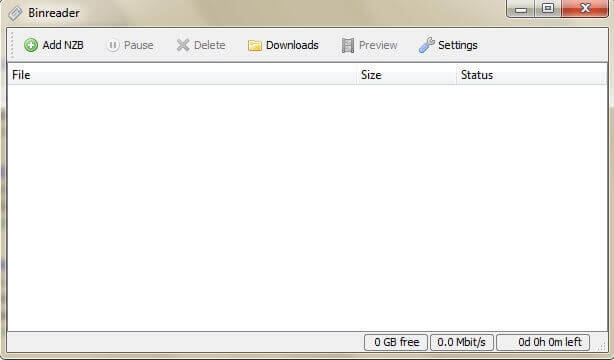 Further, it is required to download NZB (if you don't have your favorite, do not hesitate to consult our list of most popular and best NZB sites), to click Add NZB and select desired NZB file, and that's it. A download will start automatically.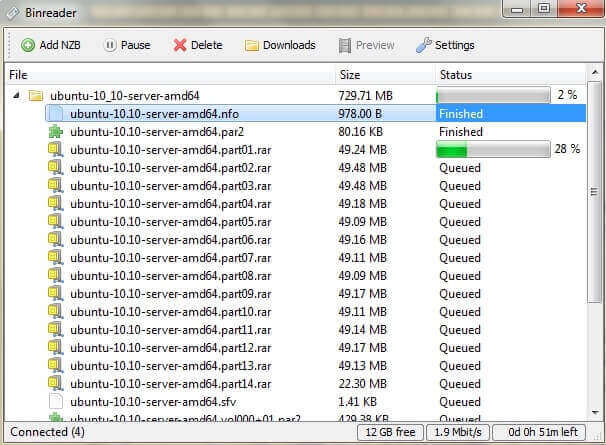 Conclusion
Binreader offers everything most users will ever require from NZB downloader. It has ease of use, it's free, safe, portable and available for most platforms. In other words, it is great and as such, it has our recommendation.
Best Usenet Newsreaders