Big-Bit Review
Last Updated: Feb 04, 2022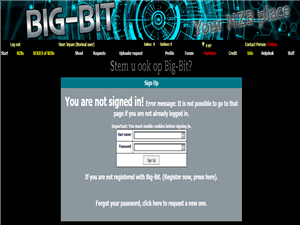 | | |
| --- | --- |
| Rating | |
| Price | N/A |
| Retention | None |
| Free Trial | None |
| Features | Dead Site |
Big-Bit is a dead NZB site
Please see our list of best NZB sites for other alternatives
Big-Bit has different modes of account: Normal User, Top Users, Donors, Administrator, Manager, The Abuser, and they also accept customized name requests, but it's mostly given to special members. The color of their username can easily distinguish their label.
Big-Bit has over 30,000 visitors per month, and they are attracting visitors mostly from Dutch-speaking countries.
Although the website is secured by SSL connection, the website still encourages its users to use a VPN when browsing and downloading from the site.
Once you register on the website, they will assign a moderator to you. You can also request for files (with a limit) and ask to upload files.
Highlighted Features
Open and free for registration
Privacy: SSL connection
File request allowed
Uploader request allowed
On-site avatar creator
Retention: undisclosed
Ads: No ads
Integration: undisclosed
Interface
Big-bit has a custom interface. The website was originally written in Dutch but automatically translates to English once you enable the pop-up translation setting.
Ease of Use
They display the latest 20 NZBs uploaded on their homepage. Every file is also detailed with a description, and like other indexing sites, they require you to say friendly words to the uploader before you get the link to download.

For you to download, you would need to click the 'Series of NZBs' to be found in the upper right corner of the page. There, you will have an option to browse through groups and categories, or you can type the keyword in the search bar.
What we observe on its platform are those links that cannot be opened by a new tab. You will have to go back and forth by clicking links. Other links and information are also not available.
Membership Levels
Different account labels have distinguished plans. However, donating on this indexing site is temporarily disabled. Other details for their membership plans are also not disclosed. What we know is you gain credit points and ratios when you donate to them, and this will enable you to upload content on their website.
Support
Big-Bit has a dedicated page to help you with your concerns. They have a page for the Frequently Asked Questions (FAQs) and Forum where most inquiries are covered. They ask their users to read the available information first before contacting them.
If you are not satisfied, or if the FAQs and Forums do not answer your questions, you can contact them through their Help Desk. You can also click the 'Staff' option in the upper right corner of the page to see the overview of online moderators and administrators.
Uptime Status
Big-Bit has healthy uptime results and no reported downtime in the past few months.
Conclusion
Big-Bit is an open indexing site where registration is easy. Over time, it has accumulated supportive and disciplined members that make up and establish their community. The moderators and other administrators are all volunteers too. However, with its many dead links, unavailable information, and the unmeasurable number of NZBs available, we think Big-Bit is good as just a backup NZB site.
Altenatives To Big-Bit
| Name | NZBs | Price |
| --- | --- | --- |
| NZBFinder | Free 5 NZBs & 25 API Calls | 10, 20, 35 Euros |
| UsenetCrawler | Best Free Account Offering | Over 500 Groups Crawled |
| NZBgeek | Open and Free to Register | Free and Paid Service |
| NZBGrabit | Free 5 .ZIP Downloads | Arcade, and Photo Editor Included |
| DrunkenSlug | Free 100 API Hits and 5 NZBs Daily | Invite-Only Website |
| NZB.su | Open NZB Site | API Integrations |
| DogNZB | Invite Only | $20/Yr for VIP |
| NZBPlanet | Invite Only | 2 Million NZBs Indexed |
| FileSharingTalk | Forum-Based Site | Option to Donate |
| OmgWtfNZBs | Invite-Only NZB Site | $10/Yr for Donators |