BD25 Review
Last Updated: Mar 15, 2022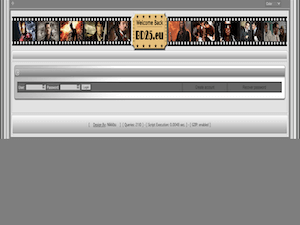 Rating
Price
free
Retention
N/A Days
Free Trial
None
Features
Usenet Forum
Hosts NZB Files
Hosts Blu Ray Releases
BD25 is a Usenet indexer specifically catering to movie aficionados. It hosts thousands of movie files which includes full blu-ray releases which is something you don't see that much on nzb sites.
BD25 hosts NZB files themselves so you will not have to rely on searching for specific files via Usenet forums. And if you cannot find the blu-ray releases you are looking for, you can place requests for the blu-ray films you want. Based on our research, however, one disadvantage of this indexer is that it only has blu-ray releases and no other films with subtitles.
Upon our most recent check, registration is currently closed since the maximum number of users have been reached.
Highlighted Features
Usenet forum for blu-ray releases
Host NZB files
Users can request for blu-ray films
Presents upload request and upcoming uploads
One account per one IP address
Easy-to-use interface
Simple nzb file downloading
Free to use
Currently closed for registration - maximum users reached
Interface
To be able to use BD25, you would need to first create an account on their site. Currently it is closed for registration but if you are lucky enough to be able to create an account, you will receive an email with a link that you need to click on to activate your account.
Once your account is activated, you will still need to log in to the BD25 site where you will see a screen appear showing the latest movies and with tabs where you can see recent uploads, upload offers, a section where to make upload requests, bookmarks, etc.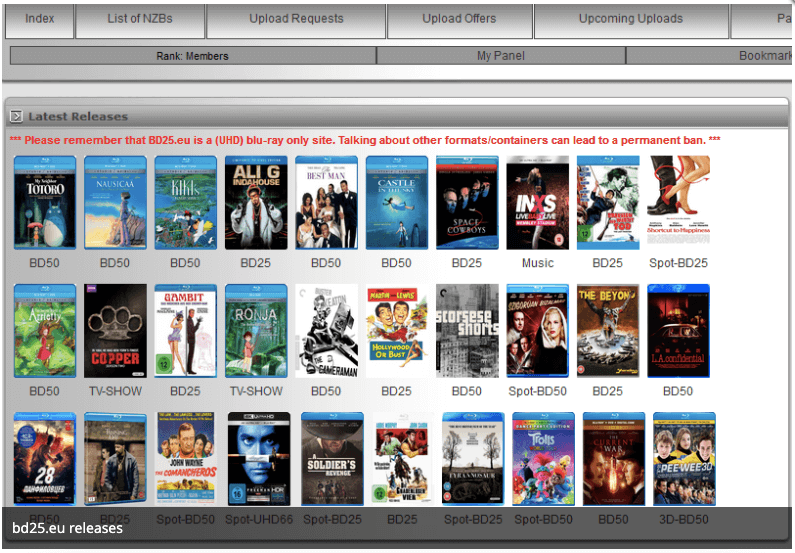 To download, simply search and select the movie you want to download.

From here you can download the NZB file as well as the password of the file. Please be reminded that when downloading an NZB file you will still need to unpack this using an Winrar program and use an NZB downloader like NZBGet.
Membership Levels
There seems to be no membership levels with BD25 and it is completely free to use. However, BD25 does limit the number of users that can actively use their site. It is not always that everyone can register an account with this indexer.
Support
BD25 has an info center on their site which you can access when you are logged in. Other than this, we don't see any support area from this indexer.
Uptime Result
Based on an uptime robot, BD25 is consistently online and has no issues with website disconnection or inactivity. Search results and page transitions are also quick. See chart below for current uptime status.
BD25 Status / Uptime Charts
| | Status | Since | Average Response Time |
| --- | --- | --- | --- |
| ● | | | |
24 Hour Response Time Chart for
BD25
Chart will be updated in
X
seconds
Uptime Averages
Conclusion
It is not that often that we get to see an indexer that purely focuses on blu-ray releases. For some it may be a disadvantage since it excludes other types of video releases. However, indexing blu-ray releases guarantees quality. That being said, BD25 is a good Usenet forum/ NZB site for movie aficionados. It may not be the perfect indexer for movies but it is a good option to have. If you are lucky enough to be able to register an account with BD25, you can easily navigate through their interface and even send out blu-ray requests if the file you are looking for is not available.
Altenatives To BD25
| Name | NZBs | Price |
| --- | --- | --- |
| NZBFinder | Free 5 NZBs & 25 API Calls | 10, 20, 35 Euros |
| UsenetCrawler | Best Free Account Offering | Over 500 Groups Crawled |
| NZBgeek | Open and Free to Register | Free and Paid Service |
| NZBGrabit | Free 5 .ZIP Downloads | Arcade, and Photo Editor Included |
| DrunkenSlug | Free 100 API Hits and 5 NZBs Daily | Invite-Only Website |
| NZB.su | Open NZB Site | API Integrations |
| DogNZB | Invite Only | $20/Yr for VIP |
| NZBPlanet | Invite Only | 2 Million NZBs Indexed |
| FileSharingTalk | Forum-Based Site | Option to Donate |
| OmgWtfNZBs | Invite-Only NZB Site | $10/Yr for Donators |