Atlantis News Review
Last Updated: Jan 25, 2022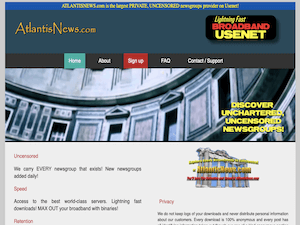 Rating
Price
$19.95 / Month
Retention
21 Days
Free Trial
None
Features
Outdated Usenet Service
Very Low Retention Rate
High Pricing
Atlantis News is a Usenet service provider that claims to be the largest private, uncensored newsgroups provider on Usenet. However, there are other better and more competent service providers in the market today that offer better service and have far better features than Atlantis News.
This Usenet service also claims to have the largest retention period in the market but does not disclose the number of days of their binary or text retention. If you check out their website, their service seems to be outdated and you could benefit from looking at more reliable services listed on our best Usenet service providers today.
Atlantis News Quick Summary
Fast downloads - able to max out broadband with binaries
Claims to have the longest retention in the Usenet industry but does not mention how many binary and text retention days they have
99.9% completion rate
Encrypts member information
Safe usage whether downloading or posting
Does not keep logs of your downloads
Pricing based on download limits
Binary Retention
As stated on their website, Atlantis News has the longest retention in Usenet. However, based on what we've researched online, this provider only has 21 days days of retention - massively lower than active Usenet service providers today.
Pricing
Their pricing is based on your download limit and as follows:
Basic - 1GB/ Day at $9.95/ month
Super Premium Supreme - 6GB/ Day at $29.95/ month
Premium Supreme Ultimate -14GB/ Day at $49.95/ month
Binaries Turbo - 100GB/ Month at $29.95/ month
Binaries Ultimate - 200GB/ Month at $49.95/ month
Premium - 2GB/ Day at $14.95/ month or $89.95/ year
50GBs Block Account - 50GB never expires at $19.95 one-time payment
Premium Supreme - 3GB/ day $19.95/ month or $99/ year
Free Trial Info
Atlantis News does not have any free trial offering.
Special Offers/ Coupons
No special offers or discounts are given by Atlantis News. However, you can save a bit of money if you purchase some of the plans that have a yearly fee.
Speed Test
Atlantis News is able to max out the speed of your broadband connection. However it may not be the best when compared to some of our top choices of Usenet service providers.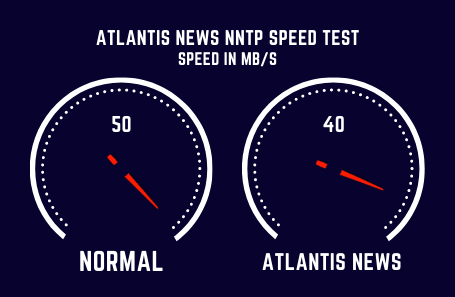 Connections
Atlantis News only offers up to 8 full speed connections. This is lower than the ideal number of connections some of the best Usenet service providers offer.
News Servers/ Ports/ Configuration
Server: news.atlantis.com
Port: 119, 23, 25, or 80
While this provider mentions that they keep your Usenet activity secure and private, we cannot seem to find any information on what their SSL ports are.
Frequently Asked Questions
Q: Can I use AtlantisNews.com to READ and DOWNLOAD my total daily allotment to view offline at my convenience?
A: Yes. AtlantisNews.com is made for downloaders!
Q: Can I use AtlantisNews to Power-Post 100s of binaries or large multi-part files?
A: Yes. They do everything for you except type in the message and attach the file. AtlantisNews.com is made for posters! However, they do not allow spammers.
Q: Are Connection Speeds ever throttled?
A: They have no speed limits for uploading or downloading! You can easily average 500k/sec or more per connection up and down!
Q: How many newsgroups do they carry?
A: Currently between 43,000 and 53,000.
Q: How do I cancel my account?
A: Simply contact support and they will email easy instructions that you may follow anytime you wish.
Support
For questions or inquiries, you can email Atlantis News. When sending your email you should include the following:
Username
News-Reader, Auto-Poster, or Client are using (If you are experiencing technical difficulties)
Detailed Explantion of Your Question
Contact Information
Their email address is support@atlantisnews.com. No other contact information is available on their website.
Security/ Company Privacy Policy
According to their website, Atlantis News does not keep any logs of your downloads and all your posts are completely anonymous.
Payment Options
You can pay for an Atlantis News plan via multiple credit card options like Visa, Mastercard, Amex and Discover cards.
Our Opinion
When you visit the Atlantis News website, you might be enticed with all the claims they have about their service like being the largest newsgroup provider on Usenet or having the longest retention rate. However, do not be deceived by all these claims. Atlantis News' service and features is totally not at the same level of not only the best Usenet service providers but even some of the more mediocre Usenet services today.
Based on what we've gathered, it seems like Atlantis News' service is very outdated - retention rate is only at 21 days and their pricing is a lot more expensive than that of other services. For that, we cannot recommend this provider and encourage you to go for any of the best Usenet service providers today.
Altenatives To Atlantis News
| Name | Price | Info |
| --- | --- | --- |
| Newshosting | $8.33 | Best Price / Free Newsreader |
| UsenetServer | $7.95 | NZB Search / Fast Speeds |
| Eweka | €7,00 | Best EU Provider / Lifetime Discount |
| Easynews | $9.98 | Easy Web App / File Previews |
| TweakNews | €7,50 | Free Newsreader / Free VPN |
| PureUSENET | €5.97 | Good EU Provider / Free SSL |
| XLned | €7.49 | Fast Speeds / EU Servers |