Another Reason to Boycott Comcast
Last Updated: Sep 26, 2014
Comcast is denying it, but reports from several sources claim that some Comcast customers have been told that using the software Tor is illegal and that using it is against Comcast company policy. While the company is denying telling people that they cannot use Tor, the company's own policies actually do prohibit using proxy servers (see links below). In their own terms of service, they prohibit other equipment, and specify that their list of prohibited equipment is not limited to what they spell out.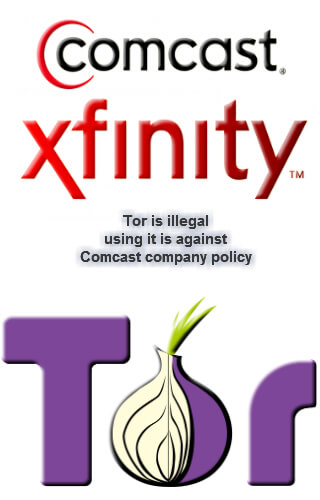 Oddly enough, in a blog post, Comcast denied that they restricted anybody using Tor and they are free to use the Xfinity Internet service to visit any website that they want and use any app that they want and "so forth".
Nonetheless, more than one customer has made this claim. Not only have they claimed that Comcast customer service representatives asked them to stop using Tor, but that the also demanded that the usertell them what websites they had visited on Tor.
The customer service representatives have also said that they have the right to suspend accounts, terminate accounts or even fine the user if they violate the terms of service and that users who use such software are probably doing something illegal.
Comcast denies that the conversations ever took place. However, the company does not have an excellent reputation – to say the least – where privacy is concerned.
Six Strikes
Comcast participates in the Six Strikes program, devised by the media companies and the ISPs to monitor customers to make sure that they are not downloading copyrighted material. This, of course, does require that Comcast monitor user Internet activity over their networks.
Comcast, in the aforementioned Business Insider article, claims that they don't monitor user web surfing, which is clearly not the case if they are participating in the Six Strikes program.
Consider Your ISP
Comcast has fought mightily against net neutrality, consistently tried to get more money out of consumers and has become one of the most widely reviled companies in the United States. While the company denies that the call that the customer claims to have had with customer service representatives ever occurred, several people have come forward and said that they have been warned and, in some of their descriptions, outright harassed about using Tor. Tor anonymizes Internet traffic and, conceivably, the only reason that an ISP would care about a user being on the Tor network would be because they wanted to see their activity and, of course, because they were looking long enough to know that the person was using Tor. Not all ISPs get the low customer service marks that Comcast does, and Internet users may want to consider that.
If you are worried about your ISP, its not a bad idea to signup for a VPN Service like VyprVPN.
Relevant Links