Anorak Review
Last Updated: Feb 10, 2022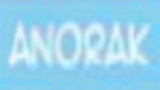 Rating
Price
Free
Features
Anime Usenet Software
Python 2
Not Updated
Basic Listings
Anorak is made for Anime lovers. The application is a Python 2 build, very barebones and was designed by the builder, GrandfatherTetrapod, for his own use. It's gotten some good feedback around the web and the features seem well thought out. It's not provided with a lot of features that will make it easy to understand for those unfamiliar with the USENET system, but those who have experience and who want something that takes care of automatically downloading their favorite Anime shows with minimal effort on their part will want to take a look.
EDITOR'S NOTE: Based on their github page, no updates has been done on Anorak since 2014
What It Does
Anorak is streamlined but what it doesn't offer by way of a fancy interface it makes up for in its capabilities. To use the application, the user enters the series that they're interested in and the release group where it's found. You can put the files anywhere you want from inside the application, allowing you to keep things organized when they get loaded onto your hard drive.
The application will also allow you to select a quality preference for your downloads, which should help those who either want to save on bandwidth or, conversely, who want to download the highest possible quality whenever they get a release.
Highlighted Features
automatically retrieves new episode nzb files
sends NZBs directly to SABnzbd and categorizes them properly
available for any platform, uses simple HTTP interface
can notify Plex when new episodes are downloaded
can move episodes to a folder specified using SABnzbd post-processing script included
can specify a quality to download
pick your favorite release group for subs
allows easy override of search terms in case release name is different than the aniDB official name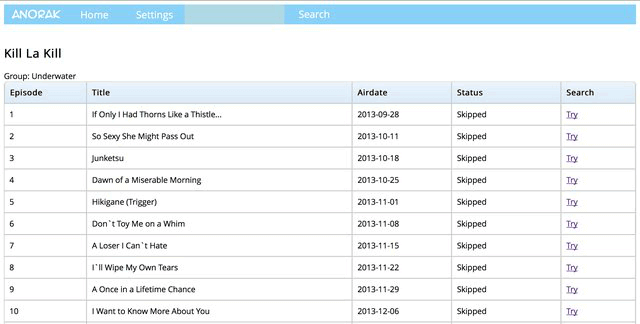 Anorak screenshot of a basic listing for a series by GrandpaTetrapod
Running the App
The developer is currently running Anorak out of a terminal window, though some users have tried to integrate it with other applications. The developer hasn't done this himself yet, so that is still to come.
The developer made this specifically for Anime, so it's definitely going to appeal to that market more than any others. It takes information from AniDB to fill out the episode information in the files after they're downloaded.
Users should anticipate that there could be bumps when using the application. Because some Anime titles are in Korean or Chinese rather than in Japanese, there may be some search issues that have to be worked out.
Overall, this application does have a lot to offer if you're interested in keeping up with your favorite Anime releases. Be aware, however, that it's made specifically for that use, so it's not likely to be particularly useful if you're not interested in Anime. With more people checking it out and the developer seeming very willing to engage with users to help them figure out issues, this has all the makings of a very good, and very specialized, application. The barebones nature should appeal to those who enjoy doing a bit of coding themselves, or who just want something exceptionally streamlined.
Related Links
Visit Anorak