Altopia Review
Last Updated: Oct 29, 2021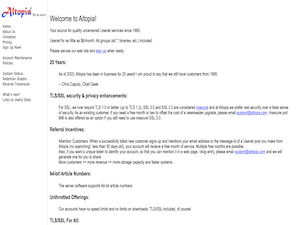 Rating
Price
$6.00 / Month
Retention
140 Days
Free Trial
None
Features
Since 1995
Low Retention
Uncensored Newsfeed
Editor's Note: As of March 2021, after more than 25 years Altopia has turned off their Usenet NNTP Service. This review is kept for historical purposes. Make sure to check our list of best usenet service providers.
Altopia has been around for 25 years as of 2020. This Usenet service provider has some attractive features and competitive pricing to offer. It doesn't have all the features that come with some of the best Usenet service providers, however.
Quick Facts:
Unlimited Speed
No download limits
SSL Encryption
Up to 20 connections
Connections-based pricing
Low retention rate
Binary Retention
Binary retention from this provider is shorter than most of our preferred Usenet service providers. For text articles and binaries up to 15 parts, the retention time is 140 days. For multi-part binaries with more than fifteen parts, the retention time is 11 days.
Pricing
Altopia prices its service based on the number of connections you're allowed per IP address. It offers unlimited data and transfer speed for all subscriptions, and SSL is included with all accounts. The pricing is as follows:
Two connections per IP for $6 per month
Five connections per IP for $9 per month
Ten connections per IP for $12 per month
Fifteen connections per IP for $15 per month
Twenty connections per IP for $20 per month
Be aware that the pricing might be slightly different when you go to the site and, in fact, from what the site itself says. The administrators say that they try to keep their pricing page up to date, however.
Free Trial Info
There's no free trial with this provider.
Coupons
No coupons are currently available.
Speed Test
Altopia tests well as far as speed is concerned. Most Usenet providers do provide fast download speeds. Please be reminded, however, that the speed of your Usenet activity also depends on your internet service provider.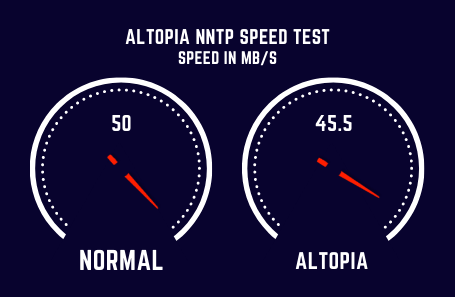 Payment Options
Altopia is currently set up to take credit card payments.
Special Considerations
Altopia doesn't have all the features you might want from a USENET service provider, such as an included newsreader. The web page is also rather limited, so those who need a bit of guidance getting set up or who don't want to learn how to use a newsreader on their own might want to try a different provider. Tweaknews and Newshosting, for instance, both offer newsreaders along with their subscriptions.
If you need information about getting set up, you'll want to check the Altopia Status page, available from their homepage. You can get help with the service via email.
Security/Anonymity
Altopia offers encrypted access over ports 443 and 563. You can also use port 666 if your newsreader doesn't support TLS, but that port uses SSL 3.0, which isn't secure. If you're only worried about getting around traffic shaping by your ISP, however, 666 should be fine.
Conclusion
Altopia has a decent service, but it is rather barebones compared to our recommended providers. It's most likely going to appeal to those who don't need a lot of user-friendly features to make USENET intelligible to them.
The pricing at Altopia is competitive, but not significantly better than what most providers offer, and worse than some of our preferred providers. Those preferred providers have much longer binary retention times, as well.
Is Altopia good? Yes. It's a decent service. For those who want to make getting on USENET as easy as possible, however, any of the best Usenet service providers might offer a better choice.
Altenatives To Altopia
| Name | Price | Info |
| --- | --- | --- |
| Newshosting | $5.99 | Best Overall / Fastest Speeds |
| Eweka | €6,99 | Best EU Provider / High Retention |
| UsenetServer | $7.95 | Unlimited Access / NZB Search |
| Easynews | $9.98 | All-in-One / Usenet Search |
| TweakNews | €7,50 | Quality Retention / Quality Completion |
| PureUSENET | €5.97 | Good EU Provider / Free SSL |
| XLned | €7.49 | Fast Speeds / EU Servers |