Aeton Review
Last Updated: Jan 25, 2022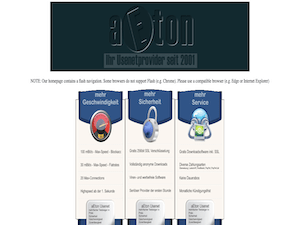 Rating
Price
€8.99 / Month
Retention
1100 Days
Free Trial
None
Features
German Usenet Service Provider
Low Retention Rate
Block and Flat Rate Plans
aEton is a German Usenet service provider that has been in the industry since 2011. It has been considered as one of the leading providers in Europe, however, over the last few years their popularity has declined mainly due to the emergence of other better Usenet services and their aEton's lack of upgrades with their features.
According to their website, aEton was the first Usenet service provider to offer free test accounts and they introduced Usenet flatrate to the European market. But even with being a trailblazer in certain areas, aEton does not seem to be able to keep up with the modern times and has yet to improve their site and services to be able to compete with the best Usenet service providers in the market today.
aEton Quick Summary
German Usenet Service Provider
Has been in the Usenet business since 2001
Experienced but outdated in service
SSL Encryption
Retention time of 1100 days
Up to 150 mbit/s with block accounts
Up to 30 mbit/s with flat rate accounts
Free newsreader
Free search engine
No user logs
Payment method - Credit Cards and PayPal
Monthly cancellability
No permanent subscriptions
Binary Retention
aEton has a retention rate of 1100 days. While this may not be the lowest among all existing Usenet service providers, this is much lower than the standards of the best Usenet services today.
Pricing
aEton has several account options including block accounts and flatrate accounts. Pricing is as follows.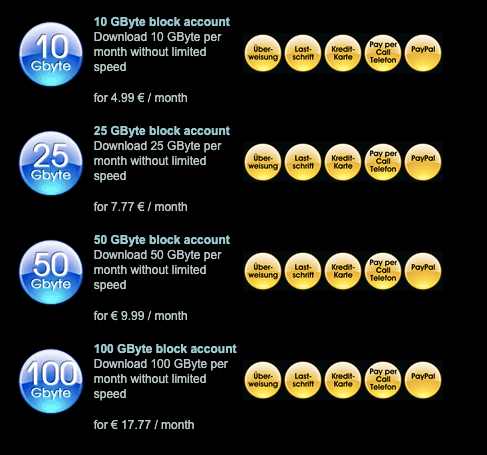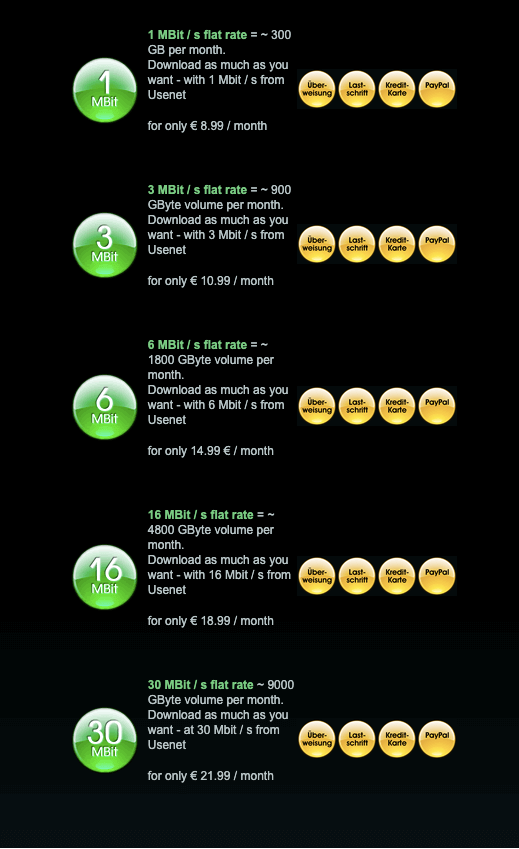 Free Trial Info
aEton offers a free test account and it is stated on their website that their test accounts "do not have to be cancelled - they're cancelled by themselves after the test phase has expired". It is unclear, however, how long the test account lasts.
Special Offers/ Coupons
Currently, there are no special offers or coupons from this provider. We recommend checking out our list of the best Usenet service providers.
Speed Test
aEton performs well in terms of speed. Your Usenet activity speed, however, depends on the plan you select as well as how fast your internet connection is.
Connections
aEton offers up to a maximum of 20 connections for their users.
News Servers/ Ports/ Configuration
We found no server information or configuration details on the aEton website. Most likely, once you've set up an account with this service, they will be sending you all the details for your Usenet access.
Frequently Asked Questions
Q: Who is aEton Usenet?
A: aEton Usenet is a professional Usenet provider, also known as a News Service Provider (NSP). aEton Usenet offers members absolutely full, legal and uncensored access to the largest discussion and file sharing forum in the world - Usenet. With the high-performance front-end servers, we cover the entire range of all currently available newsgroups, and offer our members over 210,000 gigabytes of online content.
Q: Why is aEton Usenet chargeable?
A: The operation of high quality news servers is associated with not inconsiderable costs. With the aEton Usenet access we want to show a powerful alternative to slow servers and incomplete newsgroups. In addition, it is difficult to compare a free Usenet access with that of aEton Usenet, because in no case known to us does the free access offer downloading from groups with a high data (binary) share (such as films, music, software etc.) ) at. The free services are more intended to take part in pure Usenet discussions and to study archived content. The satisfaction as well as the needs of the customer come first. Unfortunately, such a project cannot be realized without costs for us and our members.
Q: Are there any other costs besides the transfer fees?
A: No. You choose your preferred account type and only pay the specified price for it. In the case of an aEton Usenet flat rate, the transfer volume is even completely unlimited. So you can download as much data from Usenet as you want.
Q: Is there a download limit?
A: Yes. You determine the respective download limit yourself by choosing your preferred account type.
Q: Can I use several connections at the same time?
A: Yes. Depending on the account type, you can use up to eight connections at the same time.
Q: Do you allow a single account to be shared?
A: No, we do not allow a user name to be dialed in from different IP addresses at the same time.
Support
The aEton website has a pretty comprehensive support page that contains FAQs both for account related questions and technical inquiries. If you cannot find the answers you are looking for, you can reach out to them via email, phone or fax. Their customer service is available Monday to Thursday from 8am to 5pm and on Fridays from 8am to 12 noon.
Contact Information
Security/ Company Privacy Policy
According to their set, aEton does not log any user activity over. However, specific details regarding what information is kept during account processing is unclear. Their privacy policy is quite general and does not divulge that much information.
Payment Options
aEton accepts PayPal, credit and debit card payments
Our Opinion
We are impressed with how long aEton has been around and how they seem like a trailblazer during the first few years of their business. However, our praises would have to stop there. This Usenet service provider seems to have ceased improving. We noticed several flaws from their outdated website, low retention rate and confusing information published on their site. While they may possibly be one of the leading European usenet providers back in their heyday, that is no longer true today. We recommend looking at far better services like Newshosting or check out our list of the best Usenet service providers to find ones far better than aEton.
Altenatives To aEton
| Name | Price | Info |
| --- | --- | --- |
| Newshosting | $8.33 | Best Price / Free Newsreader |
| UsenetServer | $7.95 | NZB Search / Fast Speeds |
| Eweka | €7,00 | Best EU Provider / Lifetime Discount |
| Easynews | $9.98 | Easy Web App / File Previews |
| TweakNews | €7,50 | Free Newsreader / Free VPN |
| PureUSENET | €5.97 | Good EU Provider / Free SSL |
| XLned | €7.49 | Fast Speeds / EU Servers |