123usenet Review
Last Updated: Jan 21, 2022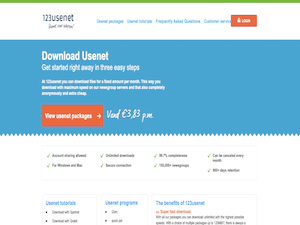 Rating
Price
€3.83 / Month
Retention
900 Days
Free Trial
None
Features
Dutch Usenet Service Provider
Decent Number of Connections
Multiple Plans
123usenet is a Dutch Usenet service provider that has been around since 2011. They offer various Usenet packages for beginner to expert level Usenet users and it includes a decent number of secure connections and unlimited downloads. However, their retention rate is not at the same level of the best Usenet service providers today.
123usenet Quick Summary
Dutch Usenet Service Provider
Multiple Plans - Beginner, Advanced, Expert
Payment per 1, 3, 6 or 12 months
Maximum of 12 connections
900 days of retention
Unlimited Downloads
Secure connections via SSL encryption
Account sharing allowed
Access to 150,000+ newsgroups
Multiple payment options except cryptocurrency
Binary Retention
123usenet has a retention rate of 900 days. This is a lot lower than the best Usenet service providers today like Newshosting or UsenetServer. Retention refers to how long a provider keeps files on their server. And if a provider has a low retention rate then most likely you won't be able to find files or discussions that may have been posted a while back.
Pricing
This Usenet provider has several subscription plans that can be enjoyed by users of multiple levels. These plans differ in number of connections and speed but they consistently provide users with unlimited downloads.

Free Trial Info
There is no free trial information with this Usenet service provider. If you are impressed enough with the service description on their website then go ahead and avail of any of their plans. However, we recommend checking out our list of the best Usenet service providers and find those that have free trial offerings which allows you to test out a provider's service if it works well enough for you or not.
Special Offers/ Coupons
123usenet does not have any special offers or coupons as of writing. But do check back with us for possible future promotions from this Usenet provider.
Speed Test
123usenet performs decently well in terms of speed similar to other Usenet service providers. Please be reminded, however, that the speed of your Usenet acitivity also relies on how fast you internet connection is.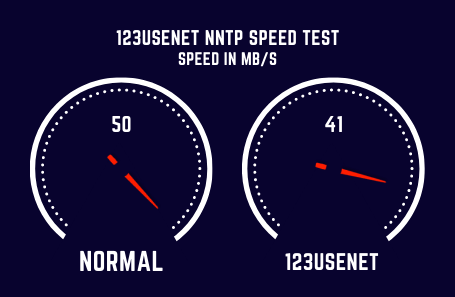 Connections
The number of connections you get from 123usenet depends on the plan you purchase. While their advanced and expert plans give users 12 secure connections, their beginner plans only have 4 connections.
News Servers/ Ports/ Configuration
Hostname: news.123usenet.nl
Standard Port: 119 and 80
SSL Port: 563 and 443
Frequently Asked Questions
Q: I am not achieving the desired speed for which I paid, what can I do about this?
A: Check if you are using all 123usenet connections. If you have chosen a package with 12 connections, check whether you are actually using all 12 connections.
Q: How long does it take after an order before I can start downloading?
A: If you pay via iDeal, Credit card or PayPal, you can immediately start downloading. With a bank transfer this can take 2 to 3 working days.
Q: Is it possible to upgrade a usenet package?
A: This is possible. To do this, log in to the customer panel. There you can extend or upgrade your package.
Q: How do I renew my subscription?
A: If you have already taken out a subscription with us, you can easily and quickly renew your package via the customer panel.
Q: Is it possible to order from abroad?
A: This is possible. If you pay by bank transfer, the IBAN and BIC number will also be stated. You can also find the IBAN and BIC number on their contact page.
Q: How do I fix error 502: Access denied to your node?
A: This error message usually occurs because your username or password is incorrect. The password you chose during registration is the correct password. If you are unable to log in, please contact them.
Q: I get the error 502: You've reached your maximum number of …
A: This error is caused because you have exceeded the number of concurrent connections for your package. You can find more information about the maximum number of connections you can use on their "Prices and Packages" page.
Support
For any questions or if you have issues with their service, you can reach out to 123usenet via email at info@123usenet.nl. Their website also has a tutorials section as well as an FAQ page where you can possibly get the answers you are looking for.
Contact Information
123usenet
Koperweg 11-J
2401LH Alphen aan den Rijn
info@123usenet.nl
Security/ Company Privacy Policy
As mentioned, 123usenet provides SSL security as a standard part of their packages. This assures users that your Usenet activity is kept safe and secure.
With regards to their privacy policy, they state: "We respect the privacy of visitors to the websites and ensure that the personal information you provide is treated confidentially. Processing of personal data is done in a manner that is in accordance with the requirements of the General Data Protection Regulation and the Telecommunications Act."
Payment Options
123usenet uses the following channels for payment: iDeal, Visa, Mastercard, over boeking, Bancontact Mistercash, PayPal and Maestro.
You can also opt to do a bank transfer, however it will take three working days before your account is activated.
Our Opinion
We've only recently come across 123usenet and considering they have been around for quite some time now, it is a relatively unknown Usenet service provider to us.
At first glance, 123usenet seems to have good offerings from multiple plans, providing unlimited downloads and a decent amount of connections and other basics like SSL encryption and a good completion rate. However, there are some flaws with their service. Their binary retention is only at 900 days and even worse, their text retention is only at 450 days. Their pricing may be decent but you will not really be sure of their service until you actually purchase a plan. For a not so well-known provider, it would serve them well to offer users a free trial service so that possible customers can test out how 123usenet works first.
That being said, if you are unimpressed with 123usenet, do check out our list of the best usenet service providers and find a more reliable service for your Usenet activity.
Altenatives To 123usenet
| Name | Price | Info |
| --- | --- | --- |
| Newshosting | $8.33 | Best Price / Free Newsreader |
| UsenetServer | $7.95 | NZB Search / Fast Speeds |
| Eweka | €7,00 | Best EU Provider / Lifetime Discount |
| Easynews | $9.98 | Easy Web App / File Previews |
| TweakNews | €7,50 | Free Newsreader / Free VPN |
| PureUSENET | €5.97 | Good EU Provider / Free SSL |
| XLned | €7.49 | Fast Speeds / EU Servers |